Looking older than you feel? Wanted to look young again?
In here you will discover how to look younger with Smile Rejuvenation and Smile Makeovers treatment without surgical procedures.
First, let's understand the ways your smile changes as you age:
Gums recede
Teeth yellow
You lose teeth
Teeth shift
Teeth wear down
Outdated dental work needs replacing
Lose bone mass
Less saliva = more dental problems
Your teeth are the foundation for your face. When that foundation begins to crumble, it creates a ripple effect on the rest of your face, such as lips sagging, fine lines appearing, a sunk-in look, etc.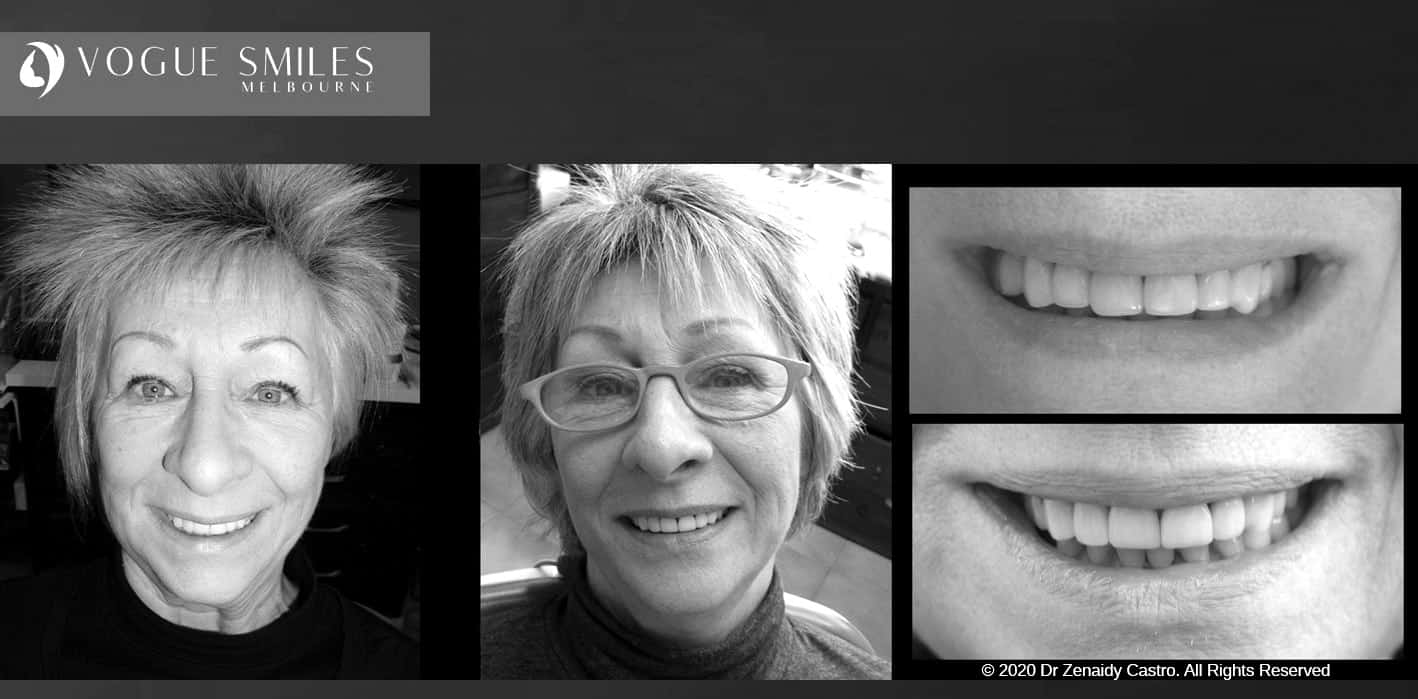 While people target skin and wrinkles to achieve a younger look, they oftentimes forget that our smiles age too.
We all drop a ton of cash on anti-aging potions and lotions and other treatments that promise to help us look as young as we feel, but did you know that your smile may be a dead giveaway of your real age?
It's true. Misshapen, discoloured and uneven teeth can make you look older than your years. 
At Vogue Smiles Melbourne, we offer smile rejuvenation, or  an anti-aging dental facelift that helps our patients to improve their aging smiles. We offer cosmetic dentistry procedures to revitalize smile from making minor improvements to different aesthetic reconstructive procedures. These changes will either enhance  existing features or correct aging smiles imperfections and improve oral health at the same time.
How does Smile Rejuvenation aka Anti-aging dentistry make you look younger?
Anti-aging dentistry uses cosmetic dental procedures to change the way your teeth support your facial structure and give you a younger-looking smile.
It's a non-surgical facelift with long-lasting results!
Your treatment plan may consist of one or more of the above, depending on your unique case.
How do these treatments change your face?
A lot of people's teeth shorten as they age from years of grinding and wear. By changing the dimensions of your teeth (often lengthening them with veneers), you can:
Say "goodbye" to that sagged or double chin
Lift your cheeks
Eliminate that hollow look
Fill out fine lines and wrinkles
Improve your lips
Another problem with aging is losing teeth to decay or gum disease. Replacing a missing tooth will help:
Preserve bone structure to support your face
Restore your smile's health and function
Keep your surrounding teeth in place
Boost your confidence to smile more (smiling is a sign of youthfulness)
There are a million other ways anti-aging dentistry can change your face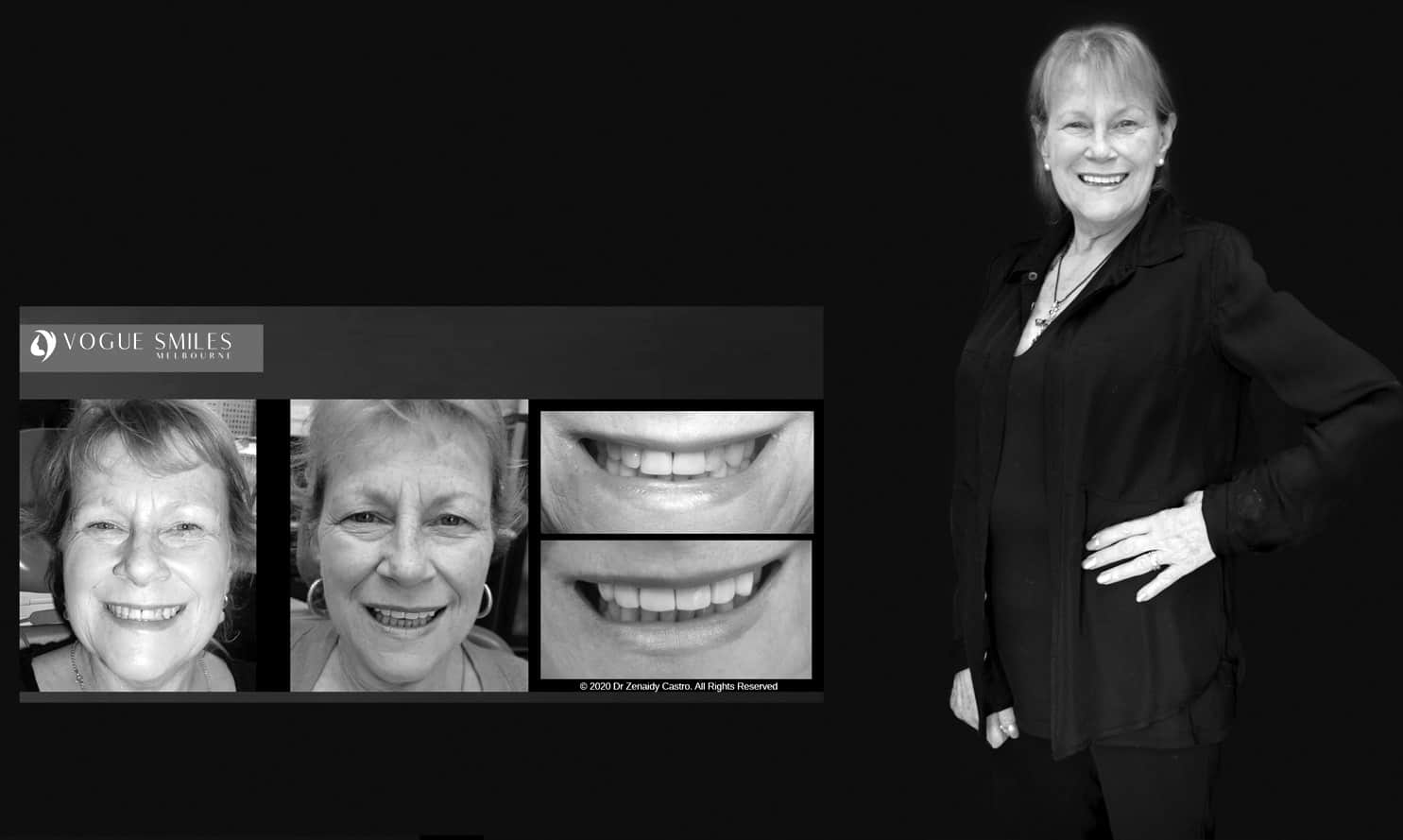 Smile Rejuvenation Process is a process of enhancing your smile and overall appearance by doing a range of Cosmetic and restorative procedures that will correct and improve any pre-existing imperfections of your teeth and their arrangements.  It is a beautification treatment to achieve a personalized and custom Hollywood smile.  It makes you feel and look younger and sexier.  You will feel like a celebrity!
It is called many different names such as Smile Redesign, Teeth Makeover, Rejuvenation Smile, Smile Rejuvenation, Smile Makeover, #, Smile Transformation, Instant Orthodontics, Facelift Dentistry®, Anti-aging dentistry.  The goal is the same.  To give you that youthful smiles.

With smile makeover to Rejuvenate your smile, you can now change the appearance of your teeth and look a lot younger. Whether you want to change the shape, color or the alignment of your teeth, there is an option which is available for you.
You may want to rejuvenate your smile if you think you have any of the following
crooked teeth
missing teeth
misaligned teeth
teeth that have lost their color
gapped teeth
teeth that are too long or too short
gums that are too noticeable

Smile makeovers are short series of procedures which improve your smile through one or more cosmetic dental procedures; serving as the cornerstone of restorative and advanced cosmetic dentistry.  Your smile is one of your defining characteristics and it is important for you to be happy with its appearance. While they are restorative in nature, smile makeovers are generally less extensive and more cosmetic in nature than a full mouth reconstruction.
While both procedure families overlap, smile makeovers generally have a more aesthetic than reconstructive end result in mind. However, the terms are frequently used interchangeably, but there is a very important distinction. Smile makeovers generally do not include bone or gum grafts or extensive replacement of teeth.
Smile Makeovers cover a wide range of dental procedures that enhance the appearance of your smile and improve the function of the masticatory system. The following are the various processes that can achieve a smile makeover from the simplest treatments to the most involved.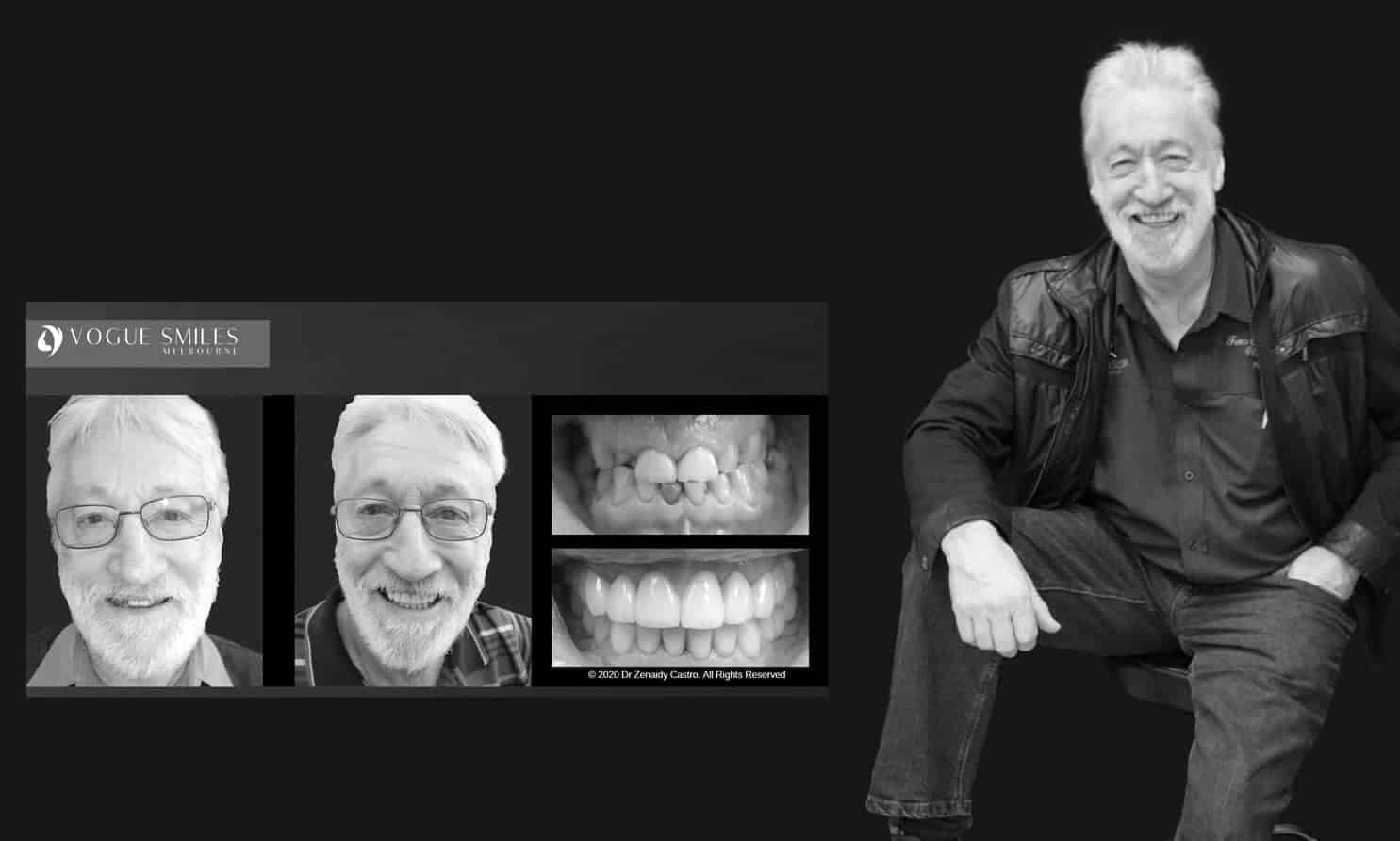 As we go through life, it is natural that our teeth tend to yellow. There are two major factors that contribute to this: 1. Natural aging thickens the inner layer (dentine) while the outer layer (enamel) thins. 2. Staining from things we put in our mouth that have any color to them, especially drinking a lot of coffee and tea which create the most stains.
How can White Teeth Make you Look younger?
WHITE TEETH GIVE YOU MORE CONFIDENCE
Confidence is the key to presenting your best self to others. Having white teeth means you will hide your smile less and show off those pearly whites more! No more days of being hesitant to laugh at a joke or crack a huge smile and no more hiding your mouth with your hand when you speak. Having whiter teeth will promote a much more positive interpersonal communication experience between you and those that you interact with.
WHITE TEETH SIGNAL YOUTH
In another study, conducted by Oral B, two thousand British people were asked to estimate the age of a model in a photo. The first photo showed a woman with a radiant smile, the other the same woman with discoloured teeth. On average, the doctored image of model was estimated to be thirteen years older with an age of 44 years, compared to the woman with whiter teeth. This is a large disparity between her true age and the age that people assumed she was when they looked at the picture with yellowed, uncared for teeth. If you could take up to 13 years off of your appearance with the painless act of teeth whitening, would you? Compared to many other ways that people try to look younger, teeth whitening is a much less painful and much more cost effective choice.
WHITE TEETH SIGNAL HEALTH
It is common knowledge that the younger you are, the healthier you usually are. Our bodies naturally deteriorate over time. Therefore, when others see signs of health such as wrinkle free skin, a full head of hair, or white teeth for example, they will associate that with somebody's level of health. These positive signs of health show people you are interacting with that you are maintaining your body and its functions properly. The more positive they are, the younger they will think you are.
In conclusion, having white teeth can have a great anti-aging effect on your appearance. If you are looking to get whiter teeth, below you will find Whitening techniques
Most whitening agents in the market are effective but only to various degrees. The most common chemical agent that is used to whiten the teeth is Carbamide Peroxide. Carbamide Peroxide is an oxidizer and acts by oxidizing the coloring agents within the dentine or those on the surface of the enamel.
In-Home Bleaching Trays
In-Home Bleaching Trays are fabricated by dentists from a mold of your teeth. The tray is well-adapted to the contour of the teeth and can hold the solution on the tooth surface with minimal dilution. Higher percentages of carbamide peroxide are used in in-home bleaching treatments anywhere from 10-30%.
In-Office Bleaching
When you want to whiten your teeth in a hurry, the most efficient method of whitening is an In-Office Treatment. In In-Office Treatments, your gums are isolated and protected from the teeth by a special compound and a very high concentration of carbamide peroxide is painted on the teeth. Occasionally, the whitening agent is activated by the  with a special light to speed up the process.
"Internal" Bleaching
When teeth have severe discoloration due to necrosis/damage to the tooth pulp, an "internal" bleaching technique is used to lighten up the discolored teeth. The prerequisite for this technique is that the tooth must have been treated by a root canal process.
Contra-Indication for Teeth Bleaching
If you have any veneers/bonding/crowns, you must realize that the bleaching agents do not affect the dental materials. Applying bleach to all teeth will allow the natural teeth to lighten while the restored teeth remain the same color. Use of bleaching during pregnancy has not been studied and therefore contra-indicated.
Sensitive Teeth?
The limiting factor that prevents people from whitening their teeth to their maximum potential is the development of sensitivity by the bleaching agent. However, there is good news! The sensitivity is caused by dehydration of the teeth and is completely reversible, when you stop the bleaching, the whiteness will remain, but the sensitivity will be alleviated.
There are also some remedies to minimize sensitivity that we can discuss during your consultation appointment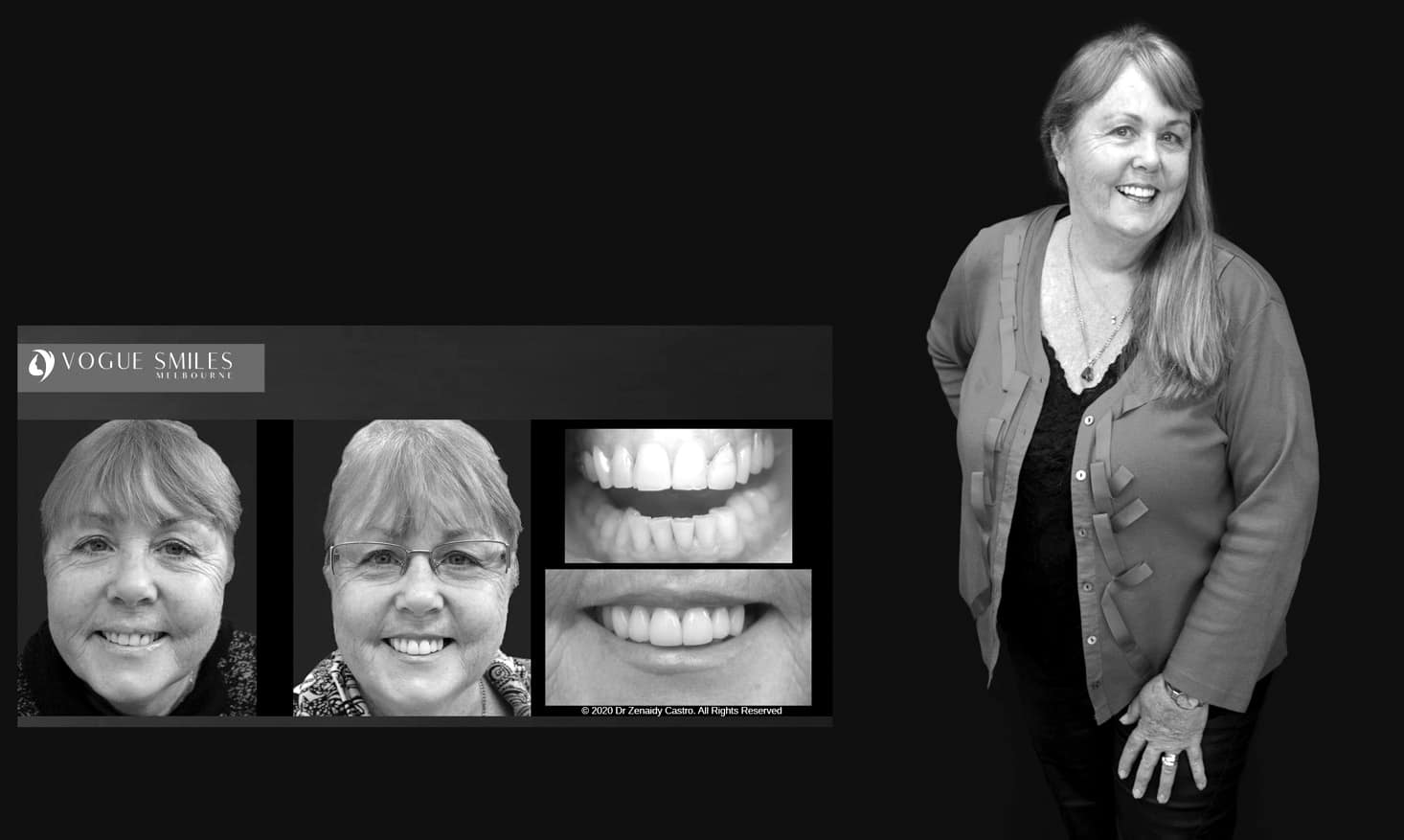 In healthy mouths with no missing teeth, the roots of the teeth are supported by the jawbone. When teeth are missing, the jawbone is slowly shrinking, which results in decreased facial support. So, with every tooth that is lost, bone and facial muscle support are lost too, which can change the way you look. Without teeth to support, facial collapse such as sunken or sagging cheeks may start to show, which can make us look older than we really are. 
The Importance of Replacing Missing Teeth:
In addition to facial profile support, our teeth serve to aid in chewing, digestion, speaking, and even boosting self-esteem. Studies have shown that tooth loss can have a negative impact on our self-esteem. 
Since we know that teeth keep your facial muscles and bones intact, it makes sense that there is a relationship between missing teeth and signs of early aging. Without the support that your teeth provide, your mouth and cheeks can sink, shrink, and sag, which is often called, facial collapse.
Missing teeth also form gaps. While a few teeth gaps may seem insignificant, gaps allow for shifting of existing teeth, which affects facial support as well. So even if you lose only a few back teeth, those teeth can shift and cause a domino effect that can change your front tooth position as well. Gaps in front teeth can negatively affect our appearance.
Unfortunately, an aged facial appearance is not the only problem with missing teeth. Tooth loss also causes lifestyle changes as well. Without full tooth support, people find it hard to chew, speak, or smile. Rather than merely an inconvenience, tooth loss can become a major hindrance to each additional tooth loss.
Missing Teeth Can Make You Look Older:
Aging facial appearance is a lesser-known problem that people think about when they lose their teeth.  
Signs of premature aging due to tooth loss include the following facial profile changes:
Facial angles – When we lose teeth, we also lose the height of the jawbone, which lowers the facial height too. Change in angulation can alter face shape and make noses appear larger. Loss of shape can make the face appear sunken or hallowed.
Facial wrinkles – Facial angulation changes can cause increased vertical lines that make us appear older than we really are.
Bite Changes – Tooth loss causes changes in how teeth come together. A deterioration in the bite can create a harsher facial appearance because the corners of our mouths lose shape.
Frown Appearance – The loss of shape around mouth corners can make you appear unhappy or even angry without knowing it.
Chin rotation – Bite deterioration can cause a forward shift in the chin that creates a pointed looking appearance.
Cheek jowls – When some of the jawbone is lost, it causes muscle ligaments to weaken, which allows for the sagging of facial tissue.
Thinning lips – Without teeth to support the appearance of full lips, they can appear thin. In addition, weakened muscles around the mouth with missing teeth can make lips appear longer rather than fuller, which makes us look older.
5 Options For Replacing A Missing Tooth
1. Dental implants
2. Implant-supported bridge
3. Tooth-supported bridge
4. Removable partial dentures
5. Flipper
6. Snap on Smiles

Many patients are looking for a more youthful face and an attractive smile.  A lot of people have heard of porcelain veneers, but many do not truly understand what they really are and how they can be used to change smiles.
What are Porcelain Veneers?
Porcelain Veneers are thin layers of porcelain that are bonded on the teeth to improve their appearance.
It is one of the fastest and most effective ways to create a youthful smile is by applying porcelain veneers—thin ceramic shells— to cover your existing tooth structure. The procedure can correct teeth that are cracked, stained, misaligned or poorly shaped and produce teeth that are white and straight, making it possible for you to present a well-proportioned smile for 10 to 15 years.
3 Ways Veneers Can Make You Look Younger
1. They fix discolouration 
According to some beauty experts, skin tone is seen as a measure of youth. And the same goes for the shade of our teeth. As we age, our teeth often become discoloured. Peroxide will lift the overall shade of your teeth, but it can't always completely get rid of genetic blemishes, or discoloured spots from things such as decalcification in water or certain medicines.
2. They cover chips and cracks
Tooth breakages of any kind suggest weak and brittle bones or teeth which have worn over time. This is a common marker of ageing. Veneers are a great way to fix unsightly imperfect teeth, without the need for painful extraction or serious repair.
3. They close up your gaps  
While Vanessa Paradis can pull off her beautiful, gap-toothed smile, not everyone wants to keep theirs! Tooth gaps can be instantly ageing but veneers fix any spaces you wish to close up while allowing you to avoid lengthy orthodontic treatments. 
People with genetically small, thin, or pointy teeth may also benefit from veneers, which will give them well-shaped teeth, and contribute to an attractive face — giving the impression of a facelift.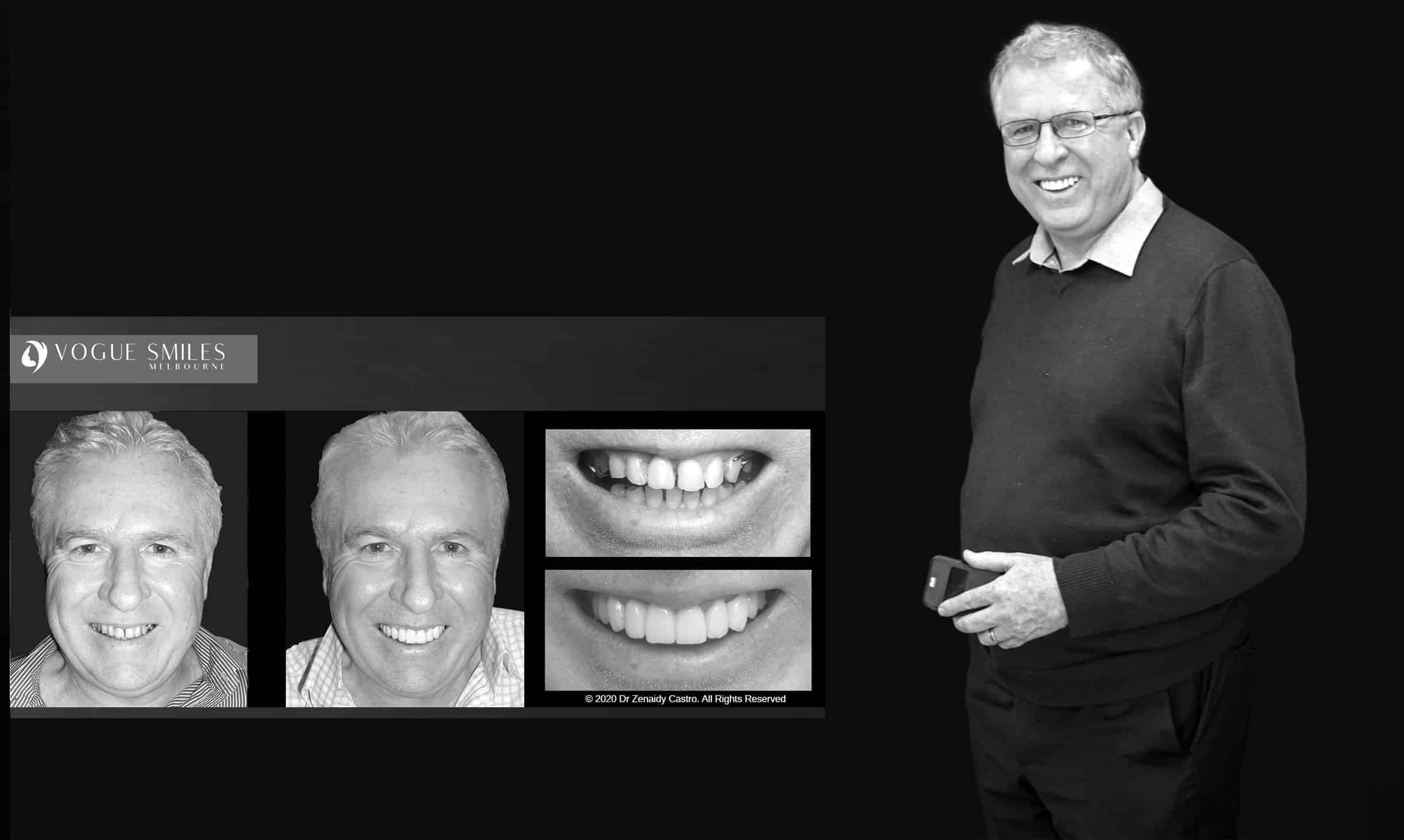 How many veneers do I need?
Depending on what you're trying to correct! Typically, the rule is that if you're correcting misalignment of the teeth, you will need to correct the misalignment in pairs (2, 4, 6 veneers) at a time. However, if you're getting veneers to correct misalignment and substantially improve the colour of your teeth, you should correct as many teeth as you show when you smile. A point to remember is that the colour of porcelain veneers are very stable and they will not discolour over the years, however, the natural teeth next to them turn yellow with time and age. Although we can match the two front teeth to the surrounding teeth today, 2-3 years down the road the veneered teeth will look whiter than the adjacent, non-veneered teeth.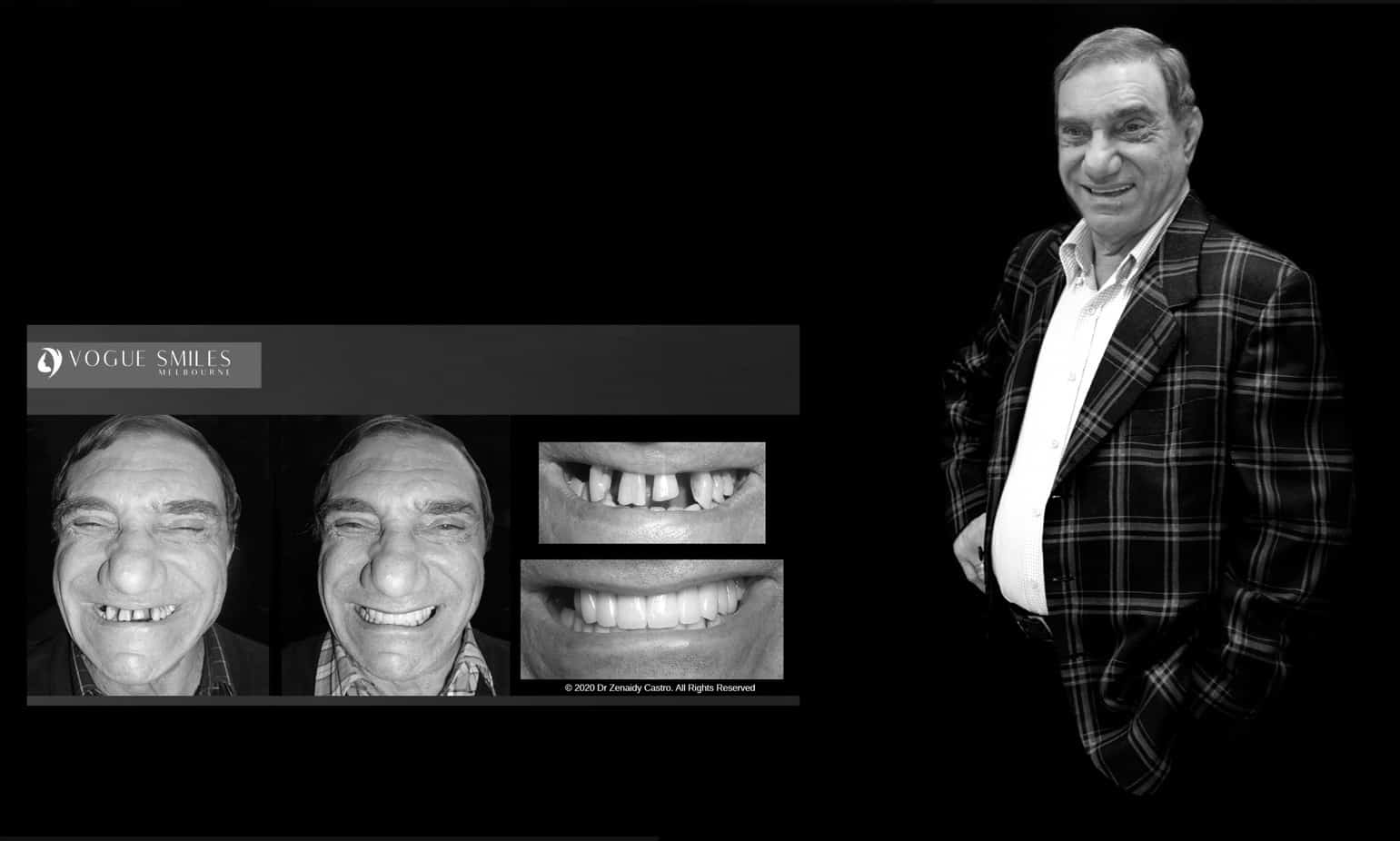 Dental Bonding (Cosmetic Improvements with Composite Resin)
One of the most conservative procedures that whiten and reshape a smile is bonding. Bonding can lengthen, straighten and whiten teeth without compromising tooth structure. Bonding material (a cosmetic resin/plastic) can be added to teeth that are poorly shaped, crooked, discolored or worn down to redesign your smile and improve the shape of your face. The procedure is fast, simple and requires no anesthesia.
How does dental bonding work?
First, the tooth needing treatment will be made slightly rough, and then a special conditioning liquid is applied to the tooth's surface to help the resin adhere properly. After the dentist permanently bonds the composite resin material to your tooth by using a special ultraviolet light, he will mould, shape and smooth the material to give it a natural appearance.
Dental bonding can be a treatment option for patients with the following issues:
Repairing a chipped tooth
Restoring discoloured teeth that do not respond to teeth whitening treatments
Repairing a tooth damaged by decay
Closing a space or gap between teeth
Making a tooth appear longer
Altering the shape of a tooth
Benefits of dental bonding
Minimal pain – The vast majority of patients require no aenesthesia to undergo a dental bonding treatment.
Low cost – Dental bonding is relatively inexpensive, compared to other cosmetic dental procedures.
Less time – Whereas many cosmetic dentistry treatments require multiple trips to the dentist, dental bonding procedures can be completed within a single visit.
Safe – Dental bonding uses a composite resin material that does not contain any metal components, and is, therefore, biocompatible with your body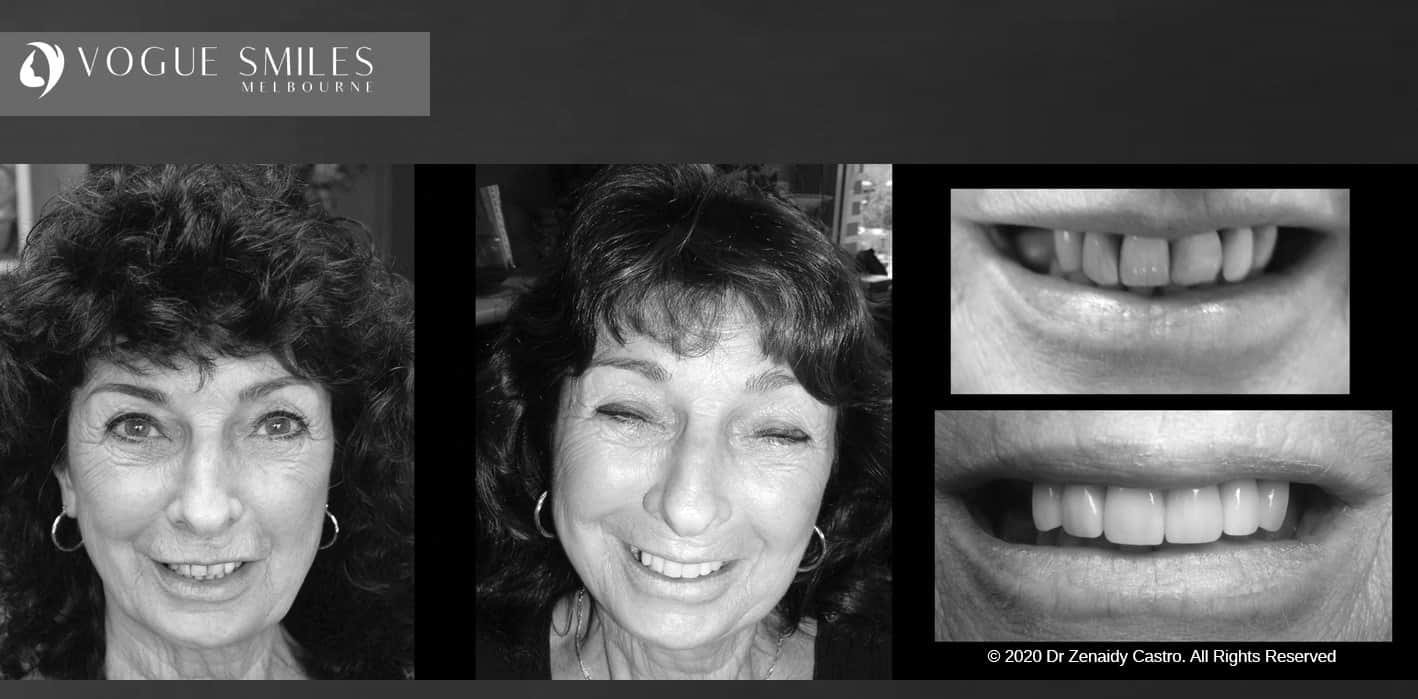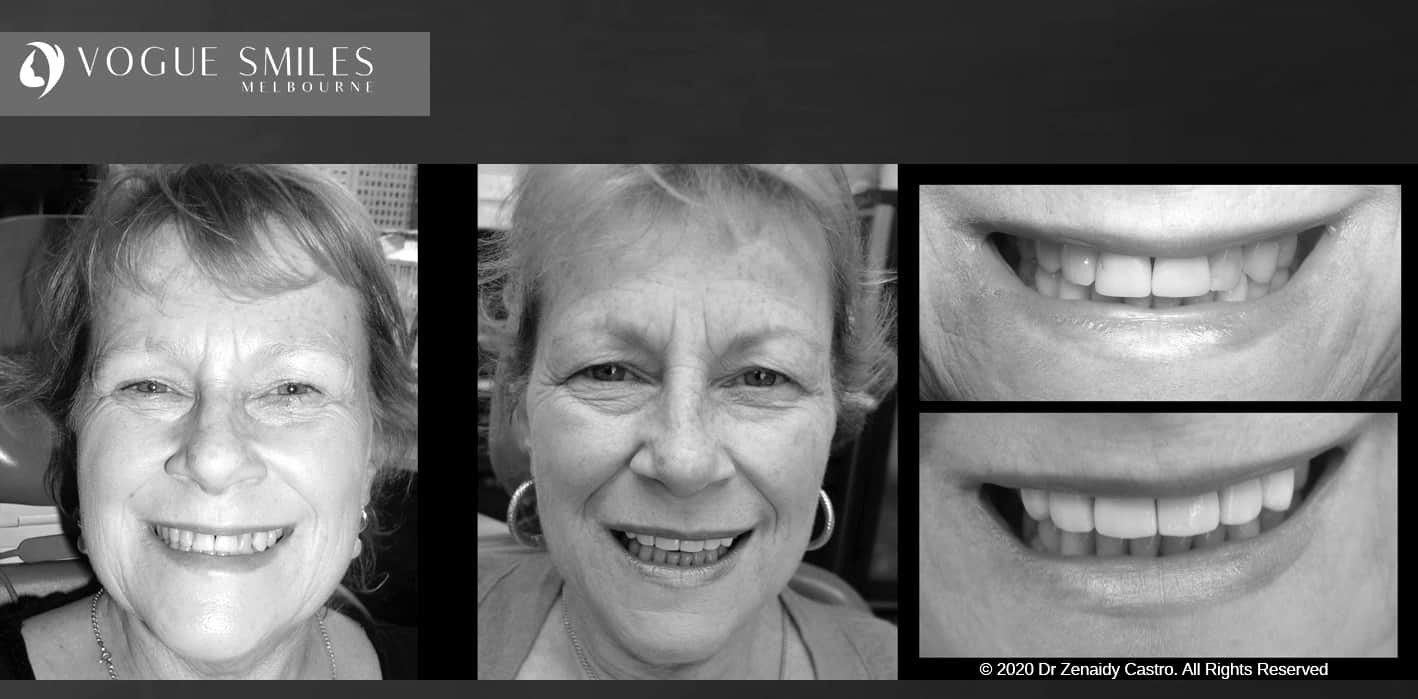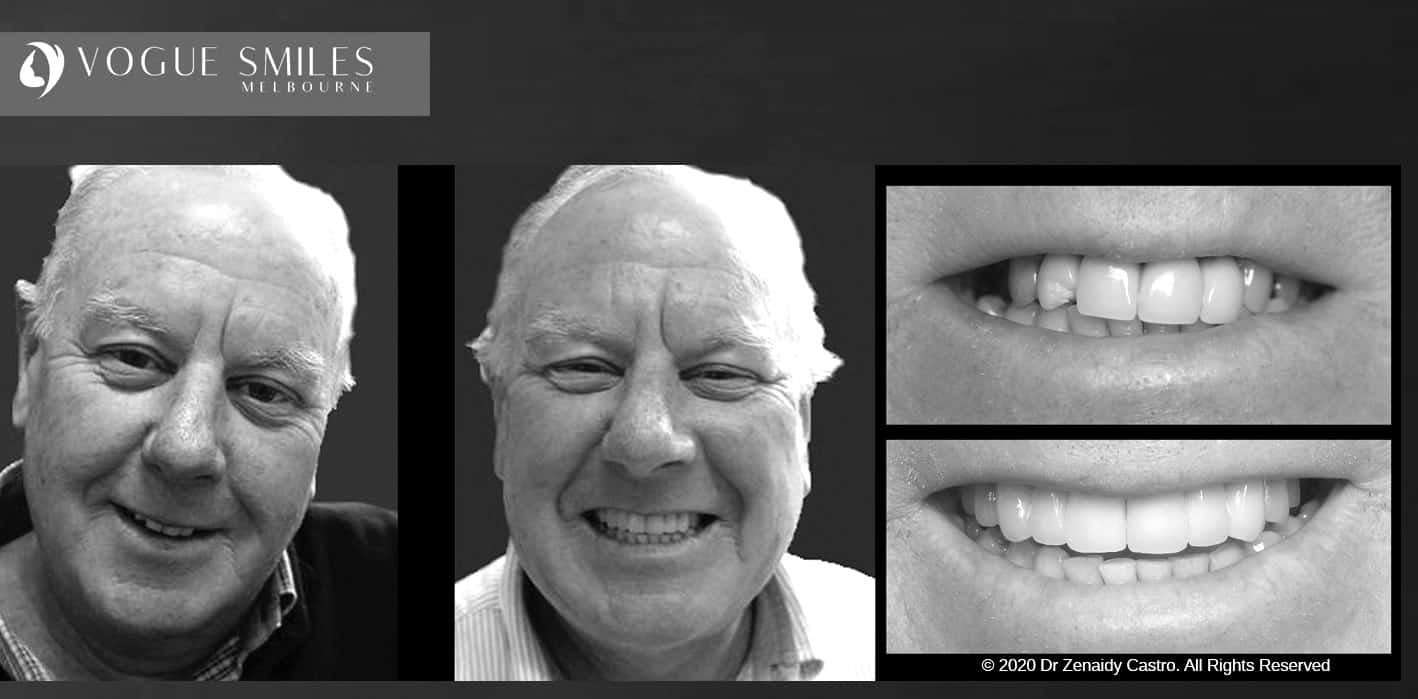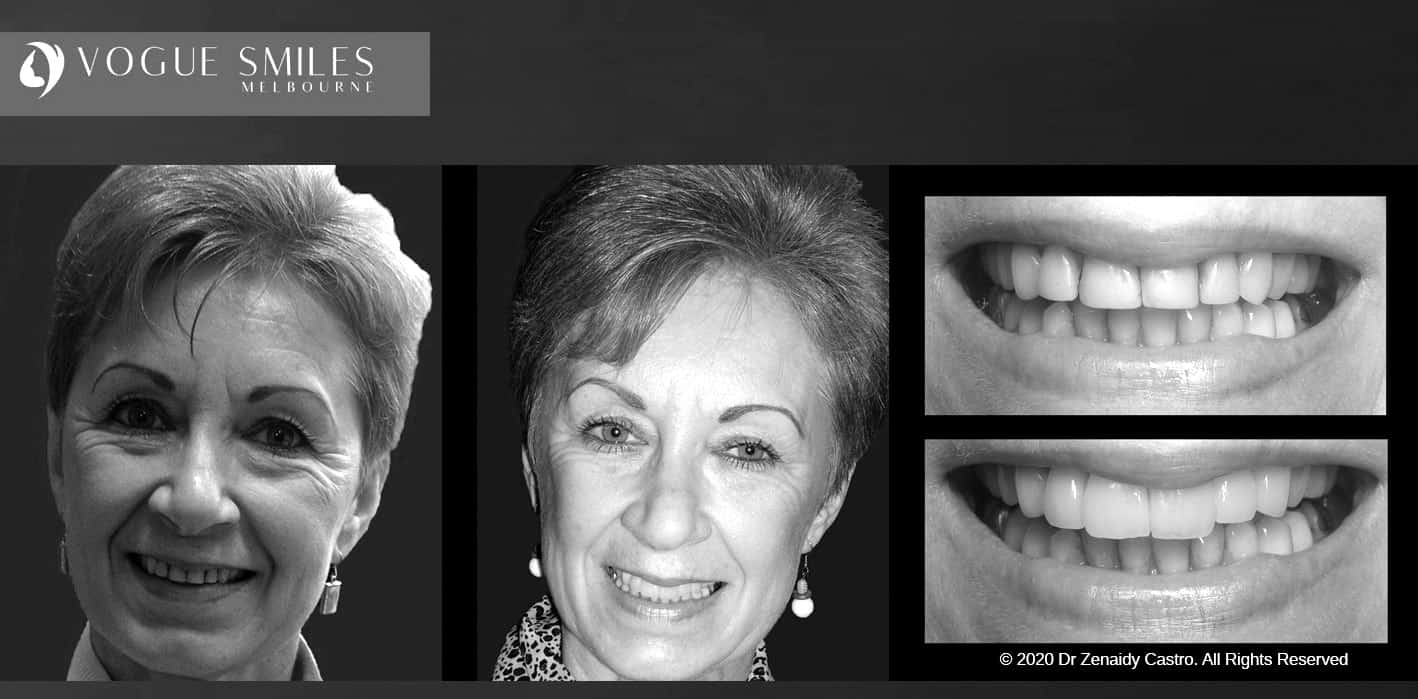 For the Best Smile Rejuvenation Anti-aging Treatment in Melbourne call VOGUE SMILES MELBOURNE  Call 
9629-7664 

to book for your  FREE MINI COSMETIC CONSULT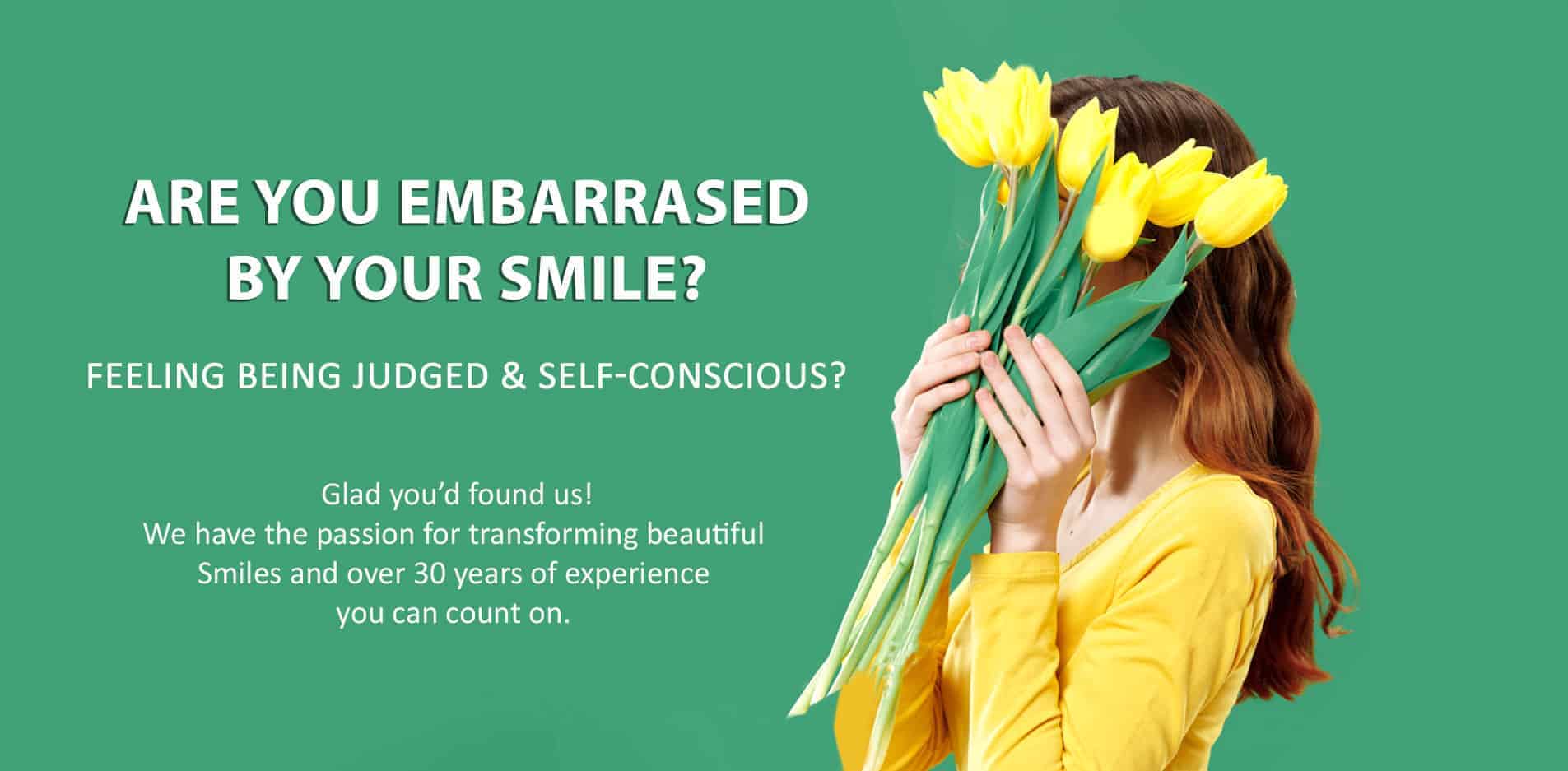 All The Things You Need to Know About Veneers (this page section is currently under maintenance)