We understand that during the decision-making process for extensive Dental treatment, many patients conduct extensive and simultaneous research into the recommended dental treatment and the cost of care, including payment and financing options.
In order to meet the needs of consumer-savvy patients, our goal as dental care professionals is to engage with patients, helping them to take action to improve their smiles and general health at the same time offering them an affordable fee without compromising on the quality of dental care.
With such in mind, we are pleased to offer this Match or beat on Cosmetic Dentistry and Invisalign Treatment.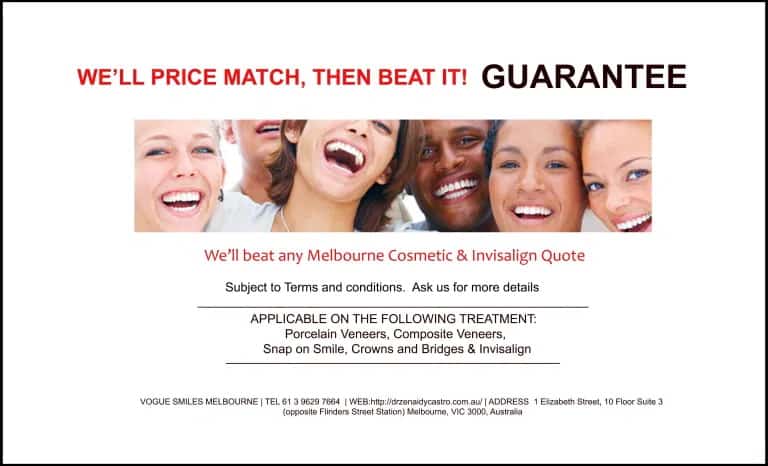 Match it or Beat it offer on Cosmetic Dentistry & Invisalign Treatment terms and Conditions

1. APPLICABLE ON THE FOLLOWING SPECIFIC SERVICES OR TREATMENT ONLY: Porcelain Veneers, Composite Veneers, Snap-on Smile, Crowns and Bridges & Invisalign Treatment and major Restorative/Bonding works only

2. Send us by email evidence or proof of the competitor's price in the form of genuine, verifiable, written quote and treatment record, no more than 30 days old, for work to be carried out on your teeth.
The quote has to be on letterhead paper, showing treatment details in full, the tooth number, the exact material quoted, type or level of treatment, duration of treatment.
Bring the original quote to the consultation. Our staff will ask to make a copy.
3. We will match the price of our competitors based on EXACTLY COMPARABLE treatment materials, techniques and level of treatment.
4. Quotes only provided to patients whereby the dentist deems the procedure suitable to your specific condition after clinically reviewing your radiographs and teeth.The dentist has absolute discretion on what is suitable for you and may refuse treatment if he/she deems the procedure not suitable for your case.
5. If at the consultation our dentist can ascertain that he/she is happy to carry out the procedure you have been quoted for, we will not just match the price but Beat the Price by 5%!
6. Your treatment must be booked at the time we beat the competing offer.
7. Payment for treatment must be made in full prior to commencement of treatment or upon booking the appointment
8. Offer is only valid to all genuine, verifiable, written quotes from a registered Dental Clinic in Melbourne and surrounding suburbs– not overseas or interstate clinics
9. We reserve the right to refuse any quotes that are not genuine
10. Cannot be redeemed in conjunction with any other special offer, any previous or ongoing treatment or on any discounted offer
11. Our price Matching and/or Beating policy does not extend to the following: Special one-off or limited time offers such as those marketed by Groupon, Scoupon, Cudo, Daily Deals and the like. It also only applies to cases where the laboratory work can be certified as "Made in Melbourne". We will not compete with work manufactured by overseas laboratories.
12. We reserve the right to limit the quantity of treatment/service available for price-matching at our sole discretion
13. Subject to practice promo availability. We do reserve the right to stop, modify or cancel this offer at any time without giving any prior notice. Call us to check if there has been a recent amendment on these terms and conditions
14. Offer valid until 23rd Dec 2020. Further to this term, call us to check availability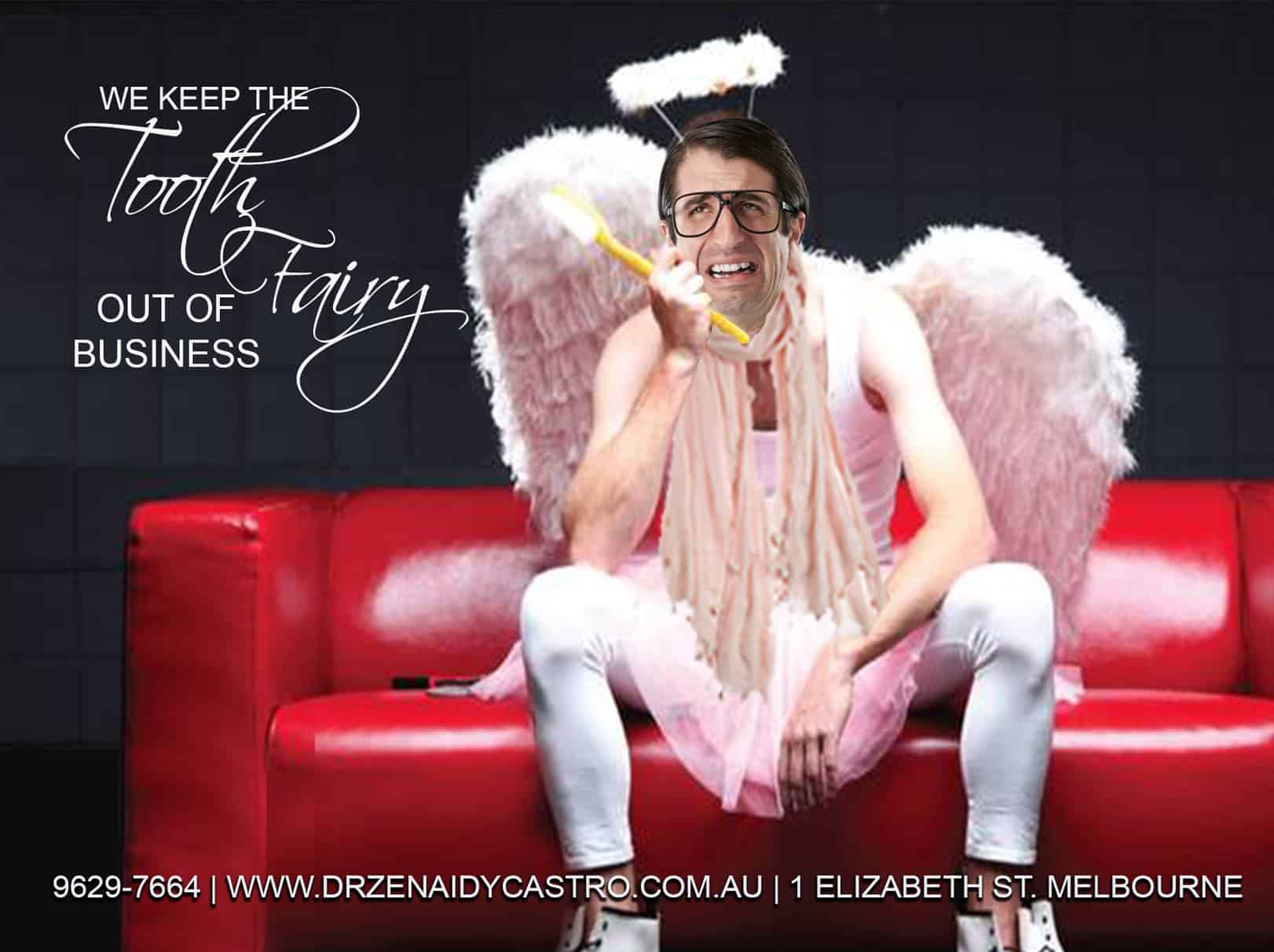 DEFINITIONS;
Major Restorative or Bonding works involves doing filling or restoration works on a minimum of 5 teeth restored at one time (all done in one day) to a maximum of most or all of the teeth, with Composite or Porcelain
Porcelain Veneer Level or Range involves entry-level, midrange and Premium range.
Entry-level are that Porcelain fabricated using a PREPLESS OR no type or preparations techniques, a sample of this works includes likes of those Lumineers or Glamsmile
The porcelain level or Range is affected as to what laboratory is sent to. Most Dental laboratory who operates in Australia who charges cheaper lab fees most usually have the work outsourced overseas. Midrange and Premium Level are normally done by a master ceramist who is experienced in creating the best Aesthetic results in Porcelain restoration and they normally charge higher lab fees.
Porcelain Veneer Techniques of Clinical Construction includes the Prepless Veneer or the Traditional Porcelain or with preparation methods
TYPES OF VENEER Porcelain or Composite
TYPES OF PORCELAIN VENEER MATERIALS: Zirconia either Monolithic or layered, Emax either Monolithic or layered, CEREC® Veneers (not available on our office), Feldspathic porcelain
TYPES OF CROWN materials: Zirconia either Monolithic or layered, Emax either Monolithic or layered, Gold Crown depends on the carats and volume of gold utilized, Porcelain Fused to metal or VMK, CEREC® Crowns (not available on our office)
SNAP-ON SMILE OR ANY SIMILAR APPLIANCE has two types depending on coverage, One is Quadrant and this involves coverage of 6 teeth only. Full involves coverage of all the teeth per jaw
TYPES OF INVISALIGN
Invisalign i7
Invisalign i7 offers the possibility of adjusting minor orthodontic issues. This treatment is very affordable, timely and with minimal impact on your day to day activities. Invisalign i7 is recommended for those who are experiencing small cosmetic concerns such as slight teeth crowding, minor spacing or the reversion of past orthodontic treatments.
The versatility of this program allows this to be one of the shortest treatments yet with up to seven aligners seeing results in the span of only three months.
Invisalign Lite
Much like the Invisalign i7, Invisalign Lite offers a quick, easy and manageable solution for mild malocclusions. This treatment will be appropriate for those that require more aligners and time to nurse their desired dental fulfillments.
Invisalign Lite offers up to fourteen aligners within the period of completion estimated at a total of six months. Though this treatment will lead to a great aesthetic resolution, it may not necessarily be suitable for everyone. This can only be determined during an assessment with our trained dental practitioners.

Invisalign Full
Invisalign Full is generally the most ideal treatment to undertake. Without any limitations, this package gives us the best chance in delivering an outcome that exceeds your expectations. With essentially an unlimited set of aligners provided to work with as required, Invisalign Full will be the superlative option for your dental journey.
This treatment is expected to take approximately seven to eighteen months to complete with the use of fifteen aligners or more.

Invisalign Complex*
Invisalign Complex addresses intricate dental requirements that necessitates much more attention and refinement. This is not a payment tier by Invisalign but a report by Clear Braces Centre which describes the complexity of the treatment. This may include the requirements of prolonged treatments, treatments that involve extractions and/or Invisalign treatments performed with other dental procedures. Because of this, valuations can only be established via appointment and consultation.
This procedure may be expected to last eighteen months or more. Depending on how intensive is the case, patients are normally referred to an Orthodontist
Feeling insecure with your smiles?  Call Vogue Smiles Melbourne 9629-7664, for all your Cosmetic Dentistry treatment in Melbourne