Affordable Cosmetic Smile Makeover Solutions in Melbourne
Thank you for visiting the Dental Blog of VOGUE SMILES MELBOURNE about Affordable Cosmetic Smile Makeover Solutions in Melbourne.
How can we assist you today? Whether you're in need of a simple cleaning or a dazzling smile makeover, the team of Vogue Smiles Melbourne are here to help. Our General and Cosmetic Dentistry practice is home to a wide range of treatment options, each of them designed to create noticeable, long-term improvements for both your oral health and your self-confidence.
Our practice is dedicated to providing high-quality care in a cozy, one-on-one environment, focusing on your comfort, your personal smile goals, your financial budget and your oral health needs. We look forward to not only helping you improve your beautiful teeth but getting to know you and forming a relationship that hopefully lasts for many years to come.
Please feel free to look around at our website. If you have any questions about the topic of Affordable Cosmetic Smile Makeover Solutions in Melbourne or would like to make a booking, please contact our practice today on 9629-7664 .
It is our aim that through the educational articles we posted on our dental blog, that we can make profound impact on the lives of our patients by empowering them with knowledge and insight on Dental health and treatment that they are searching for.
Read our Blog content below to learn more about this topic.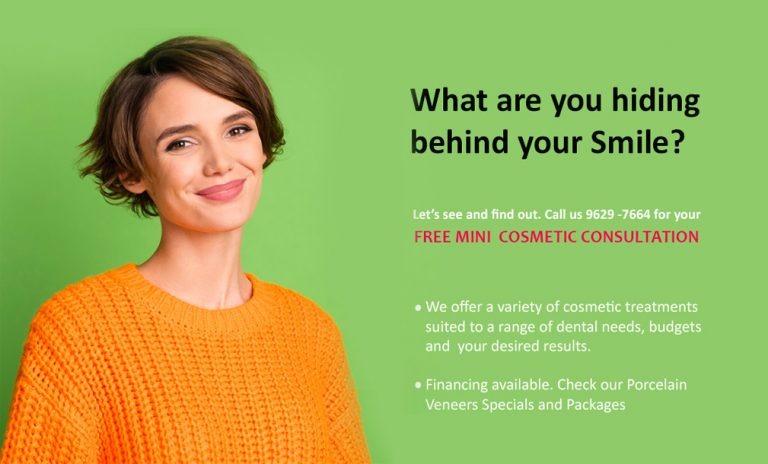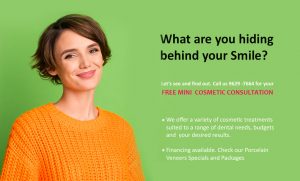 How Can we Help to Improve Your Smile Today?
Are you unhappy with your smiles? Looking for an affordable Cosmetic Smile Makeover solution to improve your smiles without causing too much damage to your budget.
In this page, you will find about our Specials and their terms and conditions.
But first, we would like to invite you to our actual Dental office so we can assess the cosmetic problems you are not happy with such as chips, fractures, discoloration, or wear and tear on your teeth.  On that visit, we will walk you through various treatment options and determine whether cosmetic smile makeover  is appropriate for you. Dr Castro will sit down and discuss your options based on the extent of corrections needed, your desired outcome, and what treatments are available to correct what you are unhappy with.
Dr. Castro love transforming smiles through cosmetic dentistry, and with her  vast experience of over 30 years,  the care and aesthetic results she provides for all her patients is unmatched. What sets her apart is her careful eye for detail and ensure they have superior results that meet your expectations.
To learn more about Affordable Cosmetic Smile Makeover Solutions in Melbourne we are offering, you can read to learn more below or please call our office at 9629-7664 to request an appointment with us and see what we can do to help you.
Believe In Your Smile Investment
A beautifully perfected smile can inspire self-confidence and make a lasting positive impression. For many individuals, correcting bothersome dental flaws or recapturing a more youthful smile can be a life changing experience. To accomplish smile makeovers like these, we offers high-quality porcelain veneers that can create amazing results.
Porcelain Veneer  that can last for over 15 years is well worth the investment in its price. If you take care of your Porcelain veneers with regular visits to the dentist and proper brushing and flossing every day, they can last for decades, making every penny of the price of the treatment worth it.
A new smile can transform your life completely.
A gorgeous smile can open doors professionally, socially, and romantically. You will feel more confident about yourself and less self-conscious about the stained, chipped, broken, or gapped smile you used to sport.
The benefits of porcelain veneers are priceless.
Attempting to quantify the multiple amazing side effects of porcelain veneers by comparing the results to the price of the procedure is fruitless – veneers revolutionize peoples' lives.
Veneers are durable, which means you never have to worry about the integrity of your teeth while eating a meal or speaking. Veneers are resistant to stains – they are essentially a permanent teeth-whitening solution that won't fall victim to your coffee addiction. Veneers are versatile, correcting multiple smile imperfections at once, limiting the amount of time you need to sit in a dentist's chair, and reducing the cost of your cosmetic dentistry bill.
Above all, porcelain veneers look completely natural. You don't want to invest thousands of dollars in a cosmetic dentistry treatment if you don't have a guarantee that you'll look like the best version of yourself when all is said and done. With veneers, you will look your very best. And others will notice too, in a good way.
It's Time to Transform Your Smile and Your Life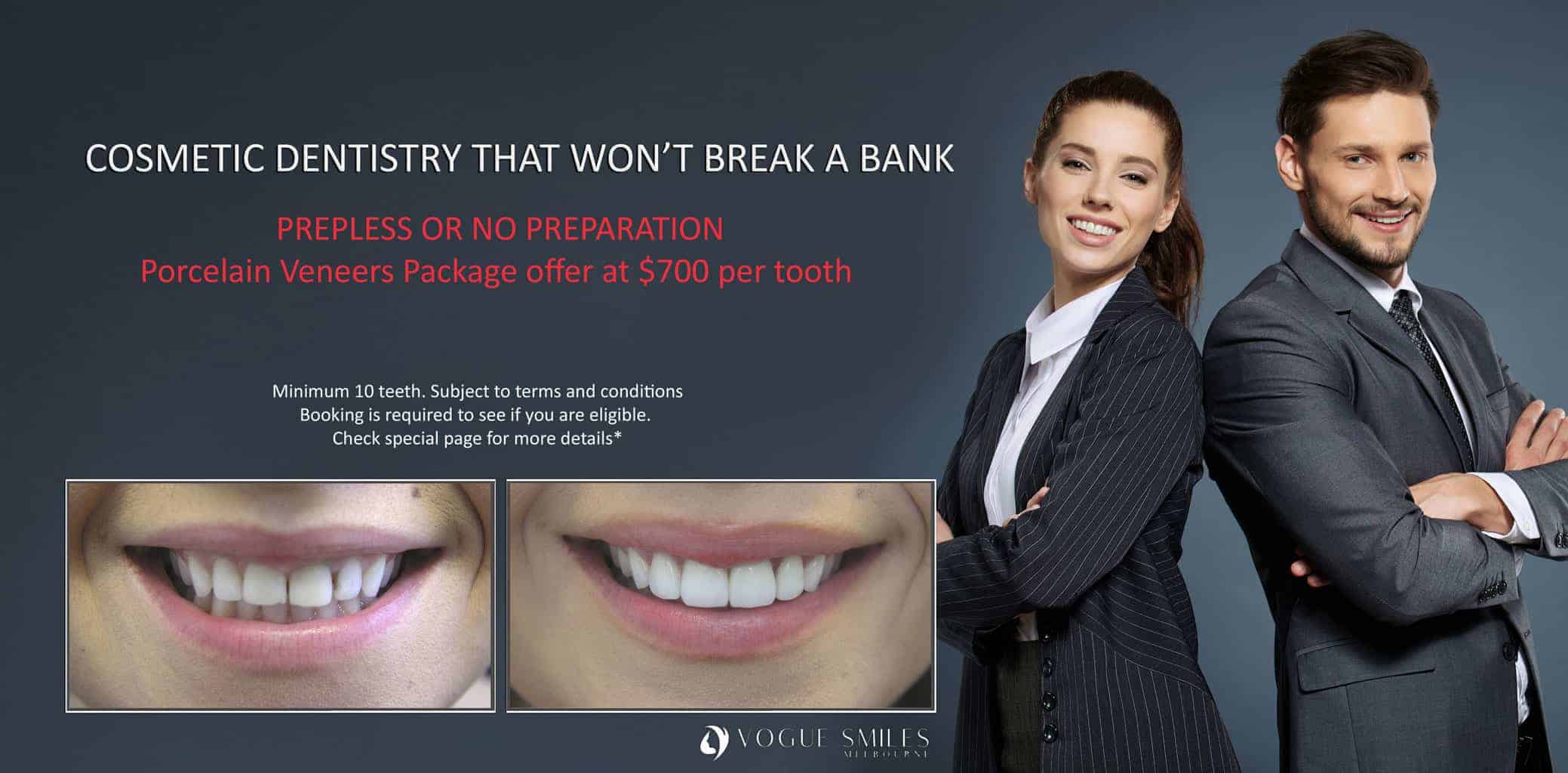 We understand that during the decision-making process for extensive Dental treatment, many patients conduct extensive and simultaneous research into the recommended dental treatment and the cost of care, including payment and financing options.
In order to meet the needs of consumer-savvy patients, our goal as dental care professionals is to engage with patients, helping them to take action to improve their smiles and general health at the same time offering them an affordable fee without compromising on the quality of dental care.
With such in mind, we are pleased to offer this Specials and Packages on Porcelain Veneers including Match or beat on Cosmetic Dentistry treatment and other major restorative and general dentistry works.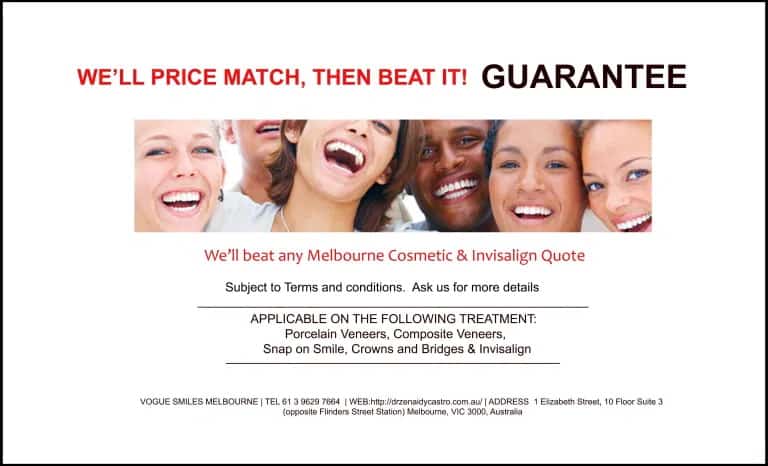 Affordable Cosmetic Smile Makeover Solutions in Melbourne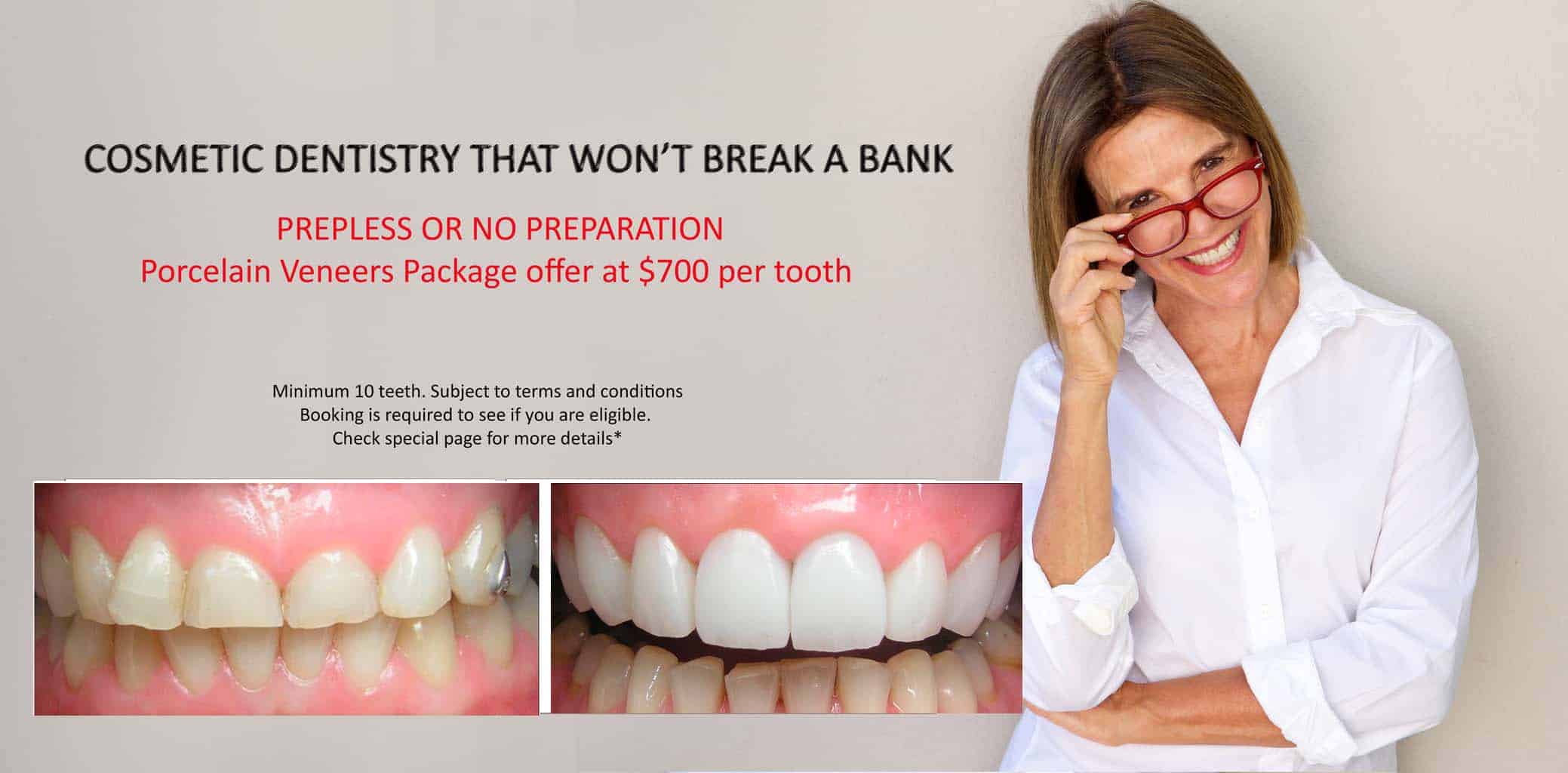 Match it or Beat it offer and Specials on Cosmetic Dentistry terms and Conditions

1. APPLICABLE ON THE FOLLOWING SPECIFIC SERVICES OR TREATMENT ONLY: Porcelain Veneers, Composite Veneers, Snap-on Smile, Crowns and Bridges & Invisalign Treatment and major Restorative/Bonding works only

2. Send us by email evidence or proof of the competitor's price in the form of genuine, verifiable, written quote and treatment record, no more than 30 days old, for work to be carried out on your teeth.
The quote has to be on letterhead paper, showing treatment details in full, the tooth number, the exact material quoted, type or level of treatment, duration of treatment.
Bring the original quote to the consultation. Our staff will ask to make a copy.
3. We will match the price of our competitors based on EXACTLY COMPARABLE treatment materials, techniques and level of treatment.
4. Quotes only provided to patients whereby the dentist deems the procedure suitable to your specific condition after clinically reviewing your radiographs and teeth.The dentist has absolute discretion on what is suitable for you and may refuse treatment if he/she deems the procedure not suitable for your case.
5. If at the consultation our dentist can ascertain that he/she is happy to carry out the procedure you have been quoted for, we will not just match the price but Beat the Price by 5%!
6. Your treatment must be booked at the time we beat the competing offer.
7. Payment for treatment must be made in full prior to commencement of treatment or upon booking the appointment
8. Offer is only valid to all genuine, verifiable, written quotes from a registered Dental Clinic in Melbourne and surrounding suburbs– not overseas or interstate clinics
9. We reserve the right to refuse any quotes that are not genuine
10. Cannot be redeemed in conjunction with any other special offer, any previous or ongoing treatment or on any discounted offer
11. Our price Matching and/or Beating policy does not extend to the following: Special one-off or limited time offers such as those marketed by Groupon, Scoupon, Cudo, Daily Deals and the like. It also only applies to cases where the laboratory work can be certified as "Made in Melbourne". We will not compete with work manufactured by overseas laboratories.
12. We reserve the right to limit the quantity of treatment/service available for price-matching at our sole discretion
13. Subject to practice promo availability. We do reserve the right to stop, modify or cancel this offer at any time without giving any prior notice. Call us to check if there has been a recent amendment on these terms and conditions
14. Offer valid until 23rd Dec 2020. Further to this term, call us to check availability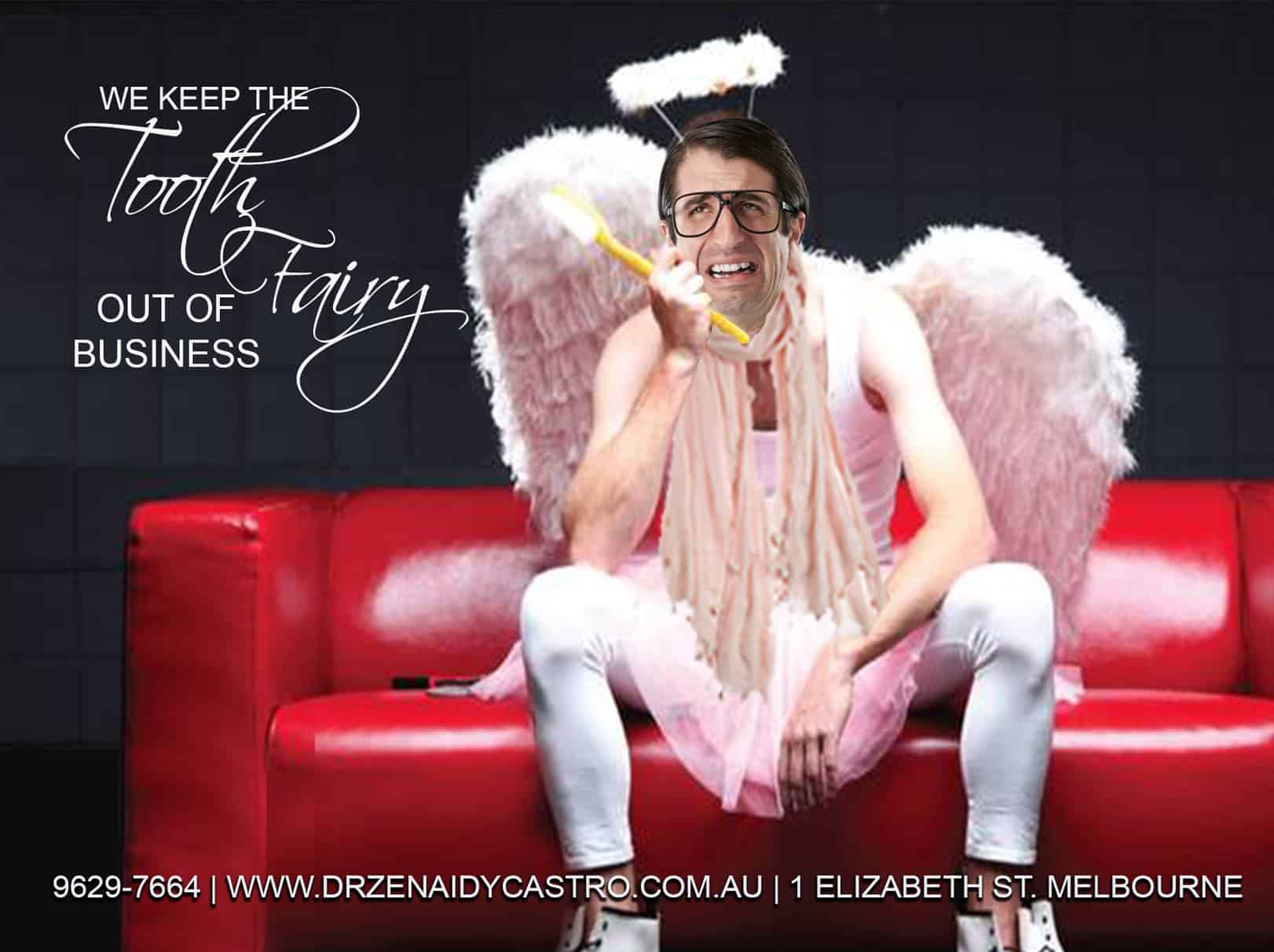 DEFINITIONS;
Major Restorative or Bonding works involves doing filling or restoration works on a minimum of 5 teeth restored at one time (all done in one day) to a maximum of most or all of the teeth, with Composite or Porcelain
Porcelain Veneer Level or Range involves entry-level, midrange and Premium range.
Entry-level are that Porcelain fabricated using a PREPLESS OR no type or preparations techniques, a sample of this works includes likes of those Lumineers or Glamsmile
The porcelain level or Range is affected as to what laboratory is sent to. Most Dental laboratory who operates in Australia who charges cheaper lab fees most usually have the work outsourced overseas. Midrange and Premium Level are normally done by a master ceramist who is experienced in creating the best Aesthetic results in Porcelain restoration and they normally charge higher lab fees.
Porcelain Veneer Techniques of Clinical Construction includes the Prepless Veneer or the Traditional Porcelain or with preparation methods
TYPES OF VENEER Porcelain or Composite
TYPES OF PORCELAIN VENEER MATERIALS: Zirconia either Monolithic or layered, Emax either Monolithic or layered, CEREC® Veneers (not available on our office), Feldspathic porcelain
TYPES OF CROWN materials: Zirconia either Monolithic or layered, Emax either Monolithic or layered, Gold Crown depends on the carats and volume of gold utilized, Porcelain Fused to metal or VMK, CEREC® Crowns (not available on our office)
SNAP-ON SMILE OR ANY SIMILAR APPLIANCE has two types depending on coverage, One is Quadrant and this involves coverage of 6 teeth only. Full involves coverage of all the teeth per jaw
General and Cosmetic Dentistry Financing in Melbourne CBD
Dental Payment Plan Options That will Fit Your Budget
We don't believe that dental care should be out of anyone's price range. We want you to feel confident in a smile that looks attractive and functions naturally—and fits within your budget! If you don't believe you can afford the dental treatment you need (or want), rest assured that we will try our best to help you afford the treatment you need. We have helped countless patients receive affordable dentistry, providing them with beautiful new smiles that have changed their quality of life.
Our team helps make our dental services affordable by assisting you in maximizing your insurance benefits and accepting a variety of payment methods. We also offer third-party dental financing through ZIPMONEY. Don't let fear or embarrassment about your budget keep you from getting the dental treatments your smile deserves. Contact our team today!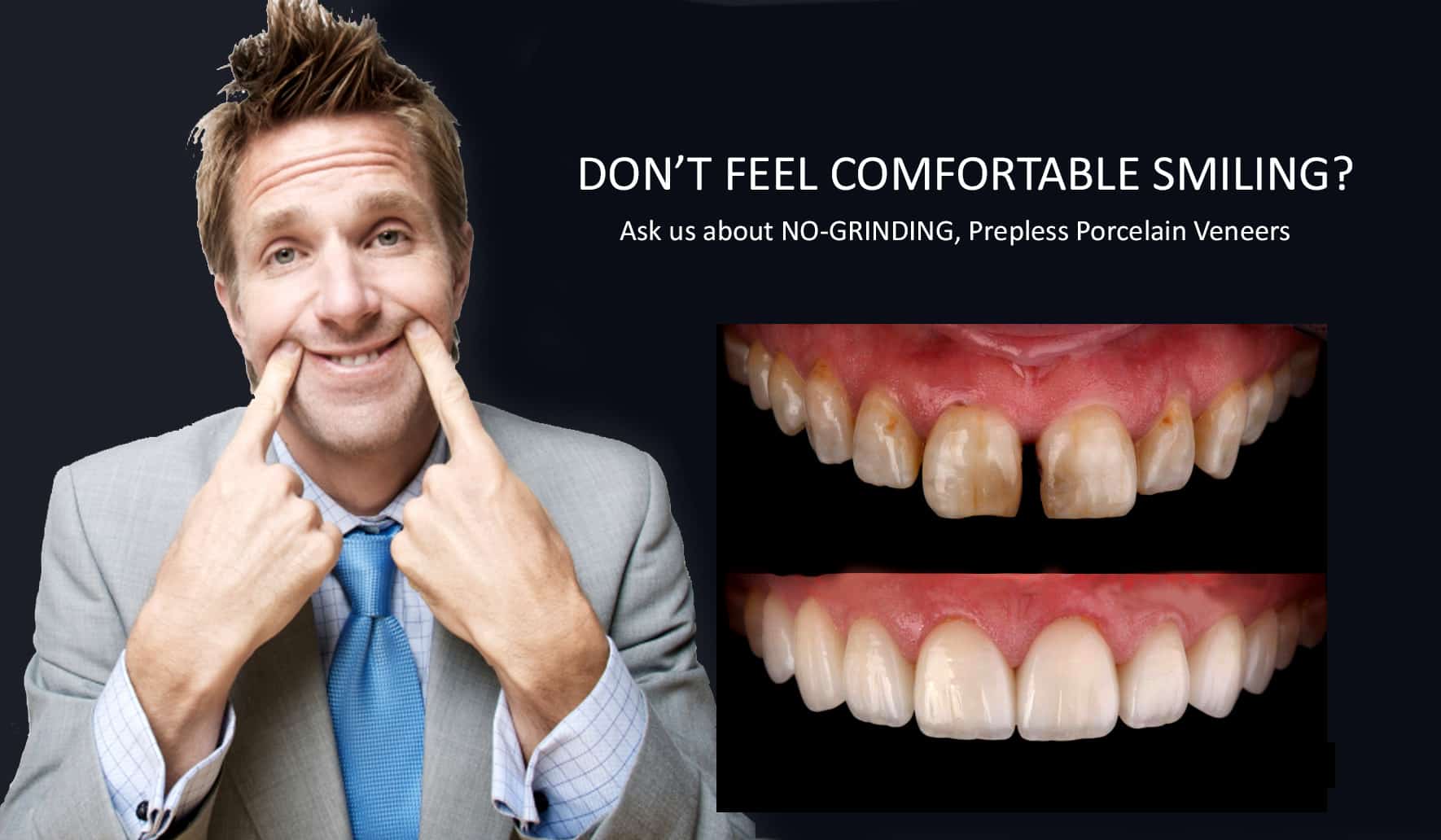 Before and After Dental Smile Makeover Treatment Gallery
Have a look at our smile gallery of photos that shows some of the beautiful smiles that we have worked on. We are committed to excellence & changing lives of our patients through smiles. Whether you're in need of more advanced procedures such as "extreme Smile make-over," Porcelain veneers, and bonding or you simply wish to correct a chipped tooth or create a whiter smiles, our practice provide personalized and cosmetic dentistry for every stage of your life. We have over 30 years of experience of providing gentle and quality General and Cosmetic Dentistry in Melbourne CBD, that you can count on.
We can Turn your dream of beautiful smile into reality.
Call us now for your FREE MINI COSMETIC CONSULT on 9629-7664
SEE SOME OF OUR BEFORE AND AFTER TREATMENT PHOTOS  WITH PORCELAIN VENEERS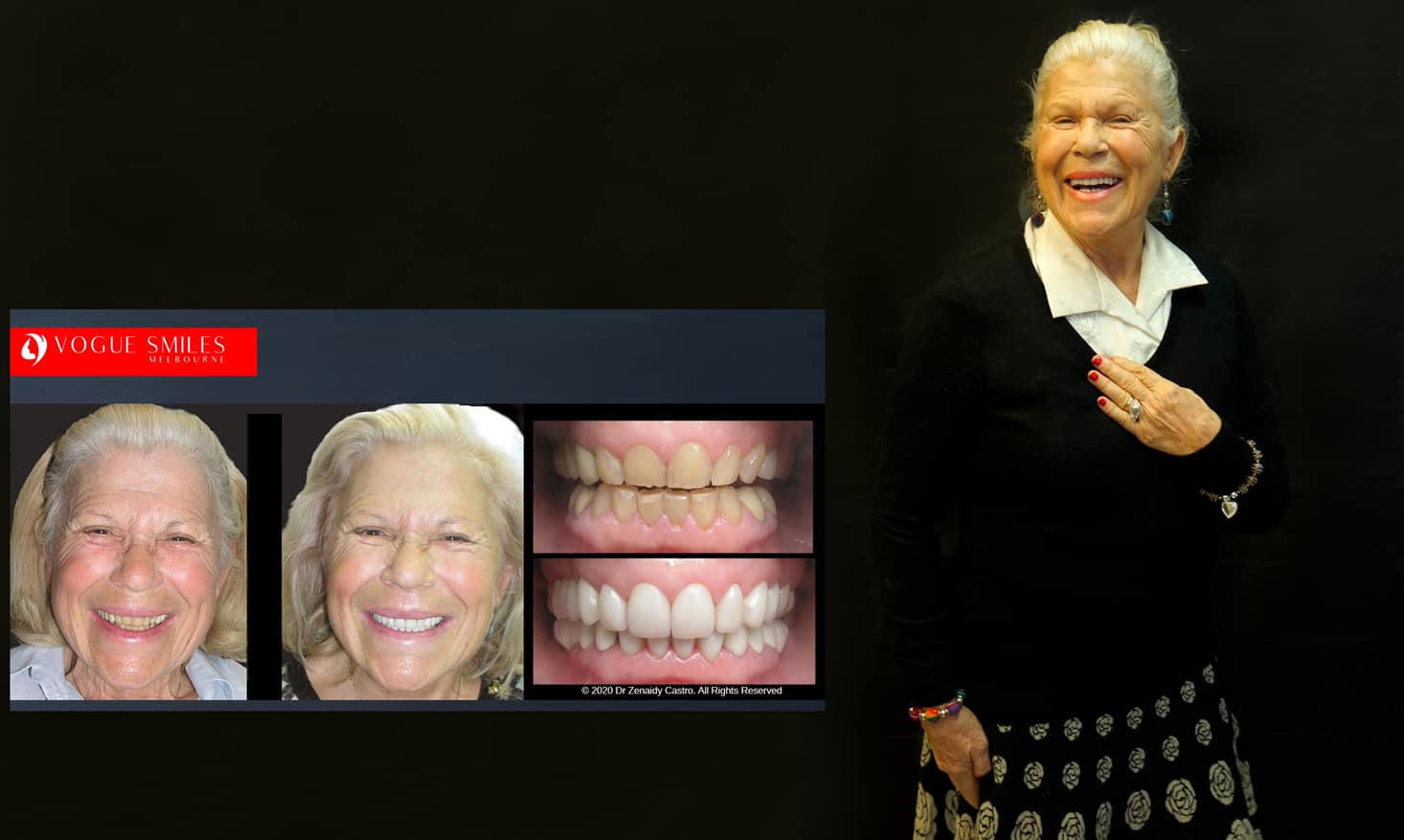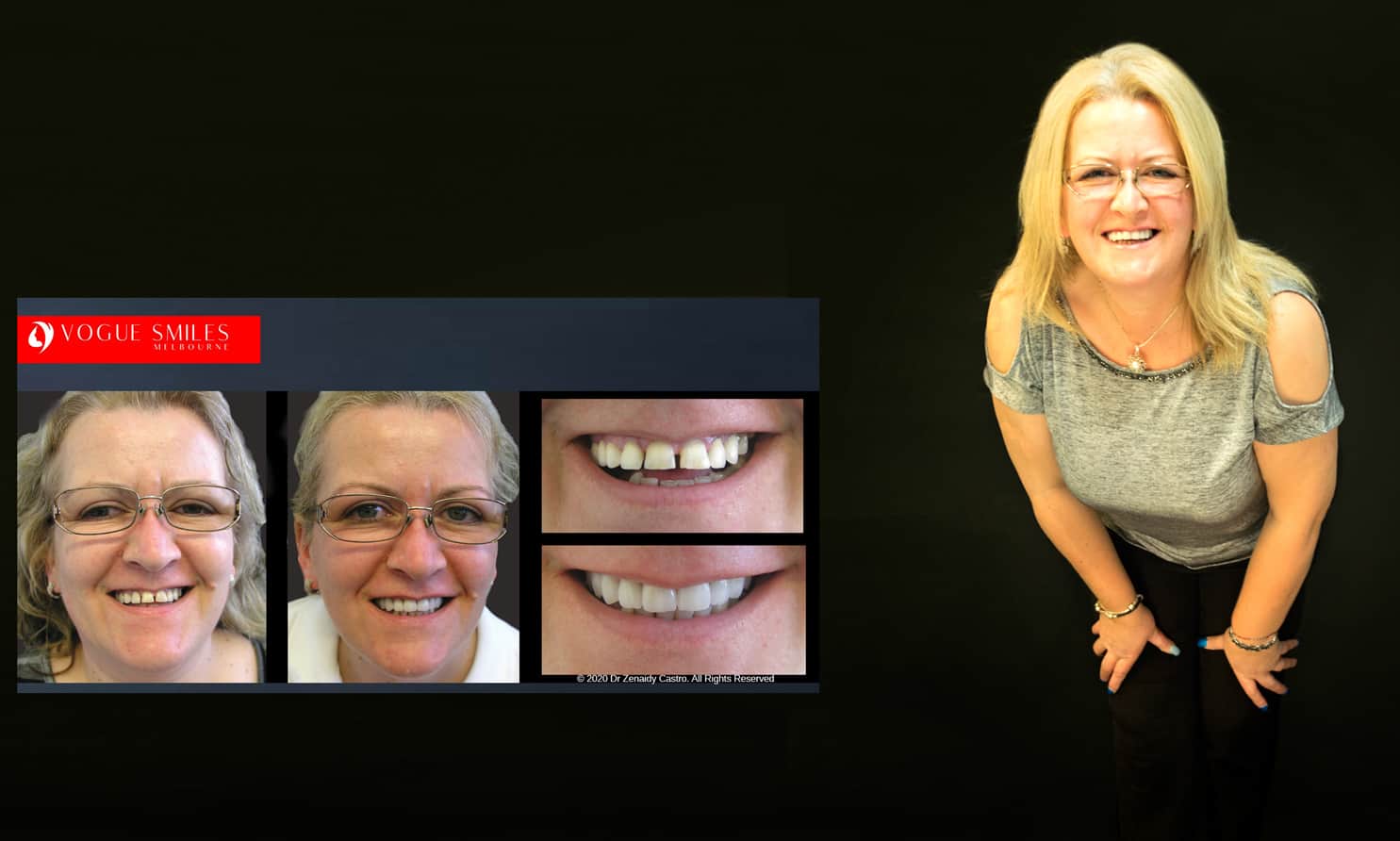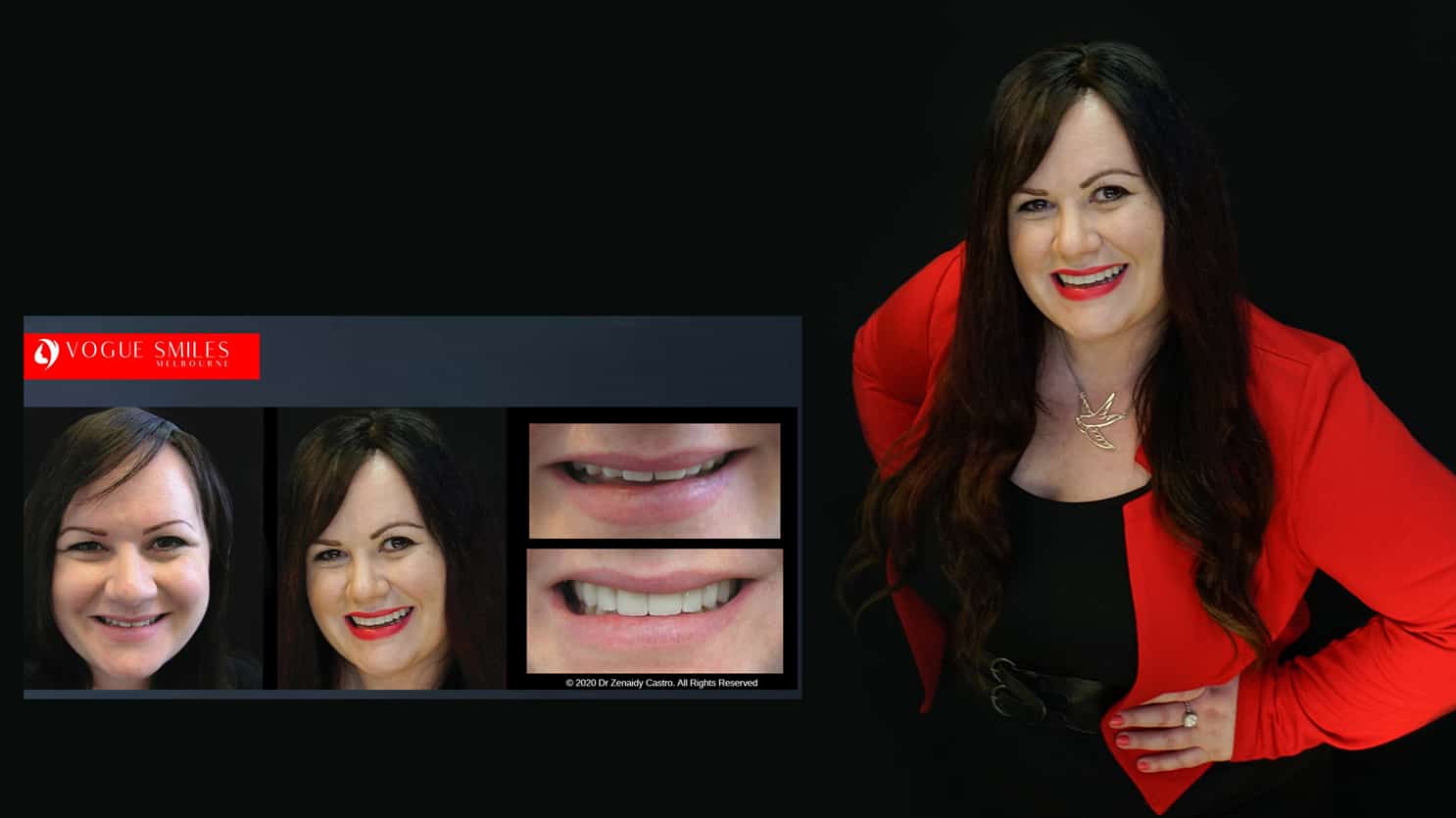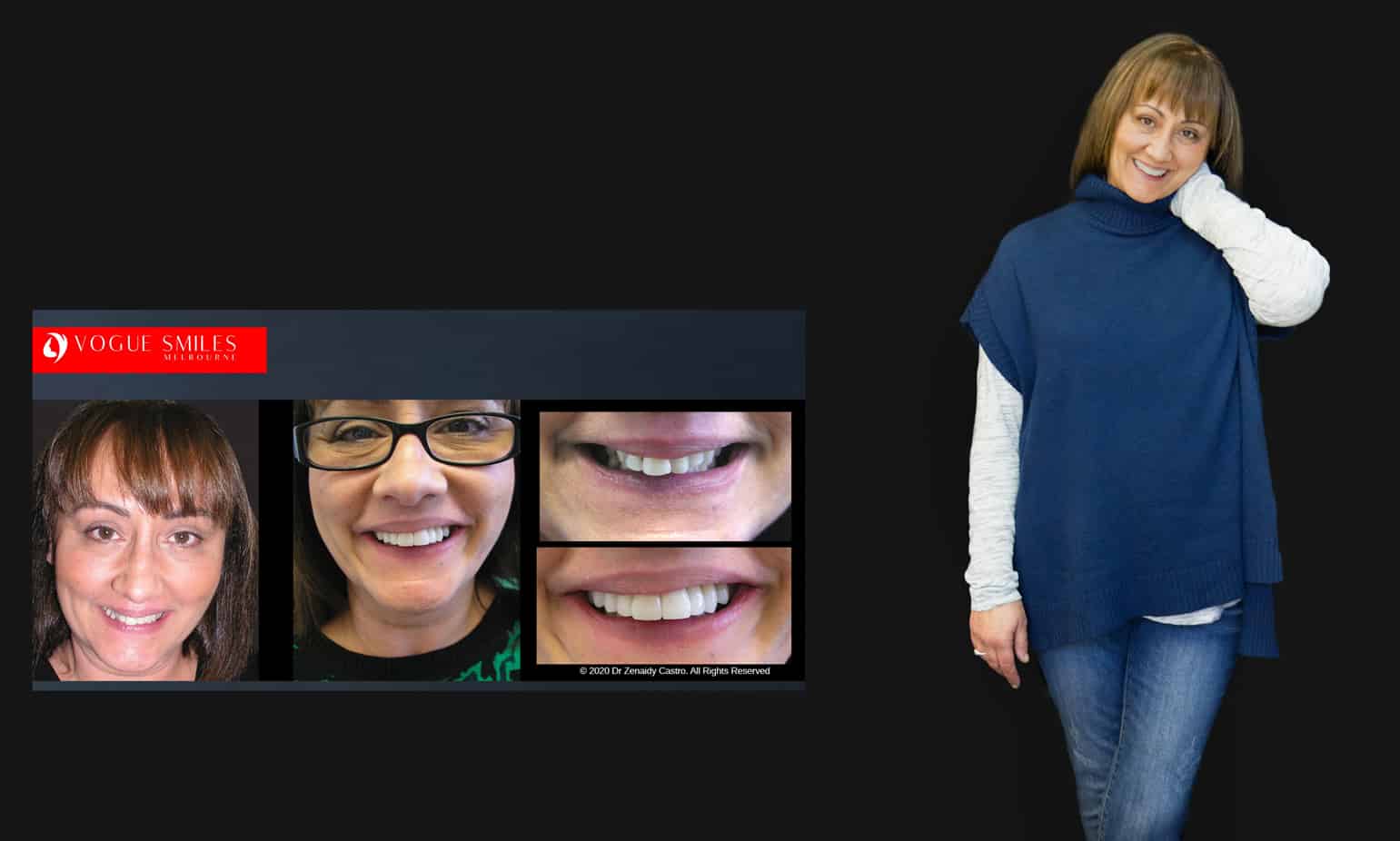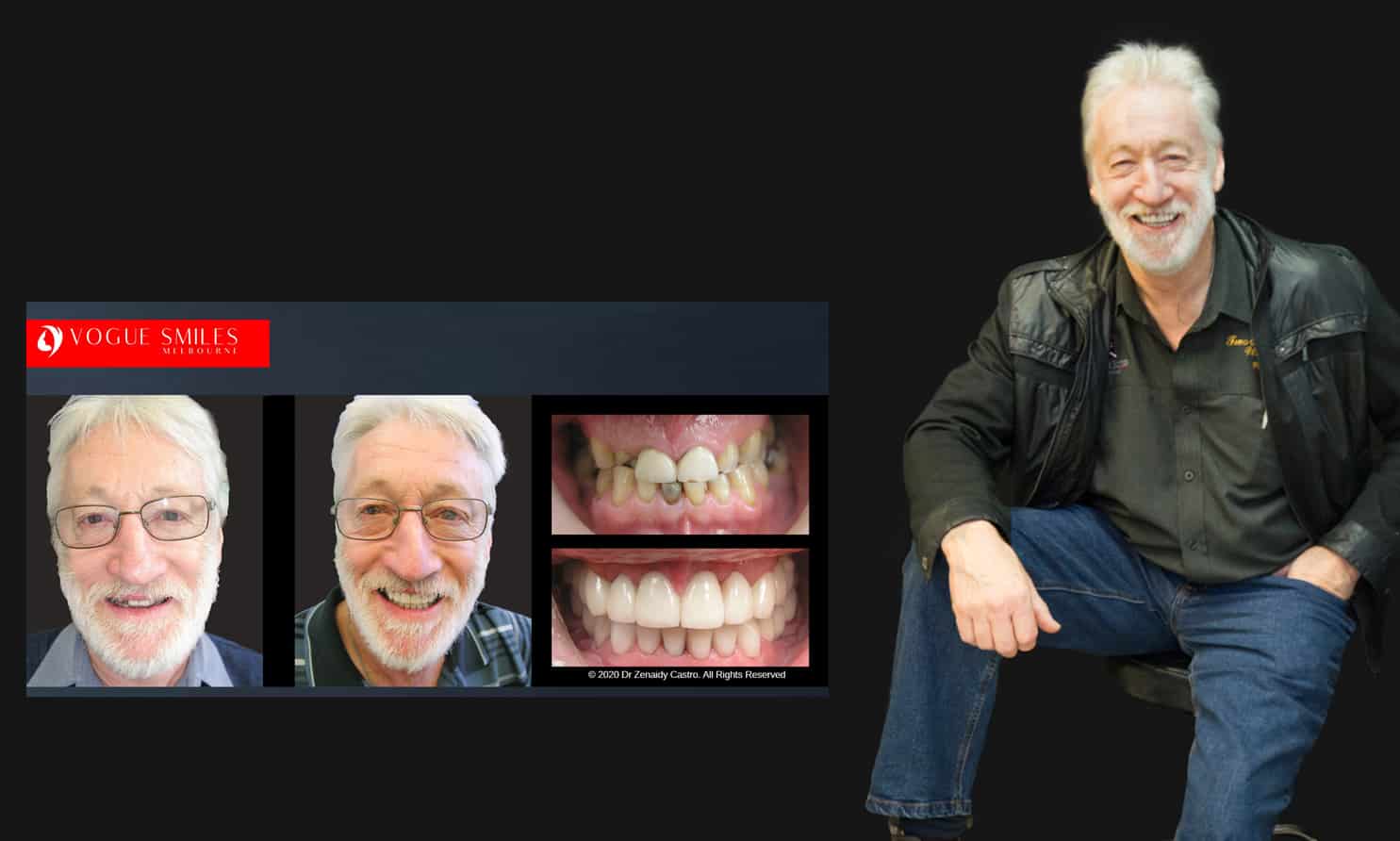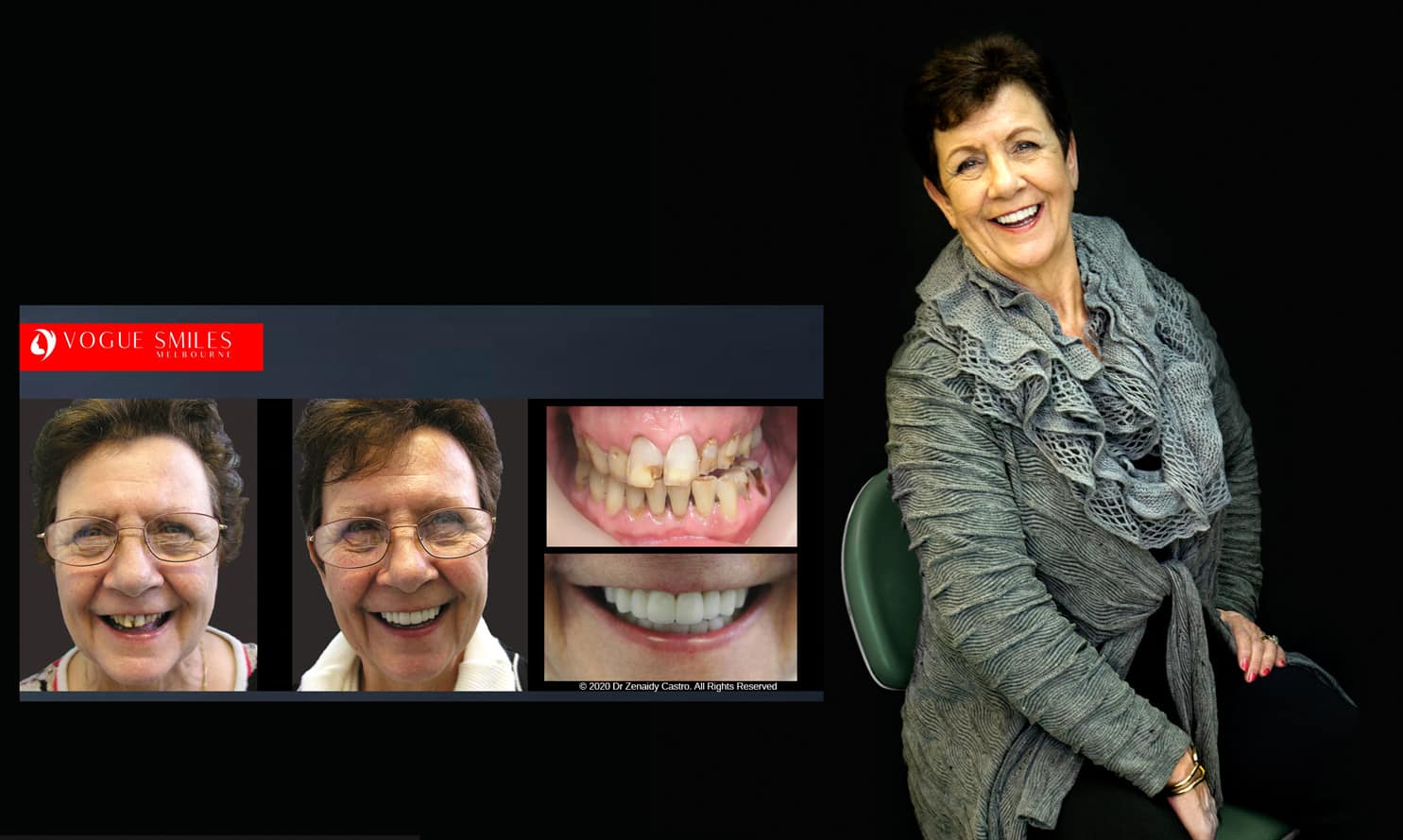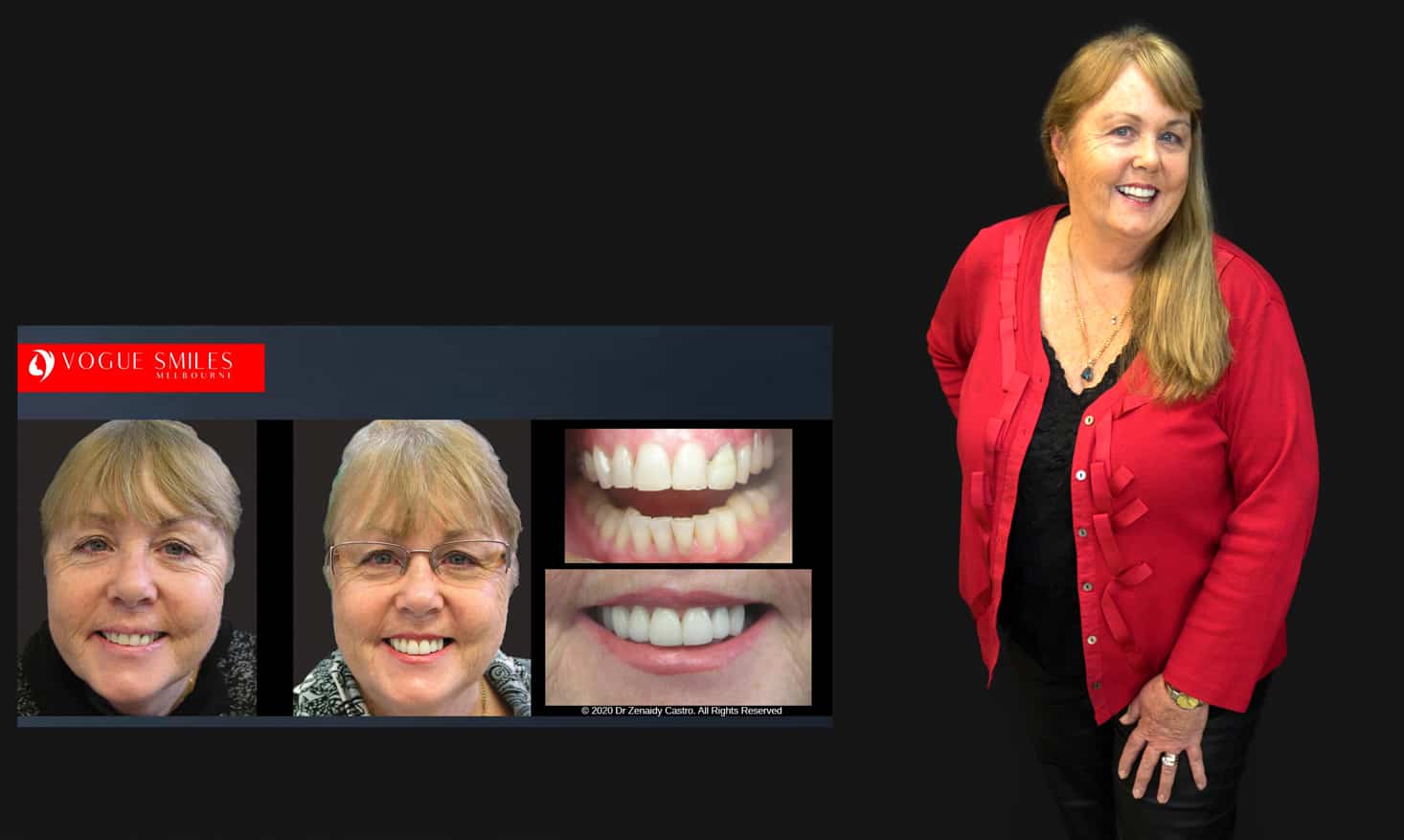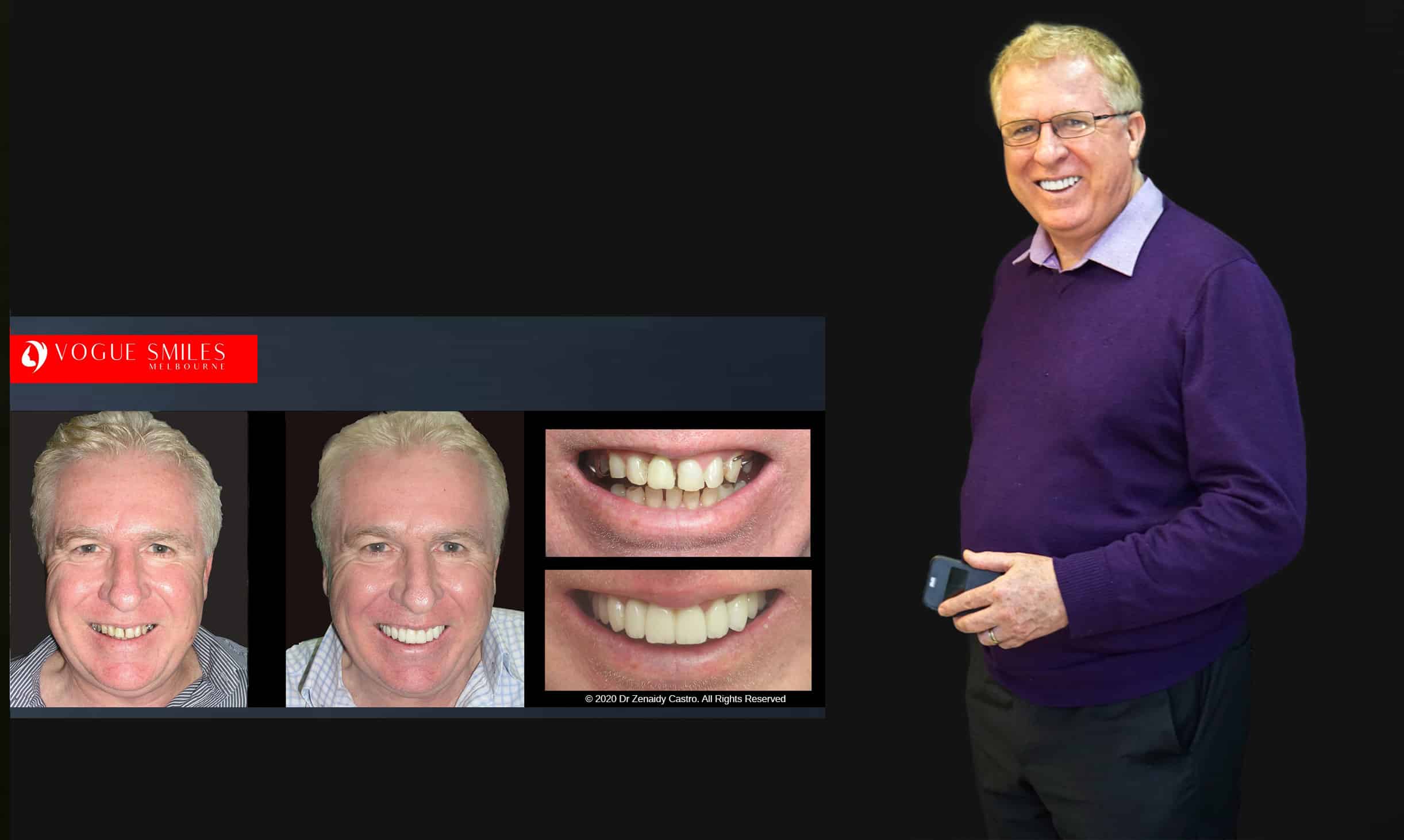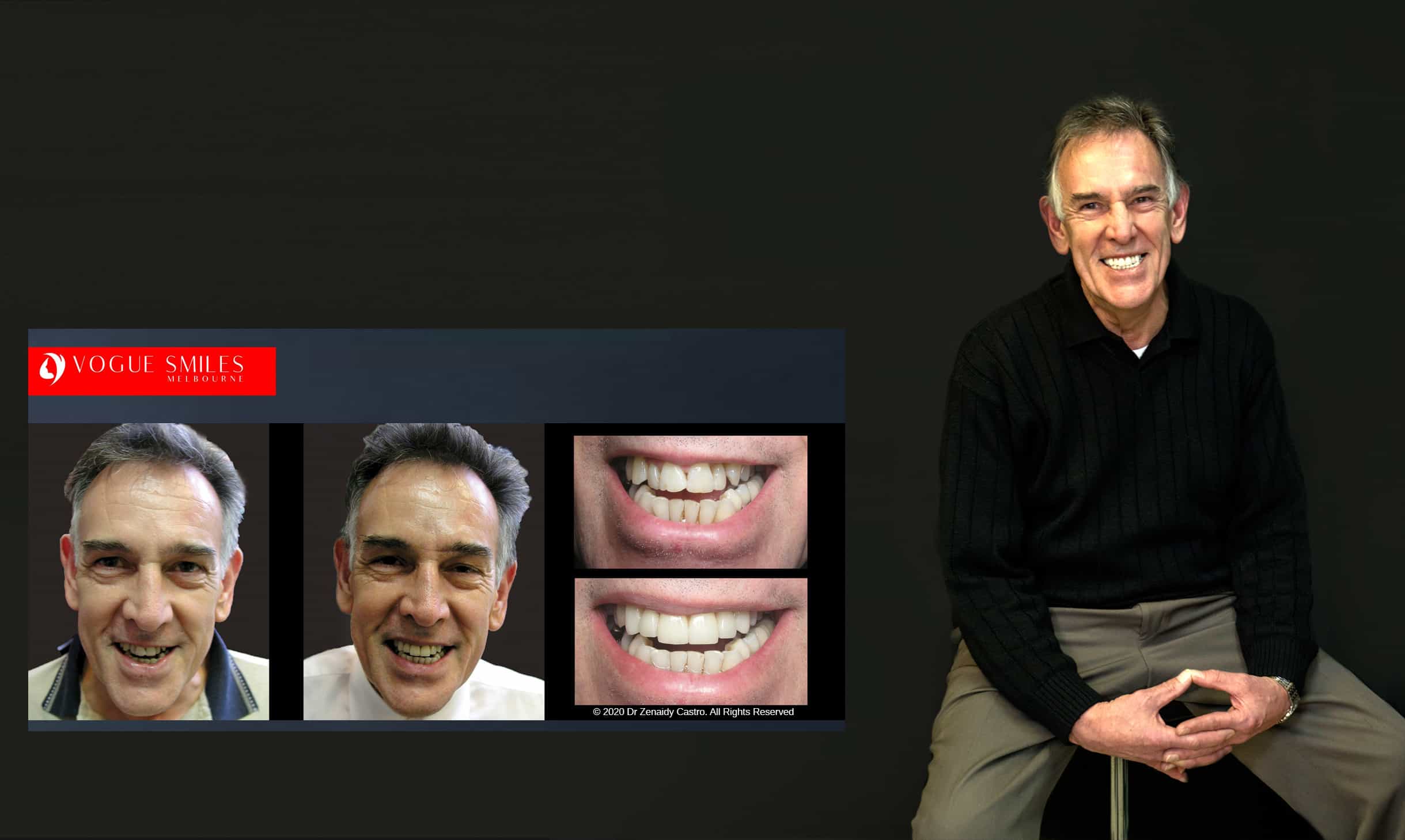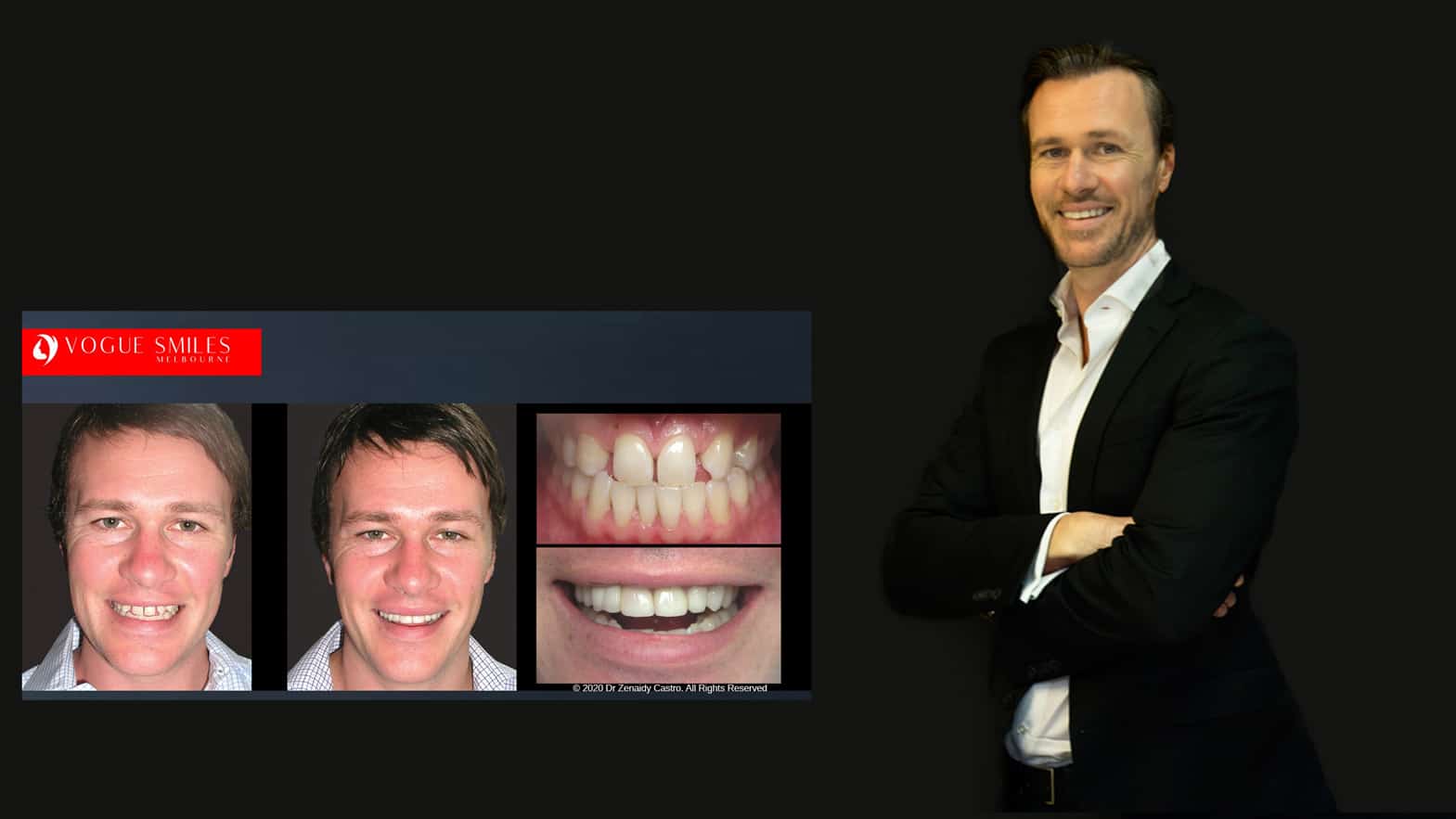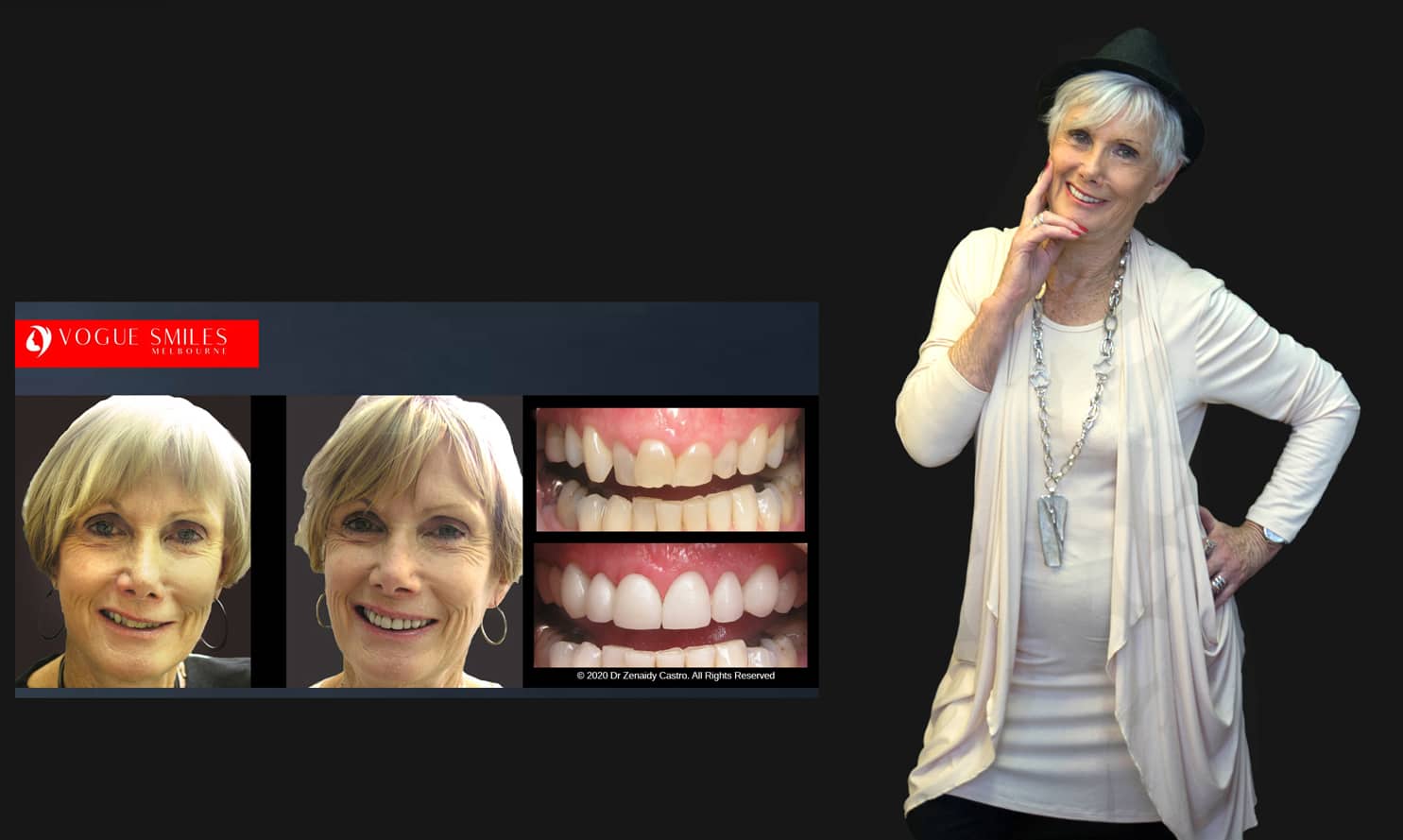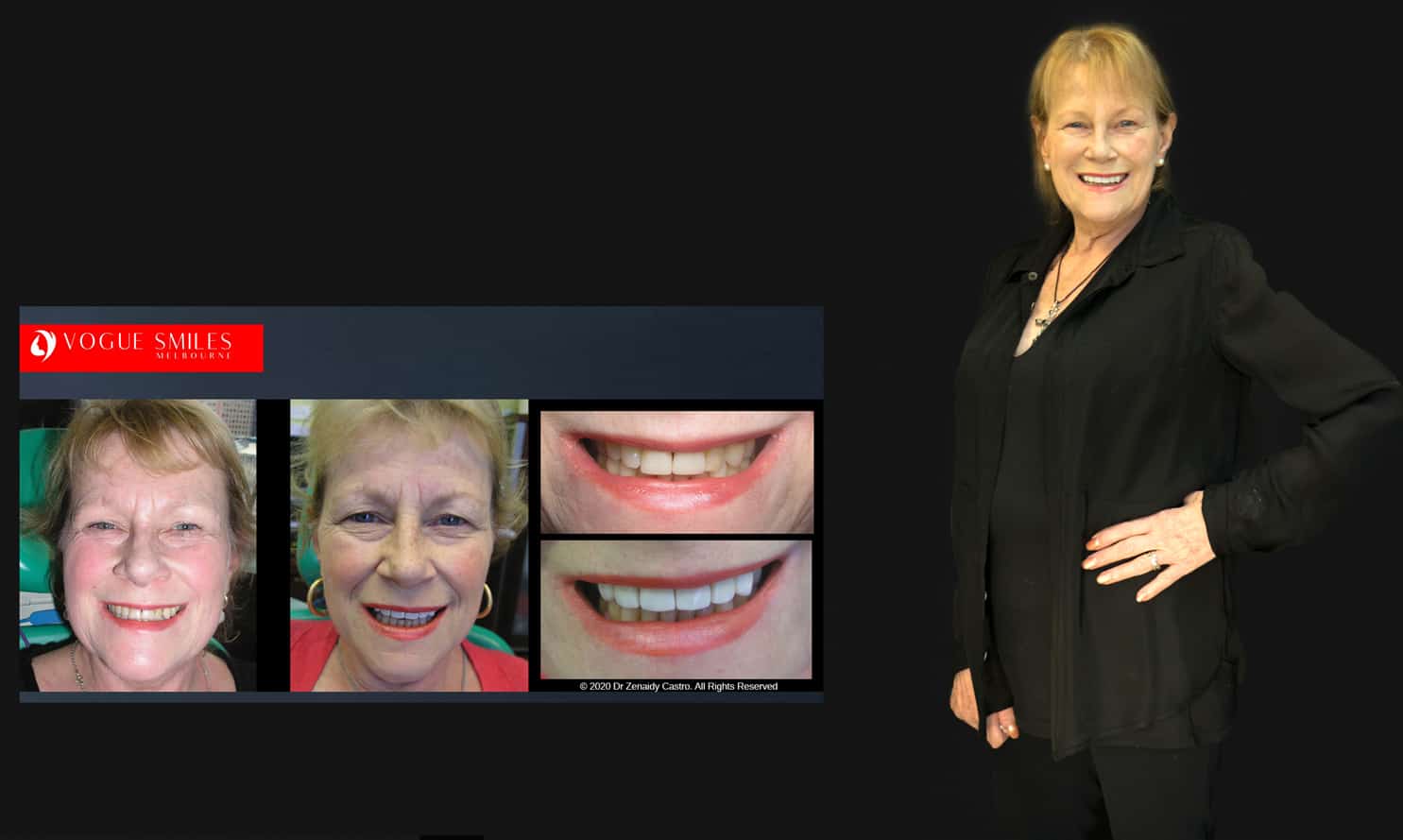 Disclaimer: The information on this website is for information purposes only. Is not a substitute for a proper professional care. Cosmetic Dentistry results will vary from patient to patient. Call our office and book for an actual in-person consultation for us to assess if you are a good candidate for a particular cosmetic Smile Makeover treatment. All of our Specials and packages posted on this site are subject to terms, conditions and availability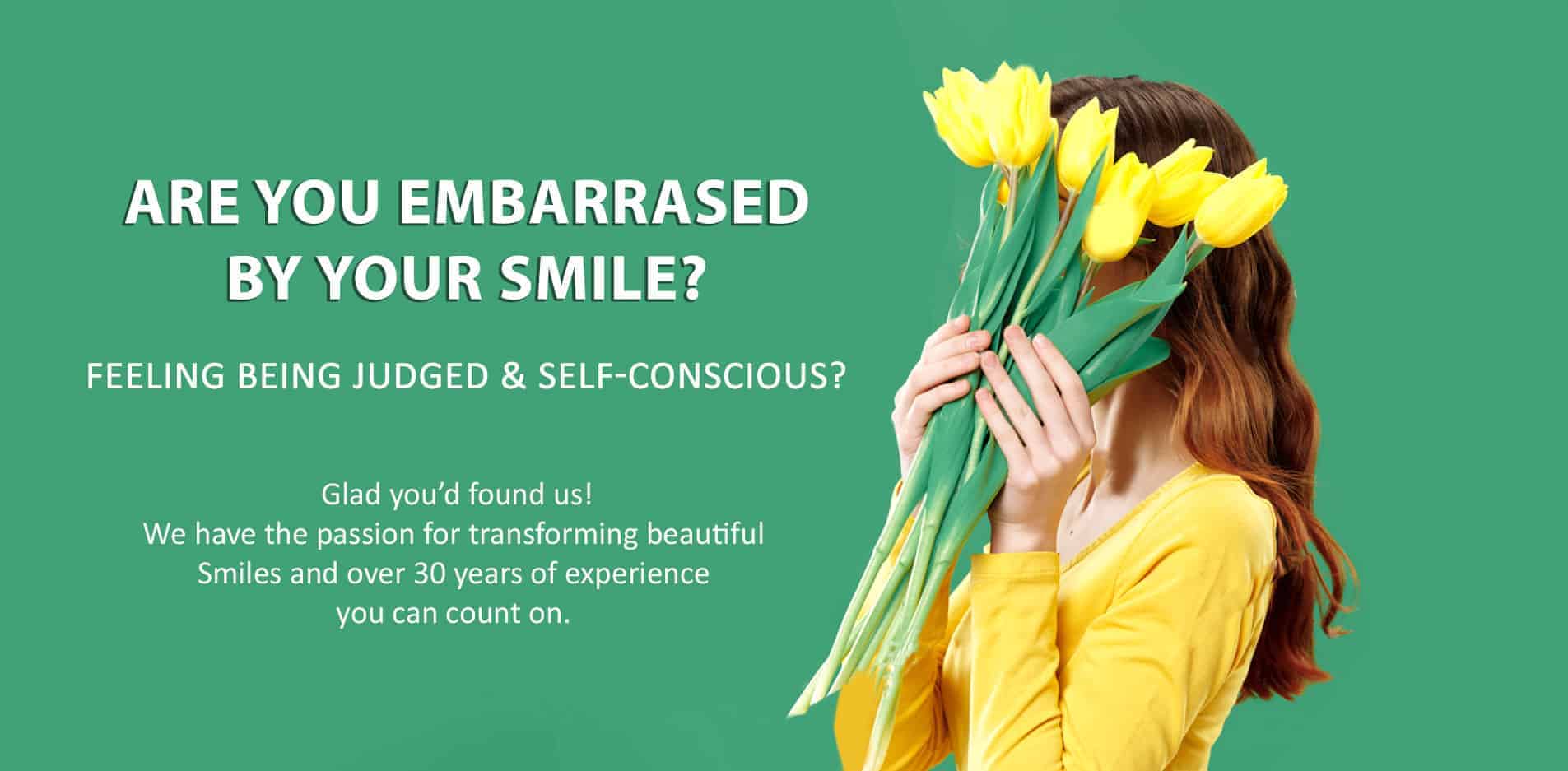 Meet Dr Zenaidy Castro, Melbourne's Most Trusted and Leading Cosmetic Dentist