Invisalign is a breakthrough technology that lets you have the smile you've always wanted, without the hassle of braces.
By using a series of clear, removable aligners, Invisalign straightens your teeth with results you'll notice sooner than you think. An Invisalign treatment can take anywhere from 2 – 24 months.
The course of treatment involves changing aligners approximately every two weeks, with each aligner progressively moving your teeth into a more aesthetically pleasing position, until you have a more beautiful smile. The total number of clear aligners is specific to your smile and determined by our dentists.
If you're ready for a smile that transforms your appearance, Invisalign may be your perfect answer. It is simply a great way to transform your smile without interfering at all in your day-to-day life or busy schedule.

What types of Invisalign Treatment are there?

There is now a range of Invisalign treatments that cater to different conditions and type of mouths. The type of aligner that may be advised to you will be dependent upon the complexity of your treatment
Invisalign i7
This type of aligner is used in cases where there are minor abnormalities for overcrowding or spacing issues. It can also be used for correction of minor relapse cases. This is particularly good for small aesthetic improvements or where partial treatment is required. You may need up to 7 aligners in total to complete the treatment. Treatment is often limited to the front 8 teeth.
Invisalign Lite
This type of aligner is restricted to a Class 1 case. This is where the bite is considered normal and the upper front teeth overlap the lower front teeth by a small amount. You may need up to 14 aligners in total to complete the treatment.
Invisalign Full
These aligners can be used for most dentition types. The number of aligners will be dependent upon your treatment plan and severity of your condition. Most design features can be used with this type of aligner and it has the greatest degree of flexibility in terms of treatments possible.
Invisalign Teen
Invisalign treatment has multiple uses and is not just for adults. The number of aligners will be dependent upon the complexity of your treatment plan.
Summary of main features:
| | Invisalign | Traditional Braces |
| --- | --- | --- |
| Price | similar | similar |
| Comfort | Very comfortable | Some irritation |
| Visual | Nearly Invisible | More noticeable (although still tooth coloured) |
| Treatment Reliance | Reliance on your consistency of wear | Not reliant on your consistency of wear |
| Treatment Time | Longer 3-24 months | Shorter 3-9 months |
| Appointments | More time between appointment | Less time between appointment |
Types of Teeth Preparation involves with Invisalign Treatment
In order to maximize the Invisalign treatment for an optimal outcome, we may need to prepare the teeth. The prepared teeth help the aligners to move the teeth as desired into the correct positions.
During your Treatment Planning, we will use special innovations in the software digital technology to plan any preliminary treatment that may be required beforehand. This not only outlines the preparation needed for the teeth but also we will be able to incorporate any specific enhancement features into the design of the aligners as well.
IPR – Inter Promixal Reduction
This preliminary preparation can consist of minimal preparation (maximum 0.5mm) between the teeth to create space for correct alignment and position of teeth. This allows the teeth to fit correctly together and appear straight.
Attachments
This type of teeth preparation involves placing tiny attachments called Optimised Attachments on the outside of your teeth. These are special features unique to Invisalign.
The Optimized Attachments can have "active" surfaces and "inactive" surfaces used to facilitate a specific type of movement. The attachments are small miniature composite pieces that are bonded to the outside of certain teeth. They are tooth coloured and not visible. Once treatment is completed the attachments are removed.
Your dentist will discuss any preparation that needs to be done to your teeth before any treatment commences.
Special activators integrated into the treatment trays apply small forces to the teeth. They are applied gradually over a period of time allowing the teeth to move consecutively and in an orderly fashion.
You will be given numbered aligners that are to be worn sequentially. They move the teeth very slowly so you will be able to see the gradual movement over time as your teeth are correctly aligned.
The treatment components allow the dentist to have more control so that you will achieve an optimal end result. Most common teeth alignment and positional issues can be treated with Invisalign. There is a spectrum of possible treatment ranging from simple movements to more complex treatment plans. Your dentist will advise where you fall in this spectrum and help advise as to the best type of aligners for you.
Do I Need to Wear my Aligners All the Time?
In order for the treatment to be effective and occur in a timely fashion, you do need to wear them in your mouth most of the time. We recommend at least for 20-22 hours. However, if you have a special event or perhaps you play a wind instrument, on the advice of your dentist you may be able to take it out for that specific occasion or time. If this has to happen your dentist will advise you how to manage and reactivate your treatment.
How long Do I have to wear the Aligners?
You will be given a sequence of aligners to wear. Usually, you will wear each aligner for approximately 2 weeks before changing to the next aligner in the sequence.
You will need a checkup once every 4-6 weeks to make sure everything is going according to plan.
Will I be able to eat my food with it?
Ideally, you should take out all aligners for eating and drinking – unless you are simply sipping cool water. For best results, you must wear your aligners for the required period. Eating with your aligners could damage them.
Will it work for me?
Not only is Invisalign versatile, helping to correct a broad range of dental and orthodontic issues, but it really works. There are over half a million smiles to back that up, however, a confident smile isn't the only benefit of correcting your dental issues with custom made Invisalign aligners, your health can be positively impacted as well.
Invisalign can correct Overly crowded teeth, widely spaced teeth, crossbite, overbite and underbites.
Will it fit my life?
With Invisalign, all you need to adjust to is your new, beautiful smile!
Reasons why my teeth are Crowded?
The jaw bone may be too small so cannot accommodate all the teeth
The teeth may be too big so do not fit the "normal" size jaw bone
There may be an imbalance between muscles of tongue, cheeks and lips
If you have crooked teeth because there doesn't seem to be enough space in your mouth, then the dentist will have to create the necessary space. There are several ways to do this, however, the most common way is either to extract some teeth, redesign the arch form or to use a technique called IPR (Inter Proximal Reduction).
In most Invisalign cases we may re-design the arch form or use IPR. The technique of choice will ultimately be dependent on the results of your Orthodontic Examination and the complexity of your specific requirements.
Do I need to expand my arch with Invisalign?
One way of fixing crowded teeth is expanding the bone. But this can involve complex lengthy treatment. However, we can create the illusion of an expanded bone by flaring out the arch form of the teeth to accommodate the width of all the teeth and align them to appear straight.
However, this treatment is very case-specific and if correct teeth width versus arch length is not analyzed the teeth could look flared. Your dentist will be able to advise for your specific case during the assessment.
Should I sleep with my Invisalign Aligners in my mouth? I
Yes, you do need to keep them in overnight. However, they are quite stable and highly retentive. Also, many patients find that they are very comfortable.
If I need both upper and lower teeth, will I be able to talk with Invisalign aligners in my mouth?
You will be surprised how easily most people adapt to wearing the Invisalign aligners. You will be able to speak as you normally do with them inside your mouth. Most people even forget that they are wearing them.
Do the Aligners hurt?
The treatment is not painful. However, when you first wear the aligners you may feel a slight pressure on your teeth. But this is a good sign as it means that the active components are working to move and correct your teeth.
Will the aligners affect my speech?
Most patients do not have any speech issues. However, some may experience a temporary effect of a slight lisp for a few days. But there are usually no lasting effects.
Would Invisalign correct closing the spaces between my teeth?
Invisalign is an excellent option if you have spaces or gaps between your teeth.
They can be caused by:
Gaps because of lost teeth
Small spaces between teeth naturally
Spaces created by the movement of teeth
The Invisalign aligner simply moves your teeth together closing the gaps. Alternatively, the aligner can be used to create the ideal width of space to allow for an artificial tooth to be placed in the space. Often this technique is used when Implants or bridgework forms part of the treatment plan.
What if I feel I don't have enough space in my mouth?
Many people may be dissatisfied with the cosmetics of their smile due to the crowding of teeth which consequently leads to crooked teeth. It may appear that there is not enough space in your mouth for all your teeth.
How do I choose between Traditional Braces and Invisalign? How will I know which one is right for me?
There are several factors that can help you decide which type of teeth straightening system is correct for you. A detailed assessment with your dentist will also highlight the best way forward for you.
What if I am not Compliant in wearing my aligners all the time?
Another factor to consider is compliance for wear. If you feel that you are not the type of person to wear the aligners as requested then it may be better that you opt for a bracket and wire system where the total control of the treatment is placed with your dentist. On the other hand, many people who have a time constraint find that the limited number of dental appointments with the aligner system may work better for them. So one choice that governs which system is appropriate for you is how well you will comply with the treatment.
Is it really Invisible?
Invisalign braces are less noticeable than any bracket and wire system (although many are tooth coloured). However, the treatment may take slightly longer to complete.
What do I need to know about Post-Invisalign Treatment Care?
Regardless of whether you have had any treatment, we recommend regular checkups to make sure your mouth is as healthy as it can be. However, it becomes even more imperative to maintain your routine examination appointments after you have had some dental work done. This allows the dentist to make sure that your treatment is in good condition, thus helping you to maintain a healthy mouth.
What are the retention options do I have?
After you have had your treatment completed you will need to be fitted with a retainer. These help to keep the newly aligned teeth secure in their new positions. The dentist will discuss various options with you.
They include:
Conventional Retainer
Positional Retainer
Vivera Retainer
Fixed Retainer
How about Oral Hygiene?
Due to the very nature of these aligners, you are still able to follow your home cleaning regime as advised by your dentist or hygienist throughout the treatment.
An advantage of straightening your teeth is that your teeth end up in a position that aids your ability to clean them properly. However, the technique you will now follow post-treatment to clean your teeth will need to be slightly adjusted. Often due to the placement of a fixed retainer, you will need to use appropriately sized interdental brushes eg. TePe brushes to clean between your teeth. Hence, regular flossing will not be as efficient on the teeth fixed by the retainer.
What if I need Dental work during the Invisalign Treatment?
After treatment most dentistry occurs in the usual manner. Your Invisalign or any orthodontic treatment will not prevent the dentist from carrying out most dental treatments as and when they are required. The hygienist is also skilled in gum treatments without being inhibited by your teeth or any fixed retainers placed on your teeth.
Going forward, after any treatment, your dentist will be able to advise your of your specific customized post-treatment care program.
Due to the very slow gradual movement of the teeth, Invisalign treatment may take slightly longer to complete. Treatment can range anything from 3- 24 months. Most bracket and wire systems are often completed within 3 – 9 months.
Number of appointments with Invisalign
Most short-term adult orthodontic bracket and wire treatments require 4-6 weekly appointments. These appointments are to make any necessary adjustments to allow the teeth to move gradually into the correct alignment. On the other hand Invisalign treatments often require fewer appointments since multiple aligning trays are given to the patient at one visit. You are then able to change the trays yourself. This change of trays applies the necessary forces to move the teeth gradually into the correct alignment. Hence, if you are unable to visit the dentist regularly then Invisalign would be a great treatment choice.
Is it Comfortable?
Invisalign aligners are very comfortable to wear since there are no brackets or wires irritating the gums, lips and mouth.
t will be able to advise as to the most appropriate choices for you.
After your treatment has been completed your dentist will place a fixed retainer in your mouth on the inside surfaces of the front 4-6 teeth of the arch that has been treated.
On most patients, we also create a removable retainer that looks similar to the clear aligner but is made of a stronger material. This specific retainer is called Vivera and is constructed using a special technology that helps the retainer to be more rigid. Most traditional retainers are prone to relapse of treatment if they are not kept in the correct condition.
Vivera Retainers
This is a removable retainer designed by Invisalign that is usually worn at night to prevent any relapse of your treatment. It can be used after any type of teeth straightening treatment and is not restrictive to Invisalign and is used for most orthodontic cases. It is made from a specially patented material which is proven to be 30% stronger than most other leading clear retainer types.
Often Vivera is used as additional support for a fixed retainer such as a Bonded Lingual wire (wire bonded to front teeth on the inside). This forms a belt and braces approach to prevention of any relapse and ensuring the longevity of the treatment.
How long after the treatment do I have to keep wearing my retainers?
As an adult, you will need to wear your retainers inevitably. This is to prevent any relapse of treatment. The removable retainer is often worn at night only.
We understand that the fee you pay for any treatment is an important consideration. Most people are looking for a cost-effective solution to their situation. We also understand that the ultimate treatment of choice needs to be long-lasting with minimal post-treatment problems.
Your smile is an important aspect of your self-confidence and self-esteem. It affects every aspect of your life. Hence, we know that any treatment is not only about the procedure – it represents much more.
Invisalign is an excellent choice of treatment for most adults who are looking to align their teeth to enhance their smile. Your assessment with us will accentuate if this is the correct treatment for you. In order for a treatment solution to be long-lasting with minimal after treatment issues its needs to fulfil all the criteria for any specific condition. We will help advise if Invisalign is correct for you.
The fee for the Invisalign treatment usually ranges according to the types of Invisalign use according to your specific requirements. The table below gives a rough indication.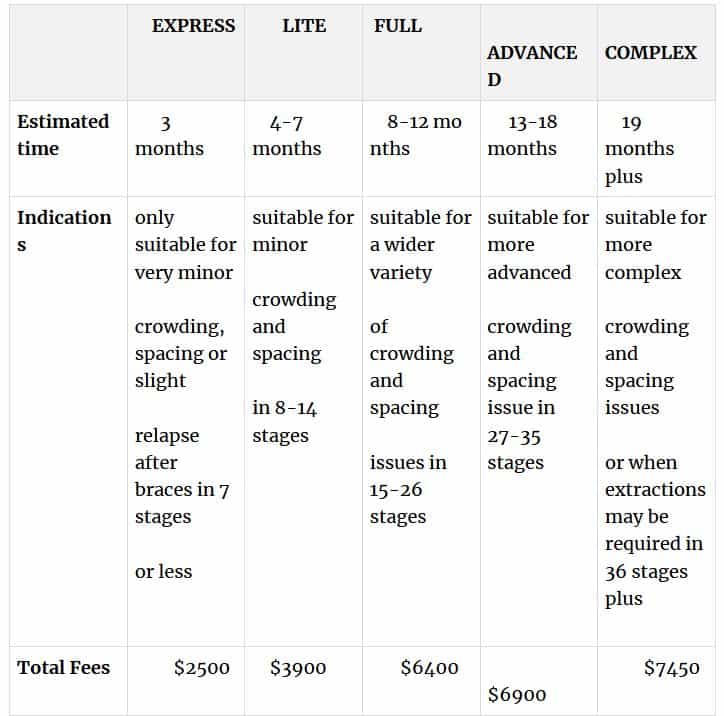 The fee includes all of the following:
All Consultations
All photographs, impressions and records
Any preliminary preparation for your teeth
Digital 3D computer simulation ClinCheck for Treatment Planning
All the customised Aligners for your entire treatment
Any additional appointments for checkups and alterations
Fixed retainers
Vivera Retainers
Teeth Whitening
Minimal bite adjustments
Micro-enhancements
Review Appointment
0% Finance Available
Please note that we offer various payment plans and flexible finance options (including 0% interest) to make this treatment more accommodating for you.