PORCELAIN VENEERS BY AUSTRALIA'S BEST SMILE MAKEOVERS DENTIST
Thank you for visiting the dental blog of VOGUE SMILES MELBOURNE about PORCELAIN VENEERS -Your Complete Guide on Getting Veneers
How can we assist you today? Whether you're in need of a simple cleaning or a dazzling smile makeover, the team of Vogue Smiles Melbourne are here to help. Our General and Cosmetic Dentistry practice is home to a wide range of treatment options, each of them designed to create noticeable, long-term improvements for both your oral health and your self-confidence.
Our practice is dedicated to providing high-quality care in a cozy, one-on-one environment, focusing on your comfort, your personal smile goals, your financial budget and your oral health needs. We look forward to not only helping you improve your beautiful teeth but getting to know you and forming a relationship that hopefully lasts for many years to come.
Please feel free to look around at our website. If you have any questions about the topic of PORCELAIN VENEERS -Your Complete Guide on Getting Veneers or would like to make a booking, please contact our practice today on 9629-7664 .
It is our aim that through the educational articles we posted on our dental blog, that we can make profound impact on the lives of our patients by empowering them with knowledge and insight on Dental health and treatment that they are searching for.
Read our Blog content below to learn more about this topic.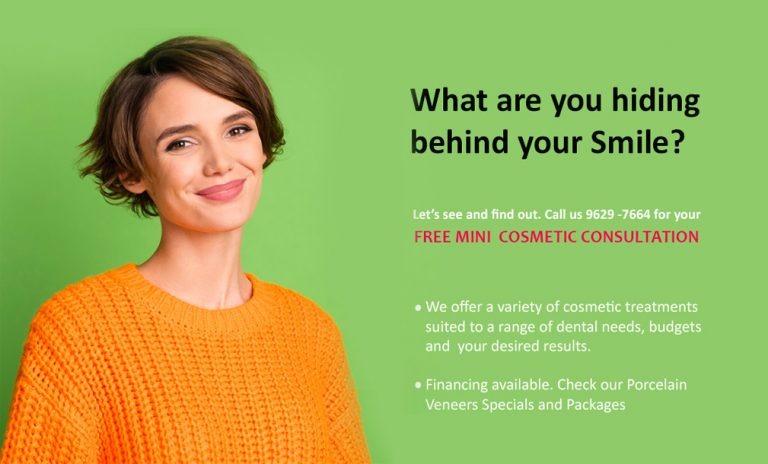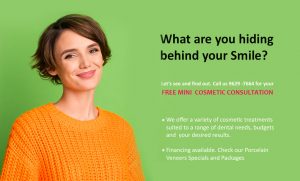 PORCELAIN VENEERS BY A
USTRALIA'S BEST SMILE MAKEOVERS DENTIST
What do those famous celebrities have in common?
They've all got the kind of smile that can light up a room.
The good news is not all of them have teeth that look that way naturally. A lot of them have dental veneers fitted to transform their  smile- the most popular treatment we offer here at Vogue Smiles Melbourne, one of the leading cosmetic dental clinics in Melbourne.
Cosmetic dentistry has soared in popularity over the past few years (some experts estimate it's risen by 50%) and people from all walks of life consider enhancing their teeth. A few years ago most people considered cosmetic dentists the prestige of the rich and famous. Nowadays these sorts of treatments are much more accessible, with various affordable payment plans available.
Our cosmetic dental clinic is dedicated to helping you achieve your dream smile. Based in the heart of Melbourne CBD, we offer porcelain veneers treatments which will give you that dazzling confident smile.
Dr Castro have fitted thousands of Porcelain veneers over 30 years and we are proud to provide the option of either the Traditional Veneer or the non-prep porcelain veneers. This means they're fitted using a non-intrusive preparation procedure. In most cases this means that the underlying teeth won't need to be altered.
We are always happy to discuss any of our treatments with you. Whether you want to discuss smile makeover options or find out more about our payment plans, we're always keen to help with your enquiries.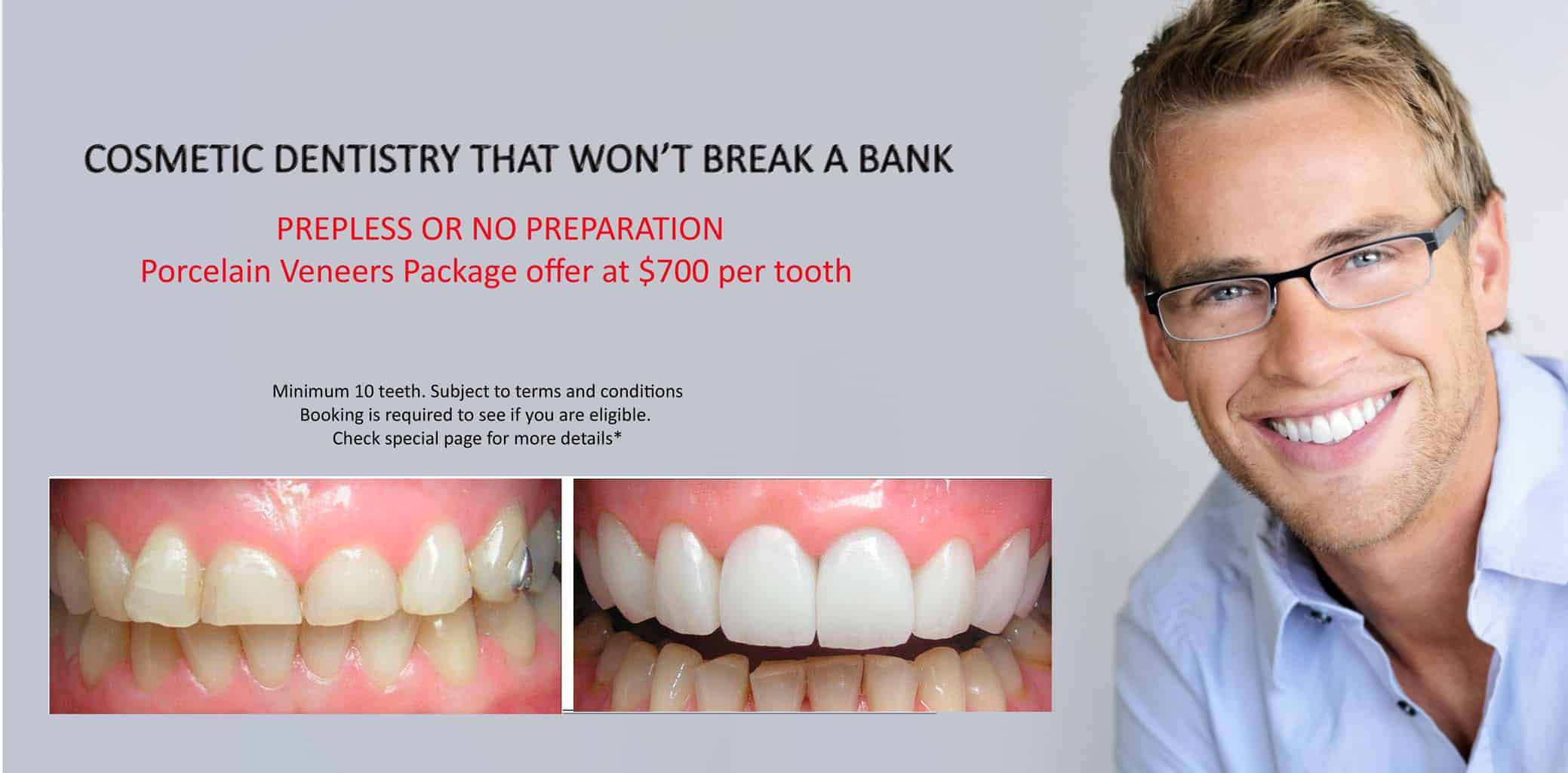 PORCELAIN VENEERS BY AUSTRALIA'S BEST SMILE MAKEOVERS DENTIST
A beautiful, natural-looking smile can change your life. If you are considering adding veneers to your smile, you deserve nothing less than the best porcelain veneers Melbourne have to offer.
In here you will find detailed information on the Process on getting Porcelain Veneers.
What is Involved in Getting Smile Makeover with Porcelain Veneers?
With You From Start To Finish
In your first consultation, we'll analyze your smile and bite, and then find the best steps to get them where you want them to be.The process begins with a welcoming and attentive discussion with Dr. Castro. Her years of cosmetic dental experience and extensive studies of the art of aesthetics have brought many patients to her office for recommendations in how they can achieve their "dream smile". The consultation may involve an examination for any pre-existing conditions that may need attention before she places the veneers, possible X rays, and photos.
This consultation with Dr. Castro is the first step to getting the smile you've always wanted. She will look at the health of your teeth and determine the best course of treatment based on your individual desires. With your final goal in mind, he will break down the best way to achieve it—be it with porcelain veneers or other options. She will get your input with regards to your individual preferences on how you like your new smile to look like.
All the informations you need to know
Most people who visit a dentist go to improve their smile. Cosmetic dentistry is a growing field, and more and more people are now taking interest in looking good and making their smiles more aesthetic.
There are several procedures that can help in this regard, and porcelain veneers seem to be one of the most popular ones. Porcelain veneers are a type of treatment that can correct a number of things including:
Misaligned teeth
Crooked teeth
Yellow teeth
Chipped teeth
Porcelain is actually a very thin material which can be made to resemble the colour of natural teeth. This is why it is heavily used in dentistry. Moreover, porcelain veneers are durable and can last for a long time if you take proper care of them.
A bad smile ruin can ruin your confidence and self-esteem. Porcelain veneers can help you re-build that confidence and show off those pearly whites.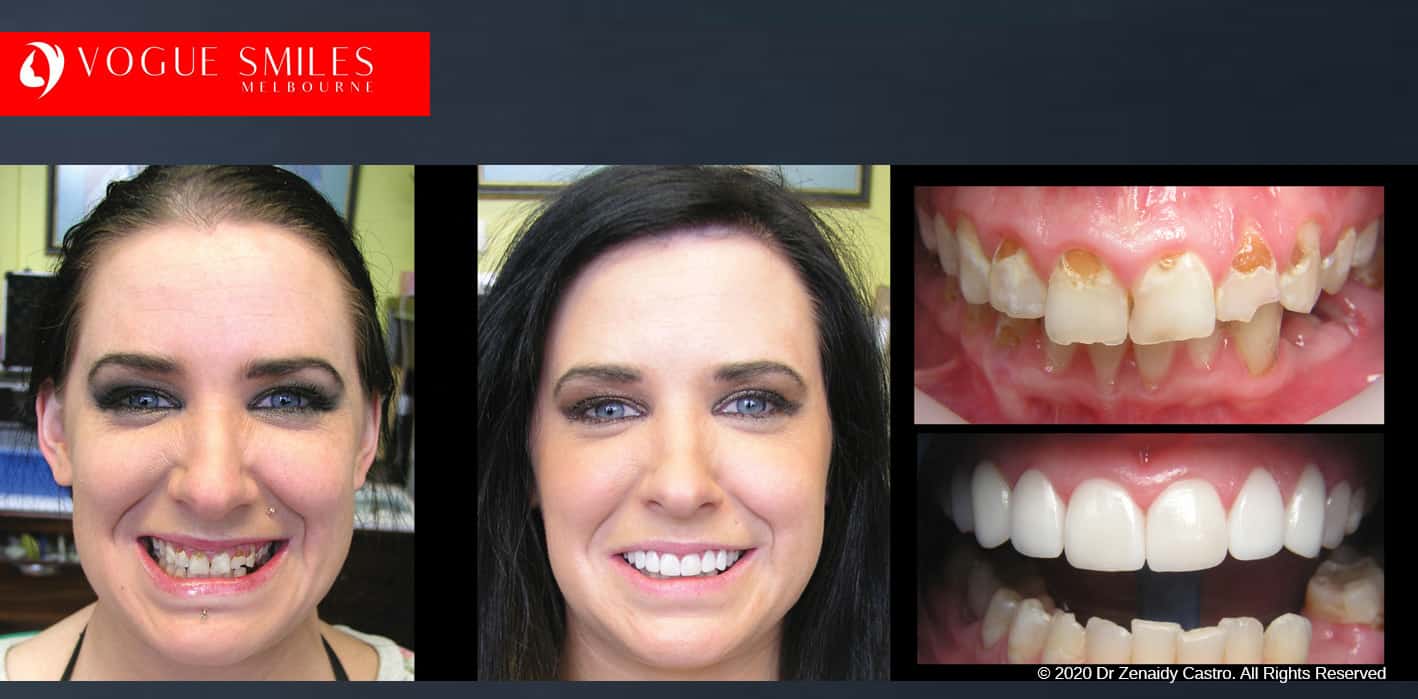 PORCELAIN VENEERS BY AUSTRALIA'S BEST SMILE MAKEOVERS DENTIST
Now that you understand the basics of dental veneers, you should also learn about the procedure. Typically, your veneers are installed in 2-4 dental visits. These visits are likely to be spaced out over a period of six weeks but may take less time depending on the dentist and number of veneers. Below are the step by step process on what to expect on your treatment.
Step 1: Taking the Shade
We will use their shade guide to determine which colour of porcelain most closely matches the teeth that lie to each side of the tooth they're veneering.
They may decide that different colours need to be used for different portions of the veneer. They'll also make notes about which regions of the laminate need to be comparatively more or less translucent.
Step 2: Surface preparation depends if you choose Traditional Porcelain Veneer or the more conservative No-Prep, prepless or No Grinding Veneers
TRADITIONAL PORCELAIN VENEER
With this procedure, we trim the tooth- 0.5 mm.The idea is that the enamel on the front side of your tooth is trimmed back about the same thickness as the veneer that will be placed. That way its overall thickness is not dramatically changed.
The ideal situation is one where all surfaces of the veneer only rest on tooth enamel. For the most part, a dentist will try to limit the depth of the trimming to just the tooth's enamel layer. That way, all aspects of the veneer's internal surface will be bonded directly onto the enamel. (The type of tooth structure with which the most secure and predictable bond can be made.)
The precise amount of tooth enamel that's shaved off will vary with each case but it can be as little as .5 to .7 millimetres. That's about twice the thickness of an eggshell and when compared to most other dental procedures it's a very small amount.
NO-GRINDING OR PREPLESS PORCELAIN VENEER
With this procedure, does not involve any grinding or preparation of the tooth. Read to learn more about this Veneer in this link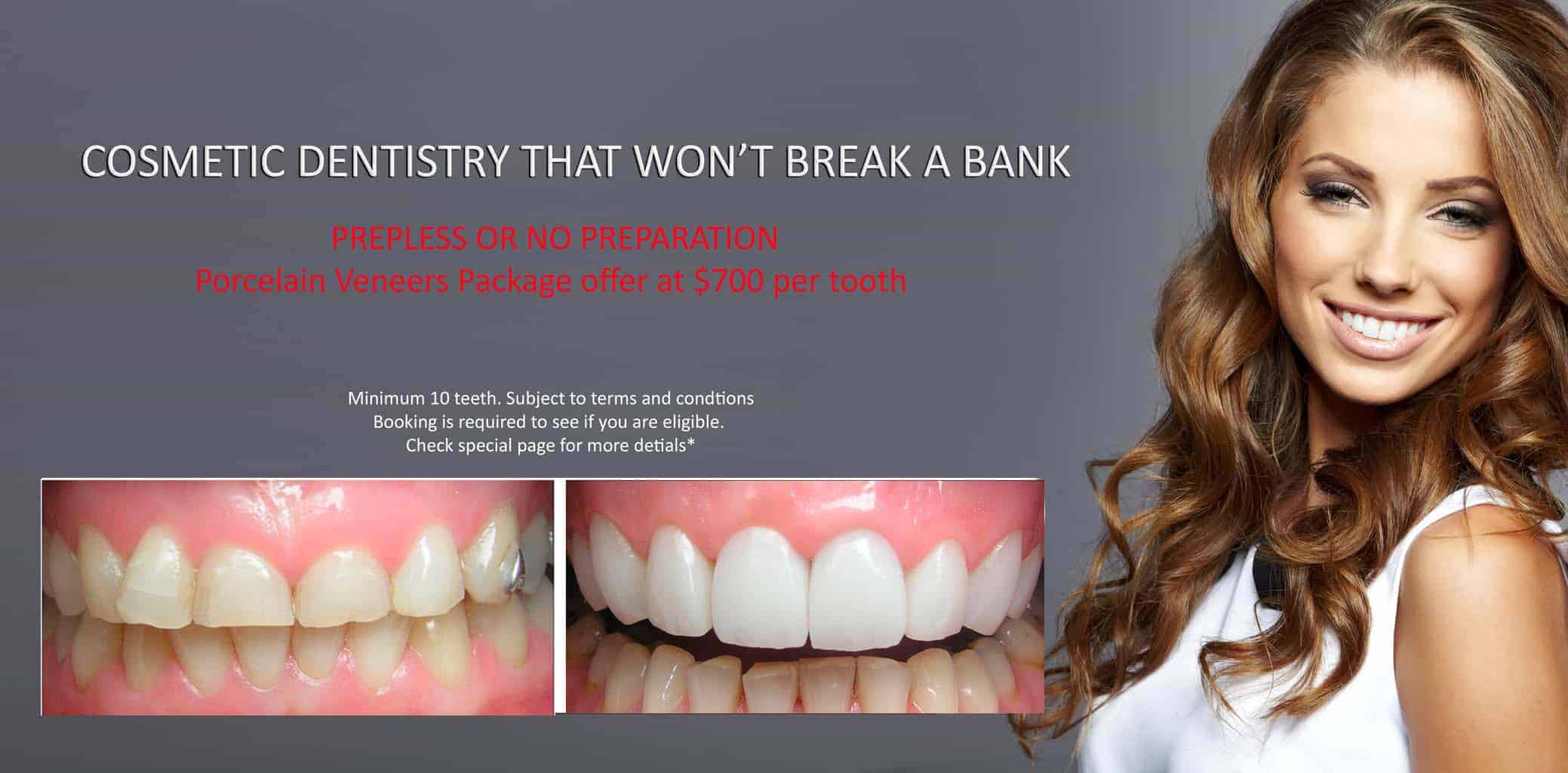 PORCELAIN VENEERS BY AUSTRALIA'S BEST SMILE MAKEOVERS DENTIST
Will it be Painful? Will anaesthetic be needed?
It can be possible to prepare teeth for veneers without the use of an anaesthetic (a dental "shot"). But you may find that you want it.
Some teeth and tooth tissues are naturally sensitive to cold sensations (like those created by the dentist's suction device or the water spray from their drill). And if the veneer's edges will extend below the gum line, those tissues will need to be manipulated and may be sensitive.
If you choose Prepless Veneer, unless we are doing other treatment such as Gumlifting, a lot of cases we don't numb the tooth.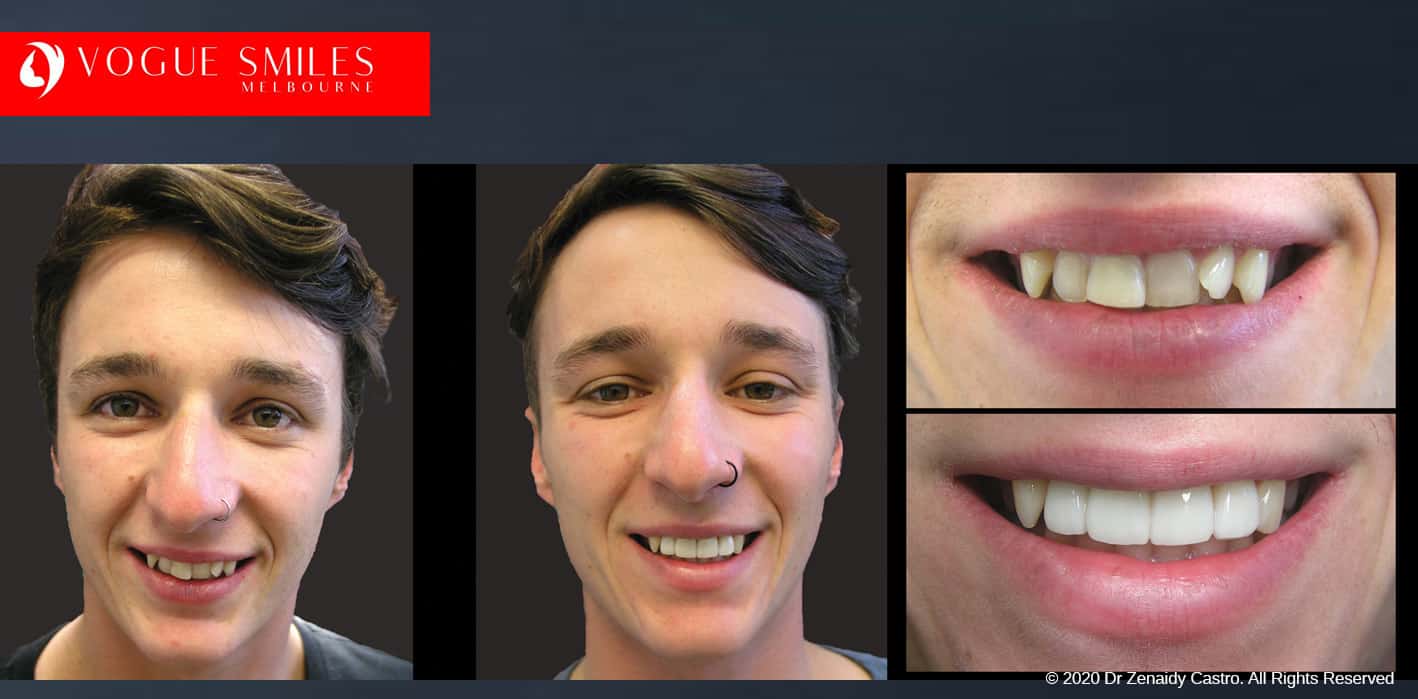 Step 3: Taking the impressions
Once the  surface preparation has been completed, we will take an impression of your tooth and its surrounding teeth and gums. It's this copy of your mouth that will be used to fabricate your veneer.
This impression is then sent to a dental laboratory and they will use it to make your porcelain veneer. Depending on what arrangements have been made, the turn-around time for this process is usually about 2 weeks.
Step 4: Placing a temporary Veneer if needed
In those cases where your veneer will be fabricated by a dental laboratory, you will usually have to wait 1 or 2 weeks while it is being made. The question then becomes whether or not you will wear a temporary veneer during this time period.
A) Situations where no temporary is placed.
This can be the plan for cases where just a minimal amount of tooth structure has been removed.  Admittedly, on close inspection, your tooth will look a little strange. But just how much of an issue this is is something that you'll have to decide.
Since a surface layer of your tooth has been trimmed off, you may notice that it has an increased sensitivity to hot and cold foods and beverages. You can also expect that it will feel a little rough to your tongue and lips.
PORCELAIN VENEERS BY AUSTRALIA'S BEST SMILE MAKEOVERS DENTIST
B) Situations where a temporary is used.
It's more common to place a temporary veneer when treating cases where there's been a need to trim a relatively greater amount of tooth structure.
These are teeth whose appearance would be noticeably strange, or where the issue of thermal sensitivity might be a problem for the patient.
If having a temporary placed is important to you, and your dentist has not yet discussed this issue with you, you absolutely need to ask about it when your appointment is initially scheduled.
We frequently uses a mould that's filled will plastic and then slipped over your teeth to form the temporary. In some cases, this mould is made from a wax/plaster mock-up of your teeth that due to the time involved in making it must be arranged for in advance of your appointment.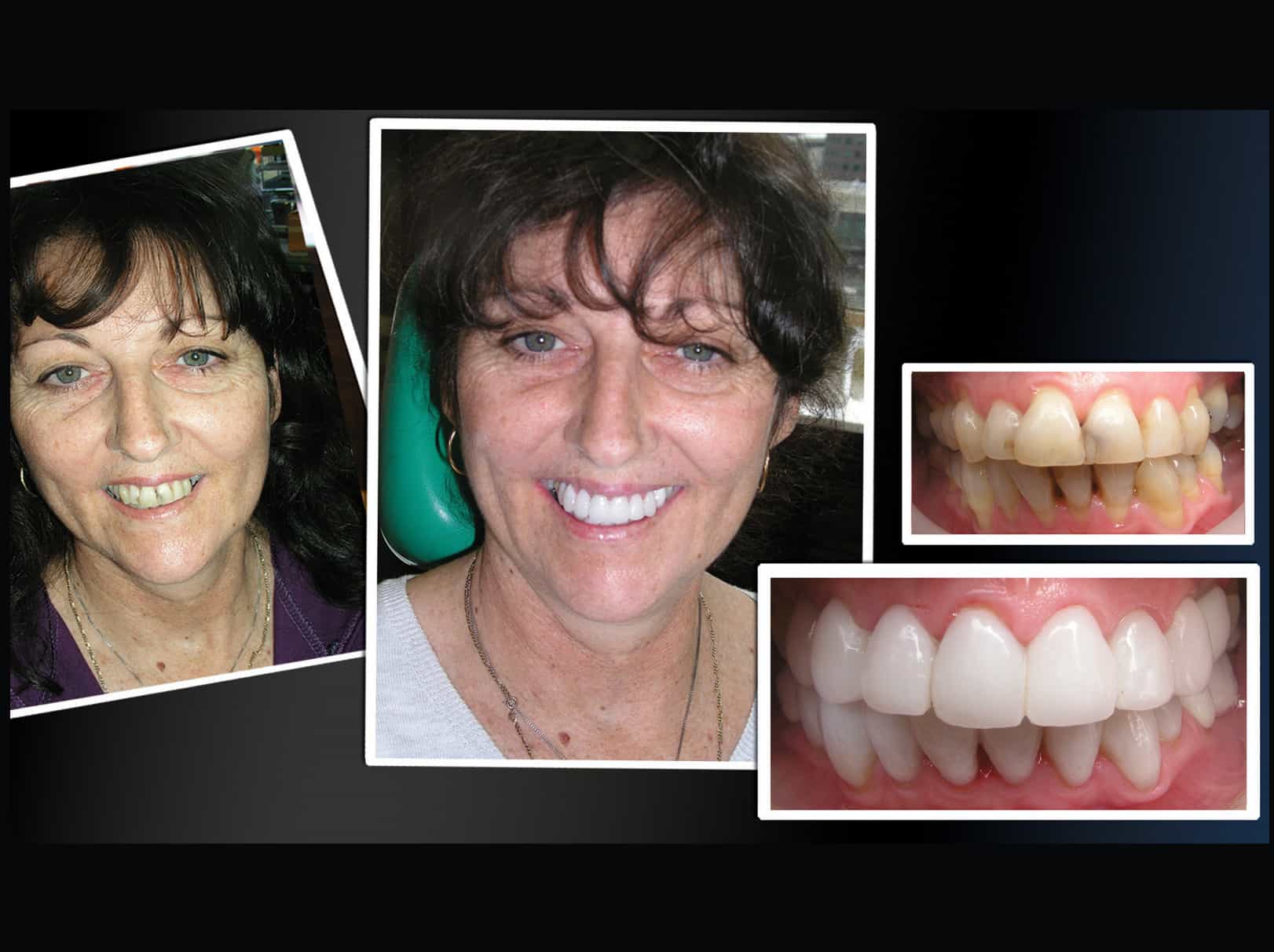 Step 5: The Pre-Cementation evaluation
At this point, your porcelain veneer has been fabricated and is ready to be bonded onto its tooth. If a temporary veneer has been placed, we will remove it.
A) Checking the fit.
We will first need to evaluate how your veneer seats on your tooth.
To do so, they'll set it in place, inspect it, remove it and trim it, repeatedly, until they are satisfied with its fit. (In most cases, an anaesthetic will not be needed during this step or any of those that follow.
B) Evaluating the shape.
Even though the laboratory or milling machine that has crafted your laminate has crafted it to what it thought was the ideal shape, you and your dentist may decide differently.
Possibly certain edges need to be shortened, squared off or rounded so it looks right. If so, your dentist will complete these changes.
Without question, the goal of this step is to get everything as right about the shape of your laminate as possible. But you don't have to be too worried if you have some minor reservations about what you notice.
Further refinement can still be made later on after cementation. In fact, at this point, while your veneer just sits loosely on your tooth, trimming it too much might be the bigger concern.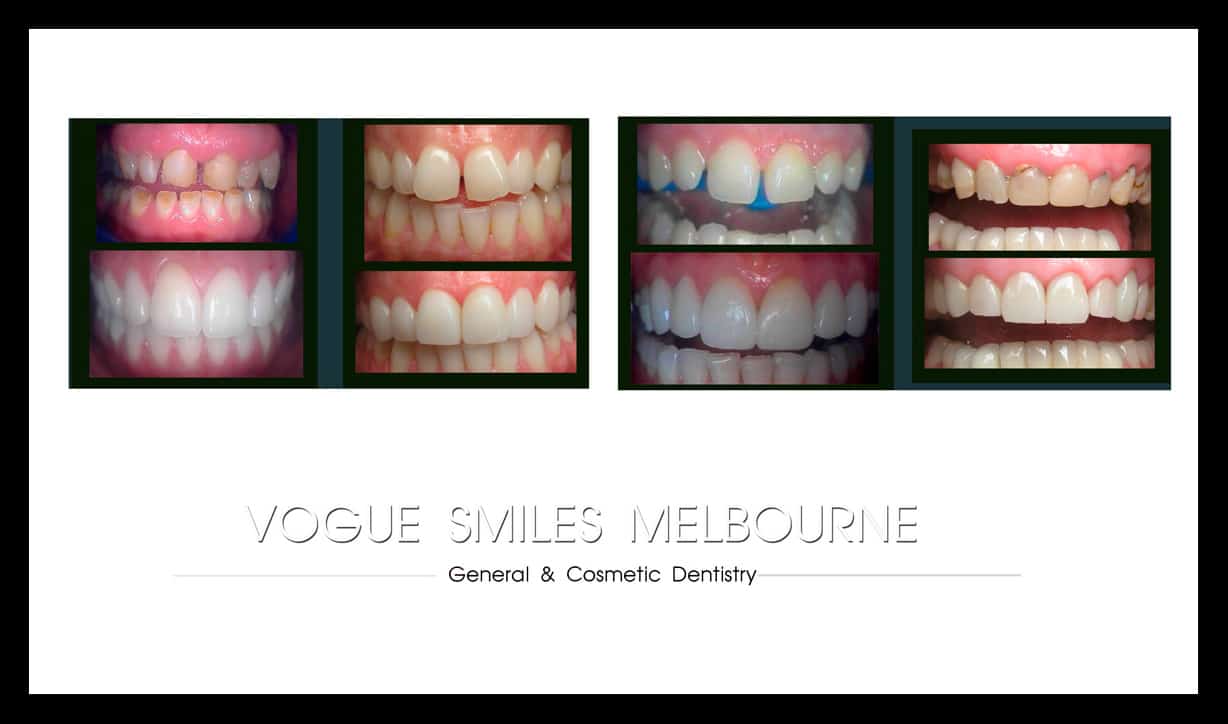 C) Evaluating the colour.
Your dentist will have chosen a shade of porcelain for your veneer that they expect will result in a close match with your tooth's neighbouring teeth. But because it's translucent, its precise colour can be fine-tuned by way of the shade of the cement that's used to bond it in place.
Take note.
It's important for you to understand that this is your last chance to make an objection about the colour of your new veneer. Once it's been bonded in place, it can't be changed.
Once you and your dentist have determined that its shape and shade are right, your veneer can be bonded into place.

PORCELAIN VENEERS BY AUSTRALIA'S BEST SMILE MAKEOVERS DENTIST
Step 6: Wrapping things up
The veneer is now securely attached to your tooth.
There will be some excess cement that your dentist will need scrape and floss away. (Actually, they'll probably have removed most of it before fully cured it. That makes getting it off easier.)
They'll also need to evaluate your new restoration's contours and trim and polish them as is needed.
As the last step, your bite will be evaluated so to confirm that it hasn't been altered by the placement of your veneer.
Step 8: The follow-up appointment
Most dentists will want you to return to their office in about one week.
They'll want to evaluate how your gums have responded to the presence of your new veneer. And if you have decided that its shape needs to be adjusted some more, they can do that at this appointment too.
Some people may notice that their veneered tooth as some hot and cold sensitivity. If you do, let your dentist know during this visit. While it's common that it will resolve on its own, they may be able to speed the process up.
General and Cosmetic Dentistry Financing in Melbourne CBD
Dental Payment Plan Options That will Fit Your Budget
We don't believe that dental care should be out of anyone's price range. We want you to feel confident in a smile that looks attractive and functions naturally—and fits within your budget! If you don't believe you can afford the dental treatment you need (or want), rest assured that we will try our best to help you afford the treatment you need. We have helped countless patients receive affordable dentistry, providing them with beautiful new smiles that have changed their quality of life.
Our team helps make our dental services affordable by assisting you in maximizing your insurance benefits and accepting a variety of payment methods. We also offer third-party dental financing through ZIPMONEY. Don't let fear or embarrassment about your budget keep you from getting the dental treatments your smile deserves. Contact our team today!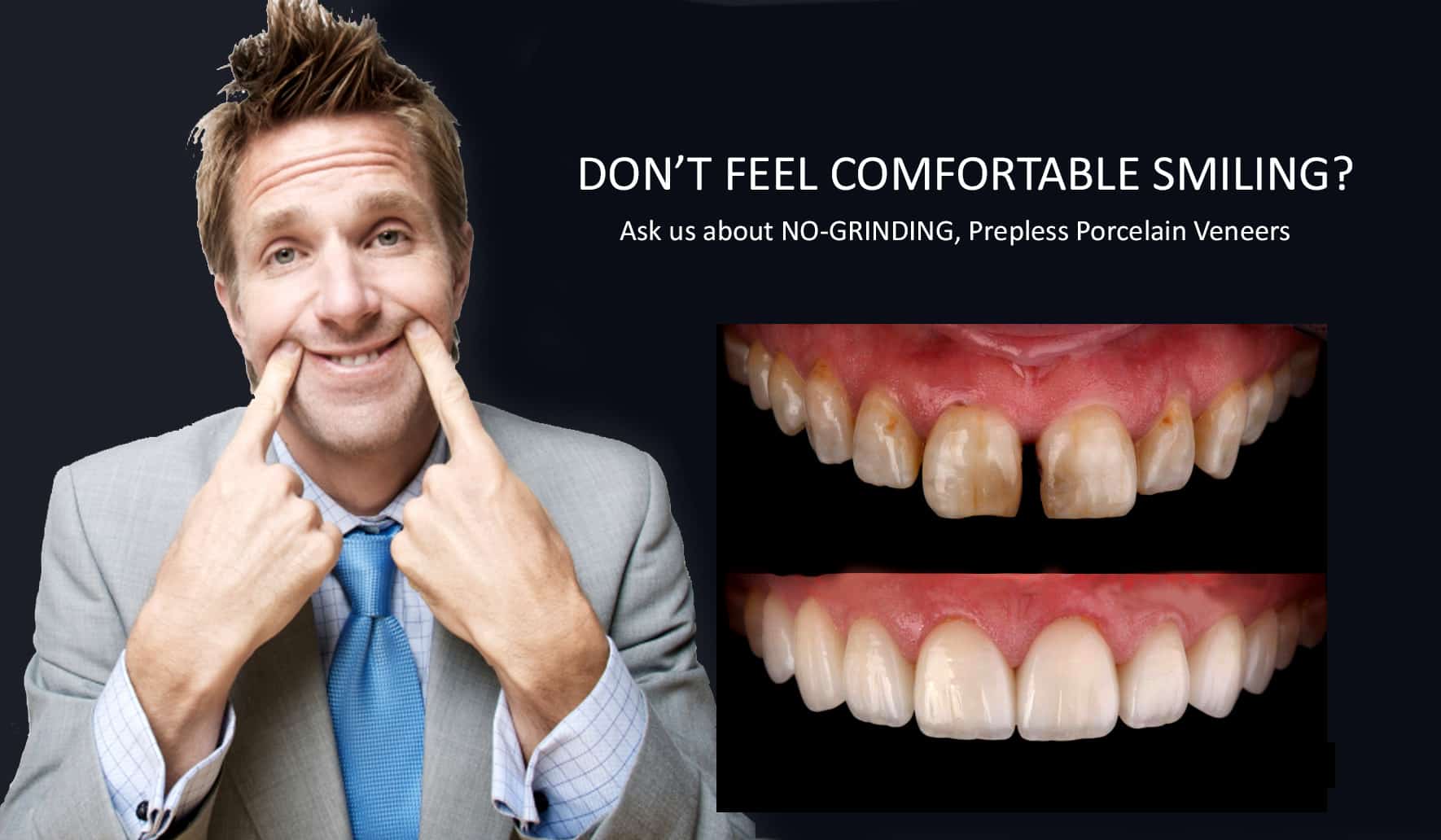 Before and After Dental Smile Makeover Treatment Gallery
Have a look at our smile gallery of photos that shows some of the beautiful smiles that we have worked on. We are committed to excellence & changing lives of our patients through smiles. Whether you're in need of more advanced procedures such as "extreme Smile make-over," Porcelain veneers, and bonding or you simply wish to correct a chipped tooth or create a whiter smiles, our practice provide personalized and cosmetic dentistry for every stage of your life. We have over 30 years of experience of providing gentle and quality General and Cosmetic Dentistry in Melbourne CBD, that you can count on.
We can Turn your dream of beautiful smile into reality.
Call us now for your FREE MINI COSMETIC CONSULT on 9629-7664
See Below of our Smile Makeover Before and After photos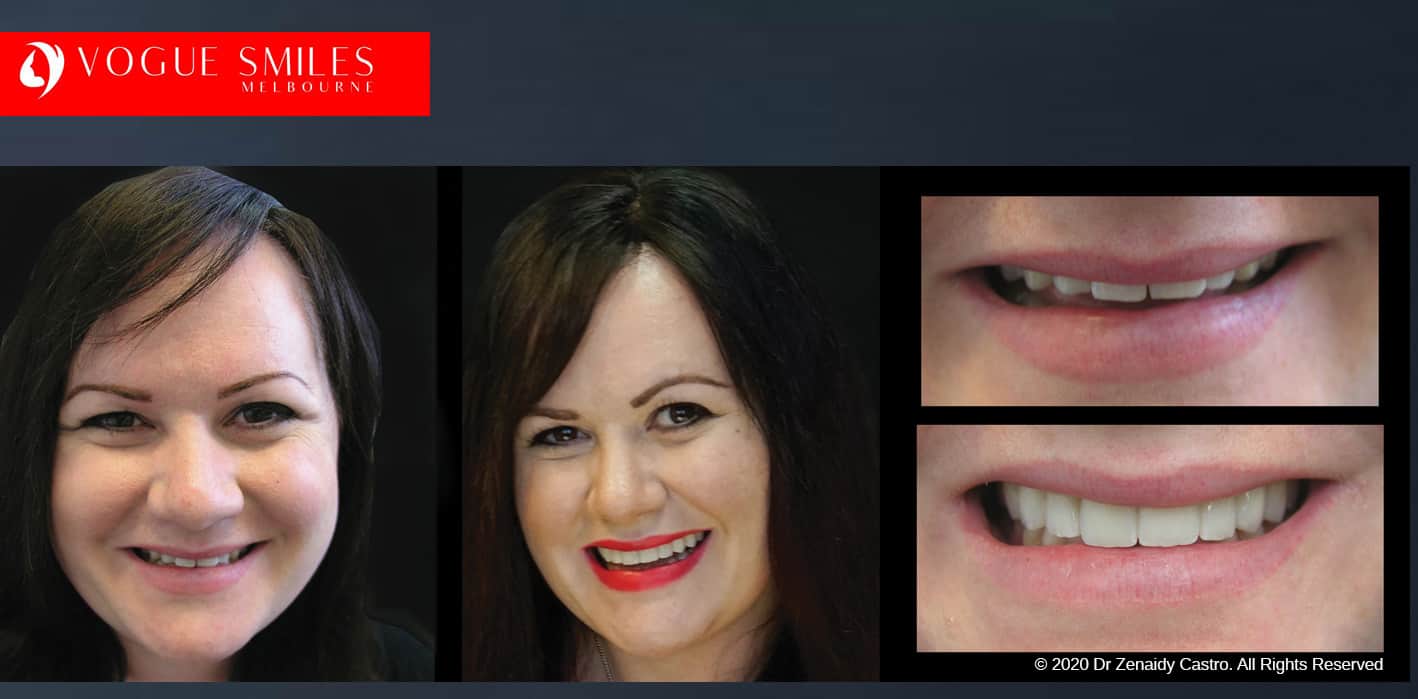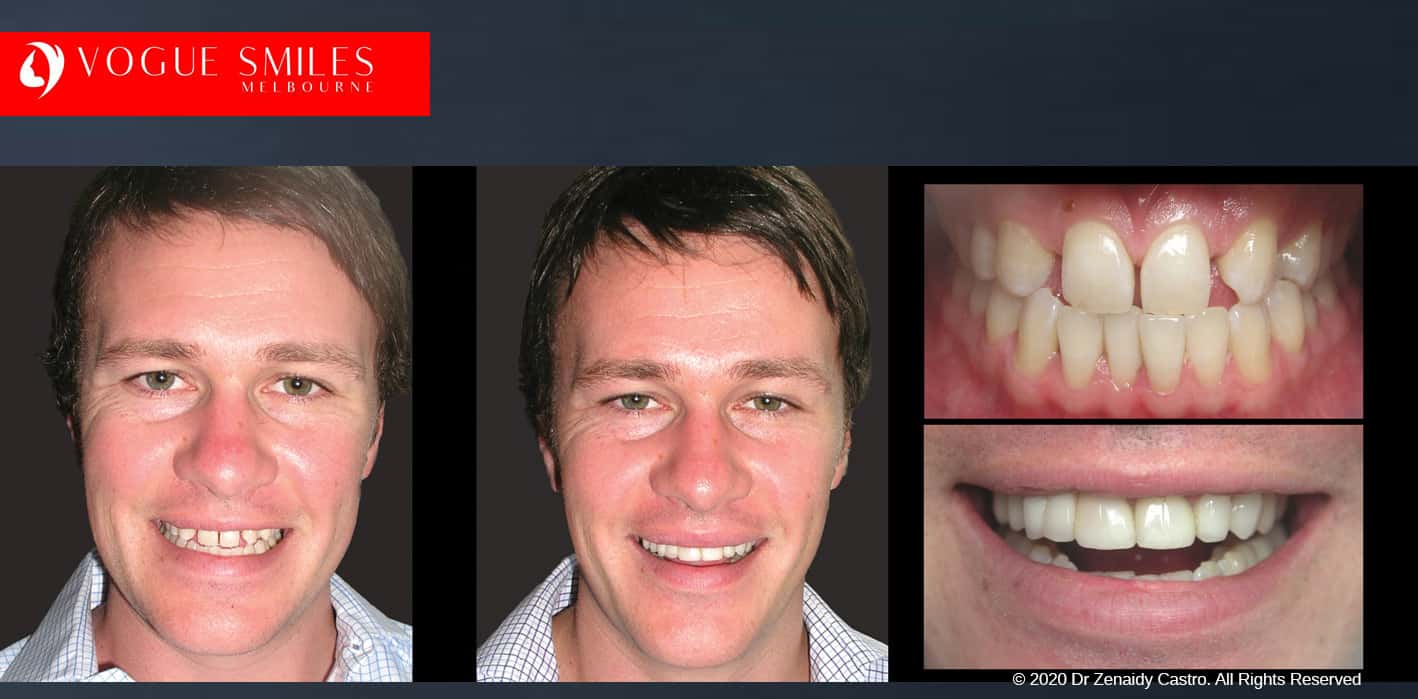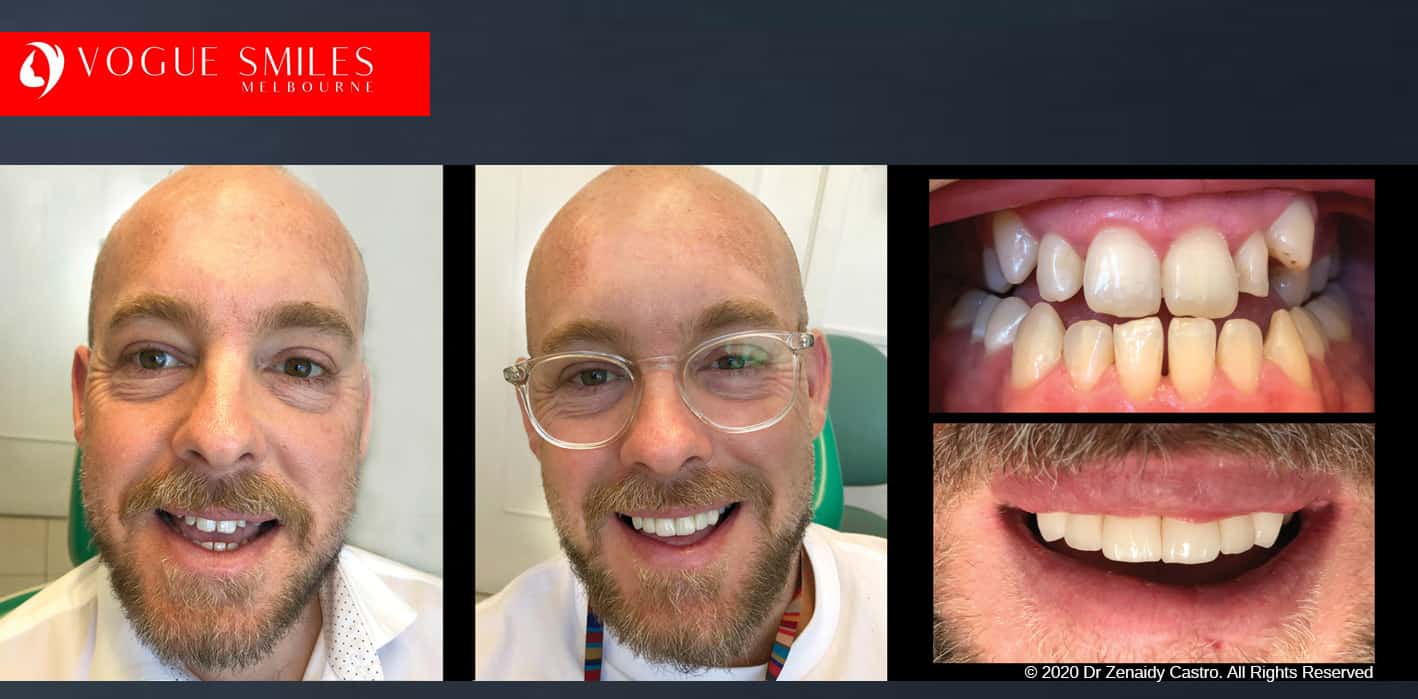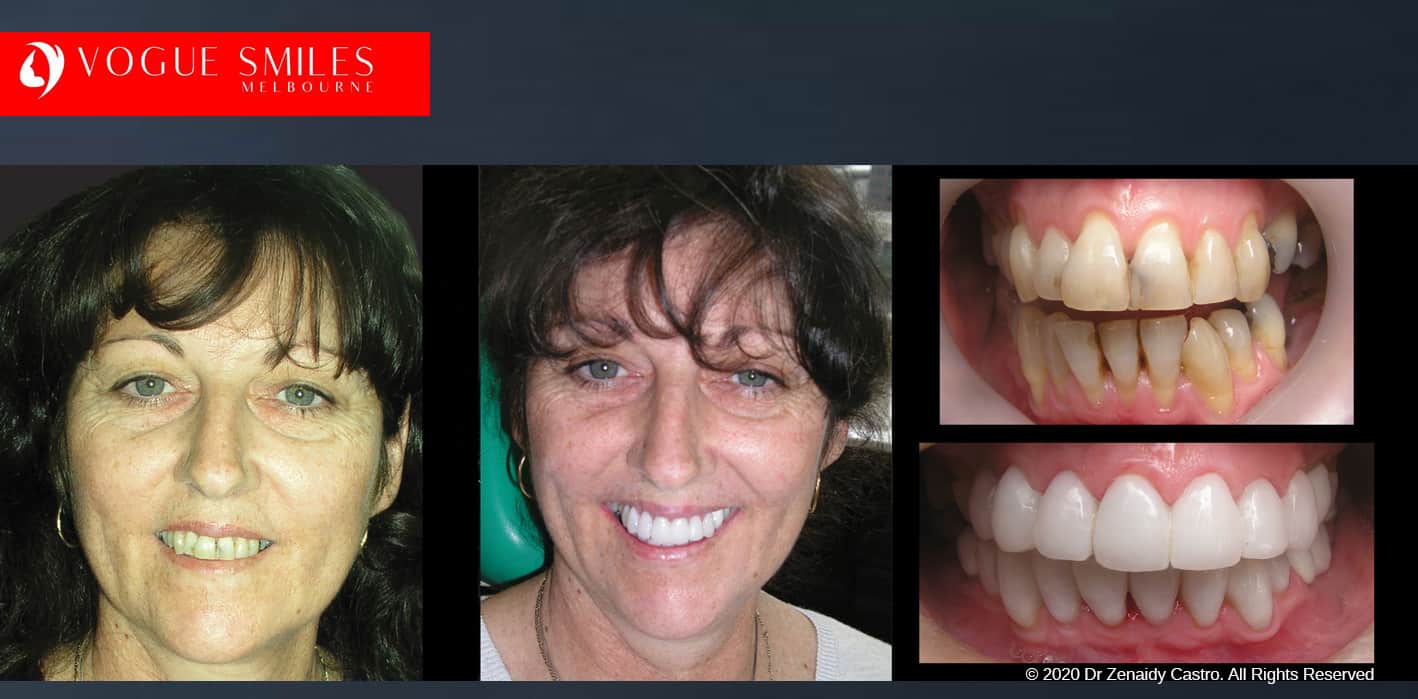 P
Disclaimer: The information on this website is for information purposes only. Is not a substitute for a proper professional care. Cosmetic Dentistry results will vary from patient to patient. Call our office and book for an actual in-person consultation for us to assess if you are a good candidate for a particular cosmetic Smile Makeover treatment. All of our Specials and packages posted on this site are subject to terms, conditions and availability