Stunning Black and White Photography of Dr Zenaidy Castro
Should You Choose a Facelift, Fillers, or a Smile Makeover?
Facelifts are making a comeback, according to new data released by the Society of Plastic Surgeons (ASPS), while soft-tissue fillers (used primarily for lip augmentation) ranked #2 in the list of minimally invasive cosmetic procedures. Here's what you may not have known: Plumper lips, elevated cheeks, and fewer fine lines and wrinkles around the mouth can also be achieved through a smile makeover.
Why porcelain veneers trump fillers and facelifts
Over 130,000 facelifts were conducted in 2016, up 4 percent from 2015. Facelifts are intended to enhance the appearance of the face and neck by minimizing sagging, drooping, and wrinkling. Simply enough, people want a more youthful-looking face. A CNN report about the ASPS stats said that fewer patients are requesting procedures that remove extra skin. Instead, patients want something that plumps their skin with fillers.
Did you know that porcelain veneers have the ability to boost a person's lips? While veneers and Lumineers are as thin as contact lenses (though exponentially stronger), they are carefully situated on top of a patient's natural teeth and bonded in place to create a stunning cosmetic dentistry enhancement. This procedure, by default, makes lips plump out a little bit. While the pout may not be quite at a Kardashian level, it will be far more natural and longer lasting. Fillers must eventually be refreshed, unlike porcelain veneers which, if well taken care of, can last for decades.
Replace missing teeth for a more youthful appearance
Have you ever noticed the celebs who've gotten bad facelifts or overdosed on fillers? Of course you have. You could probably name a few off the top of your head, like Priscilla Presley, Daryl Hannah, Mickey Rourke, and Meg Ryan. Sometimes people go too far with cosmetic procedures in an effort to fight aging and maintain the youthful looks for which they are known, but we believe that aging gracefully is possible.
If your teeth are aging you, then the solutions are accessible and – in many cases – painless. A smile makeover can transform your entire face, but still leave you looking completely natural – just an improved version of yourself, no plastics involved.
For instance, if you have jowls, drooping cheeks, or a compressed appearance, the first question would be: Are you missing any teeth? A missing tooth or teeth will change the shape of your face by altering the bulk of your jawbone and, thus, the shape of your jawline. Your appearance can be drastically altered by missing teeth and make you look much older than you actually are.
The solution? There are actually three:
Dental implants:One of the most effective methods of replacing missing teeth, dental implants are secured in your jawbone. They remain in place permanently while also stimulating your jawbone and preserving it. With dental implants, your jaw has no opportunity to sag because of missing teeth and roots.
Dentures: We know, we know – if you're trying to make yourself look more youthful, the last thing you want is to wear dentures and deal with adhesives. Modern dentures can be combined with dental implants for a secure and natural look (so you don't have to feel old or be forced to take your teeth out every night).
Porcelain fixed dental bridges: Bridges are used to close a gap by adding a porcelain tooth attached to hidden clasps which are then secured to the teeth on either side (both of which sport a porcelain crown). Bridges cannot be removed once put in place.
Make yourself look younger with a smile makeover
If your face is starting to show your age, revitalize your appearance with the most obvious, effective and natural-looking fix first: a smile makeover.
For Anti-Aging Smile Rejuvenation with Best Cosmetic Dentistry in Melbourne consultation Call VOGUE SMILES MELBOURNE 9629- 7664 for a FREE mini Cosmetic Consult .
 
The Dental secrets that might make you rethink fillers
Stun
If you've even thought about having injectables, a trip to your dentist first might change your mind. From 'dental face lifts' to the one treatment that makes everyone look better, here's why putting teeth before face could pay off
Exactly how do teeth tie into enhancing the appearance of your lips, skin and face in the way that fillers, injectables or other aesthetic treatments might?
The teeth and jaw are the 'frame' of our face, or the scaffolding if you will. You can look at the upper half of the face and not necessarily know how old someone is, but it's the lower third of the face that can be most telling of age. It's for this reason that dentistry and aesthetic dermatology work best when approached holistically – you might be convinced that you "need" fillers, but actually dental treatment might be more suitable, effective and produce the most natural-looking result."
Clearly cosmetic dental treatments can be as costly and involve as much downtime as aesthetic treatments, but according to those in the know turning to your dentist before an aesthetic specialist or surgeon could not only help you to achieve the kind of lift and plumpness that cosmetic facial procedures promise, but also the end-result can be more long-lasting and subtle and even help to preserve the health of your teeth. Here are a few dental tweaks and treatments that can make all the difference in terms of addressing visible signs of ageing.
The one treatment everyone can consider
If I were to suggest one dental treatment to lift the face it would be braces. This may sound old-fashioned but hear me out. Just as our collagen levels deplete in our skin as we get older, so our teeth begin to collapse inwards, which 'shrinks' our mouth and results in a loss of volume in the lower face.
Braces are brilliant as they help to counteract this by widening the smile while also straightening teeth, adding structure and support to your mouth and reducing the appearance of sagging. Another advantage is that results are permanent."
If you're concerned about looking a bit 'Ugly Betty' while wearing braces, you needn't be, as dental technology has come on in leaps and bounds. Options such as Invisalign invisible braces are now some of the most popular treatments in my practice – they're unobtrusive and barely discernible to others yet achieve impressive results over time."
If you can't be bothered wearing braces or invisalign, Porcelain Veneer will have same effect.
How dentistry can make lips look plumper
If lip fillers or a lip lift appeal, there are dentistry alternatives that could look less 'done' and boost the health of your teeth over time too.
So what do veneers have on the likes of plumping lip treatments?
Our teeth, like our skin, become thinner with age, and as a result our lips can move inwards. By adding volume to the outer surface of the teeth, the lip can lift naturally as it has a supportive structure behind it. This can result in plumper looking lips- I'd say it can boost appearance of fullness by 25 per cent in the average case and it looks natural too, so any additional lip filler may be unnecessary. The slight elevation of the lips can also help to soften fine lines around the mouth.
That's the potential cosmetic pros covered but from a wear and tear point of view veneers can bring additional benefits:
Veneers are essentially a way of laminating the teeth and this can be protective if you're a bit older in particular as it shields the enamel once it starts to be eroded. While enamel is the hardest substance in the human body, you can't reverse this particular ageing process as your body can't reproduce enamel, so veneers act as a stand-in for your natural enamel.
Veneers are sculpted to your teeth and also help to address staining or crookedness, but it's vital that any veneers applied harmonize with the colour and shape of the rest of your teeth.
If veneers are out of your price range or not right for you, composite bonding as an aesthetic alternative. It's a one step treatment where a bonding material is painted onto teeth and hardened using a special frequency light before being polished and smoothed. Like porcelain veneers, the treatment can address everything from the colour and shape of teeth but it's not as durable and more prone to chipping and staining. You can expect composite bonding to last up to five years
The misnomer of being "long in the tooth"
Being long in the tooth is suggestive of old age from an idiomatic perspective, but the opposite is true in dental terms
Longer teeth actually look more youthful – apparently a length of 11mm is the 'sweet spot' but it completely depends on the natural shape and size of your teeth and your bone structure. You can lengthen teeth artificially with aesthetic treatments such as veneers and bonding and teeth whitening can be very effective for making teeth look longer and more pronounced in the face too. As the skin between your nose and top lip descends with age due to collagen loss, it's often common that you can't see your top teeth when you talk or smile, so lengthening the teeth and making top teeth more visible helps to reverse this somewhat.
It's not just your front teeth that can become less visible with age either. Over time the back teeth can move inwards and many people have a narrow arch shape. When we look at the smile from the front there is a "black corridor" as you do not see the back teeth. By reshaping the arch using straightening or veneers you can widen the smile which then supports the cheeks and gives a much fuller smile.
We dubs treatments such as this as 'the dental facelift', as straightening teeth can help to support the cheeks and deliver an overall lifting effect that never looks 'fake'. Don't underestimate the cost and time involved, however, as straightening procedures can take over a year to complete in complex cases and cost thousands, and while the effects of teeth whitening can be instant, it's vital to seek treatment from an experienced, highly trained and licensed dental professional.
Young gums
Just as bonding and veneers can give the impression of 'more teeth', so 'more gums' make for a healthier, younger-looking mouth.
Keeping gums strong and healthy is so important as we age because our gums keep our teeth in place and prevent bacteria from growing in our mouth, all of which contributes to the cosmetic impact of teeth too. As we get older our gums shrink so a degree of recession is normal, and some people are genetically predisposed to gum recession, but there's lots you can do to slow down the process and even press pause on gum shrinkage.
I recommend using an electric toothbrush to thoroughly clean teeth and avoid some of the scrubbing that can occur with manual brushing. Ensure that you have an efficient, gentle technique. It's also really important not to overbrush – you don't need to brush teeth after every meal (twice a day is ideal). Think of it like skincare – if you scrub your face aggressively and wash it too often, it will become dry and more prone to damage and fine lines. The same is true of teeth in terms of gum recession. A morning wash followed by a nice double cleanse at the end of the day will do for skin, and brushing twice a day is perfect for maintaining optimum teeth and gum health. Flossing once a day is also essential for maintaining 'young gums
For Anti-Aging Smile Rejuvenation with Best Cosmetic Dentistry in Melbourne consultation Call VOGUE SMILES MELBOURNE 9629- 7664 for a FREE mini Cosmetic Consult .
ning Black and White Photography of Dr Zenaidy Castro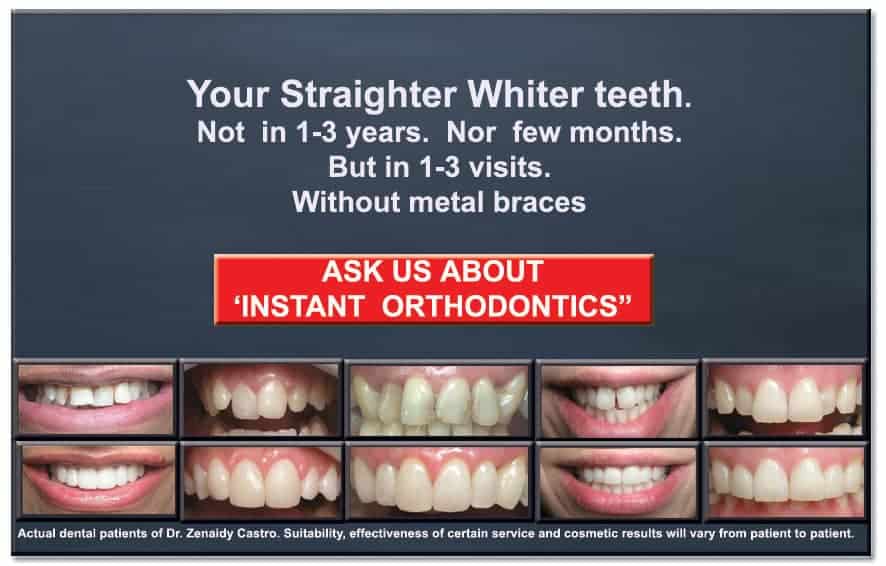 Stunning Black and White Photography of Dr Zenaidy Castro
What makes a face look young?
A youthful face is super plumped with collagen giving the skin that smooth hydrated appearance.
However it's not just the quality of the skin that matters, its what's underneath the skin, the supporting scaffolding that counts too.
One of the most common parts of your facial skeleton to undergo change in your life time are your jaw bones. If you lose many of your back teeth your jaw bone silently shrinks away until an aged, 'squashed' type look occurs.
The cheeks collapse inwards, the lips compress together and the chin becomes more prominent.
What's actually happened is that the distance from the bottom of the nose to the bottom of the chin has been reduced, knocking off your facial balance.
Teeth don't necessarily need to be completely missing to give an aged look. Teeth that have been worn down by grinding or severely dissolved away due to acid erosion cannot support the cheeks or lips properly either.
Some people don't notice these changes as they happen gradually while for others their self confidence can take a battering.
The Dental Face Lift is a non surgical procedure that focuses on replacing entire teeth or the missing enamel that has been lost over the years.
By rebuilding the teeth to their original dimensions, the lower face regains that youthful vertical height.
The cheeks and lips are then adequately braced and the chin returns to its balanced position that it was in when the patient was in their 20s.
Dental facelifts can take 10 years off your appearance without the need for a conventional surgical facelift.
Moreover the facial muscles, nerves and jaw joints function better when teeth are rebuilt into a more ideal shape and bite.
There are various ways to do a dental facelift and so determining the cause of the problem is the first step. Then an individual treatment plan is designed to replace missing teeth or rebuild existing teeth.
Generally speaking, it's a combination of treatments that can include white filling composite bonding, veneers, crowns, bridges or implants to rebuild the teeth.
When necessary, new dentures can be made that will provide better support and upright 'down turned' lips.
Dental facelifts can subtly give a fresh faced look and younger looking teeth giving you something to really smile about.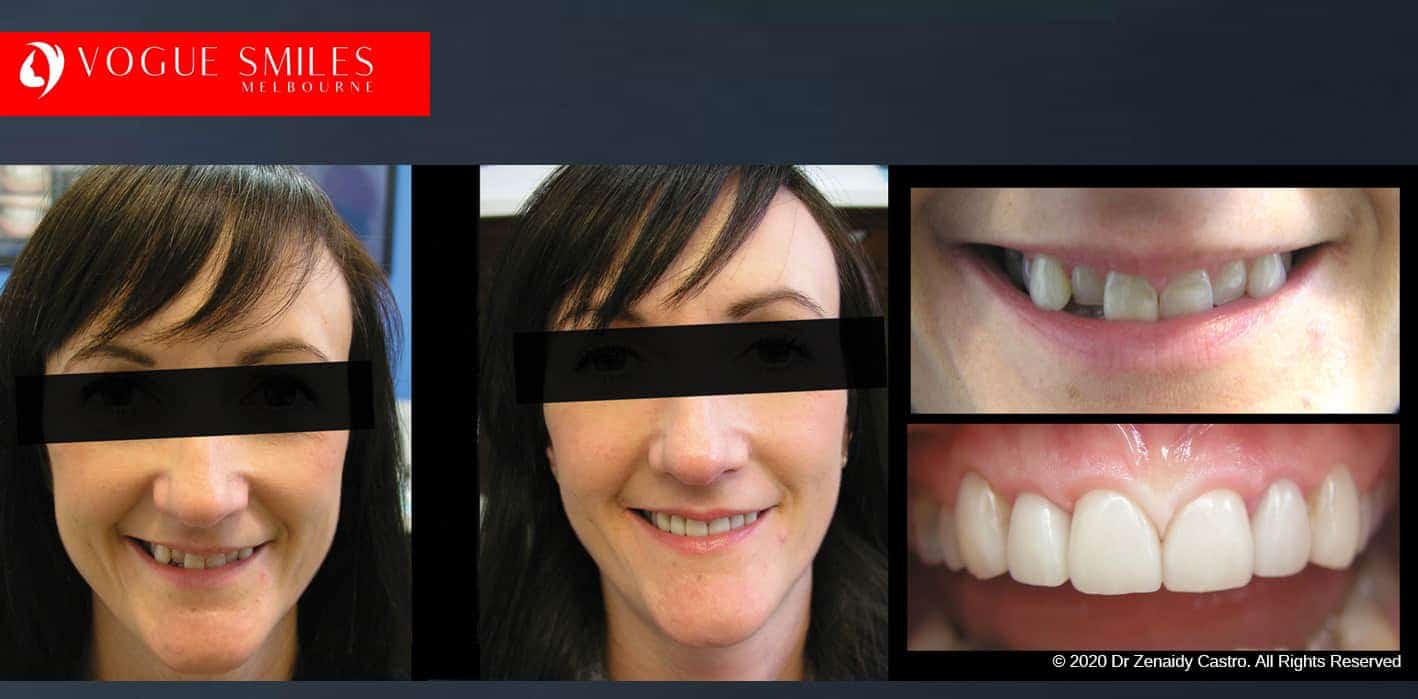 Stunning Black and White Photography of Dr Zenaidy Castro
How to Get a Non-invasive Dental Facelift Without Plastic Surgery
It may sound strange but you can now get a dental facelift without going through surgery. Today, there are some dentists who use techniques that not only improve your bite and smile but can also take away years from your appearance. Some are saying that this technique is a very effective and non-surgical way to reduce the signs of facial aging such as wrinkles and sagging skin. Tooth restoration is often a part of a dental facelift.
To be clear, as we age, our dental structures begin to break down and if we have teeth that become worn or missing, it will cause our faces to shrink and give our faces a sunken-in look. With a dental face lift, wrinkles are smoothed out and a persons jawline has a more pronounced and even look. Dental treatments and dental appliances are effective in giving a more polished and youthful look. If you are looking for a dentist who can fix my teeth, a cosmetic dentist can give you the help you need. Having a tooth restoration process done, can give you a younger look.
At some dental practices, a plastic retainer is used to strengthen a persons facial muscles. This procedure causes the jaw to rest in a higher position; which makes a person look younger. Patients who use this retainer wear it for several months until their facial muscles are stronger and later have dental crowns placed on all of their teeth to increase the height of their jaw.
Keep in mind that a dental facelift is much more than cosmetic dentistry. Not only does a dental facelift improve the look of your teeth and smile but it also improves your profile, jaw line, chin position and the shape of your face. In addition, in some cases it can also improve your health; especially if your teeth are not in proper alignment and it affects your chewing and eating.
For Anti-Aging Smile Rejuvenation with Best Cosmetic Dentistry in Melbourne consultation Call VOGUE SMILES MELBOURNE 9629- 7664 for a FREE mini Cosmetic Consult .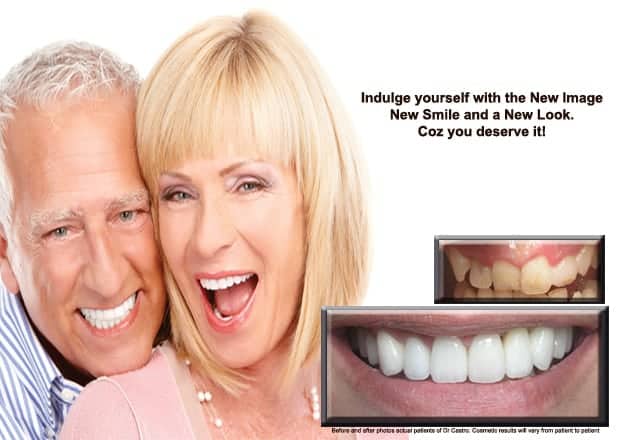 Stunning Black and White Photography of Dr Zenaidy Castro
What is a Non-Surgical Facelift?
If you are unhappy with sagging facial tissues, you may be considering your facelift options. Surgical facelifts can attempt to restore your youthful appearance by cutting, stretching, and re-positioning your facial tissues. The problem with facelift surgery is that your facial tissues are just responding to changes in your mouth and jaw that help to shape your face.
Often the best way to rejuvenate your appearance is to restore those underlying structures so that your teeth and bones are back in the position they once occupied with a non-surgical facelift from a dentist. With a Cosmetic & Comprehensive Dentistry, we can help you get a more youthful facial appearance by restoring a more youthful dental structure. This is described in detail below, but the best way to learn if it is right for you is to get an evaluation by a dentist.
Your Facial Appearance Depends on Your Mouth
Your mouth is a central feature in your facial appearance not only because your smile is one of the first things people notice about you, but because it provides the framework on which your facial appearance is built. When your facial appearance is first developing, your teeth, skull, and jaw all grow together.
Ideally, they create a harmonious structure that gives you an optimal facial appearance. However, with age your teeth can become worn, lost, or move out of position. The result is not just changes to your smile, but changes to your facial shape and proportion.
Am I a Candidate for a Non-Surgical Facelift?
Non-surgical facelift dental services focus on restoring your smile so that areas that have become sunken or hollow can be corrected naturally, rather than by pulling or cutting the skin with a surgical facelift. The problems that can be addressed involve missing teeth, teeth that have ground down over time, TMJ problems, uncorrected bite issues, and more. It's amazing how the underlying jaw structure, once in alignment and supported by full teeth and prostheses, can return fullness to the face naturally.
What are the Benefits of a Non-Surgical Facelift?
The goal of a surgical facelift will often be correcting sunken cheeks, depressed areas around the mouth, hanging jowls, and other signs of aging. But surgical facelifts involve extensive recovery, and they involve the risks inherent in major invasive surgery. Plus, we've all seen instances of botched surgical facelifts, where the patient's face now simply looks stretched and taut.
What if you could use dental techniques, such as placing crowns, replacing lost teeth with implants or bridges, adjusting misaligned jaws, or straightening teeth, to achieve many of the same facial rejuvenation? That's what a non-surgical facelift can achieve.
When the teeth are restored, many wrinkles and sunken areas disappear as they have support behind them in the dental structure.
Restored teeth help to return length to the face, making it less round and less flattened.
When the jaw is properly positioned, the jawline is enhanced. This can correct a "weak" chin due to an overbite, or an underbite.
All of this can be achieved by restoring facets of your dental health and structure. Isn't that a better, natural way, to achieve a more youthful-looking face?
How Non-Surgical Facelifts Work
Non-surgical facelifts work by restoring your teeth and mouth to their former state to improve your facial appearance. If you have lost teeth, your face will lose length, becoming more flattened and round. Your cheeks and lips may become sunken. Typical dentures may not help much because they do not stay in place to fill the role your lost teeth performed. Properly fitted dentures, on the other hand, can restore your facial appearance.
Even if you haven't lost teeth, chipped, cracked, or crooked teeth can cause your jaw to move out of alignment. Your jaw can also be moved out of place by injury or a concussive jolt. Poorly positioned jaws can give you the appearance of a receding chin (which can make your nose look large) or crooked jaw.
How is a non-surgical facelift performed?
These can be a variety of treatments, depending upon the patient. Your facial appearance and your oral structure are intricately linked. That's why issues such as a misaligned jaw or worn teeth can impact your facial appearance, usually making you look older.
We examines you during your consultation or to begin your treatments, we'll weigh what issues are causing problems. There can be many treatment paths. These are some of the possibilities
Is a non-surgical facelift painful?
Thanks to modern local anesthesia, these procedures are. Afterwards there can be some slight soreness, but it is easily managed with over-the-counter pain medication.
Are Non-Surgical Facelifts Safe?
These are dental procedures and have been performed countless times over the decades. They are safe. Placing a crown or a dental implant are common dental procedures. When you compare these procedures to the risks involved with a surgical facelift, everything from a reaction to general anaesthesia to poor wound healing, there really isn't any comparison to the natural results provided by a non-surgical dental facelift
What is recovery like for a non-surgical facelift?
Recovery from these cosmetic dentistry procedures, TMJ treatment, possible orthodontics, and other treatments involved with a non-surgical facelift is not difficult. Most procedures involve little if any residual pain. None of them require any downtime.
Does insurance cover non-surgical facelifts?
Some aspects of these treatments can be covered by your dental insurance and some are not covered. It depends if your insurance company deems the procedure to be cosmetic, rather than structural or necessary. We work with your insurance carrier to garner the most coverage possible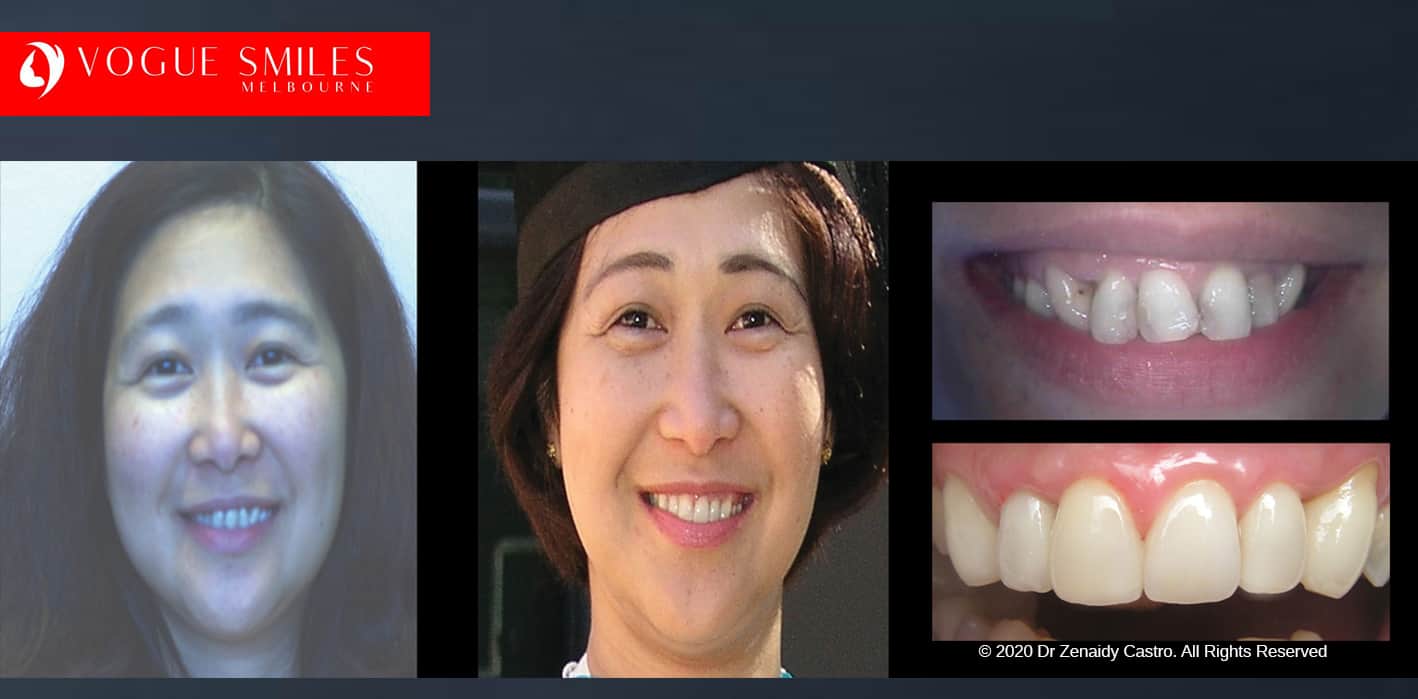 Benefits of Smile Rejuvenation for a Non-surgical Dental Facelift
Facelift surgery doesn't work by restoring your facial proportions. Instead, plastic surgeons act as if you had "excess" skin in your face. They cut away this excess and stretch your skin until it's tight over your reduced bones and teeth. This can significantly alter your facial appearance, and you may not look like yourself anymore. But by working with your teeth, we can rejuvenate your face by restoring your natural proportions. You will look like you, just younger.
In addition, you can avoid problems related to surgical facelifts, such as:
Pain
Bleeding
Bruising
Scarring
Long recovery time
Missed work
Surgical complications
With a smile makeover, you can get your facial appearance rejuvenated without any of those problems or risks. While a facelift may require up to a month of recovery, you won't miss more than a day of work from your smile makeover.
Plus, you'll have a bright, beautiful smile again, and that will also help you look younger.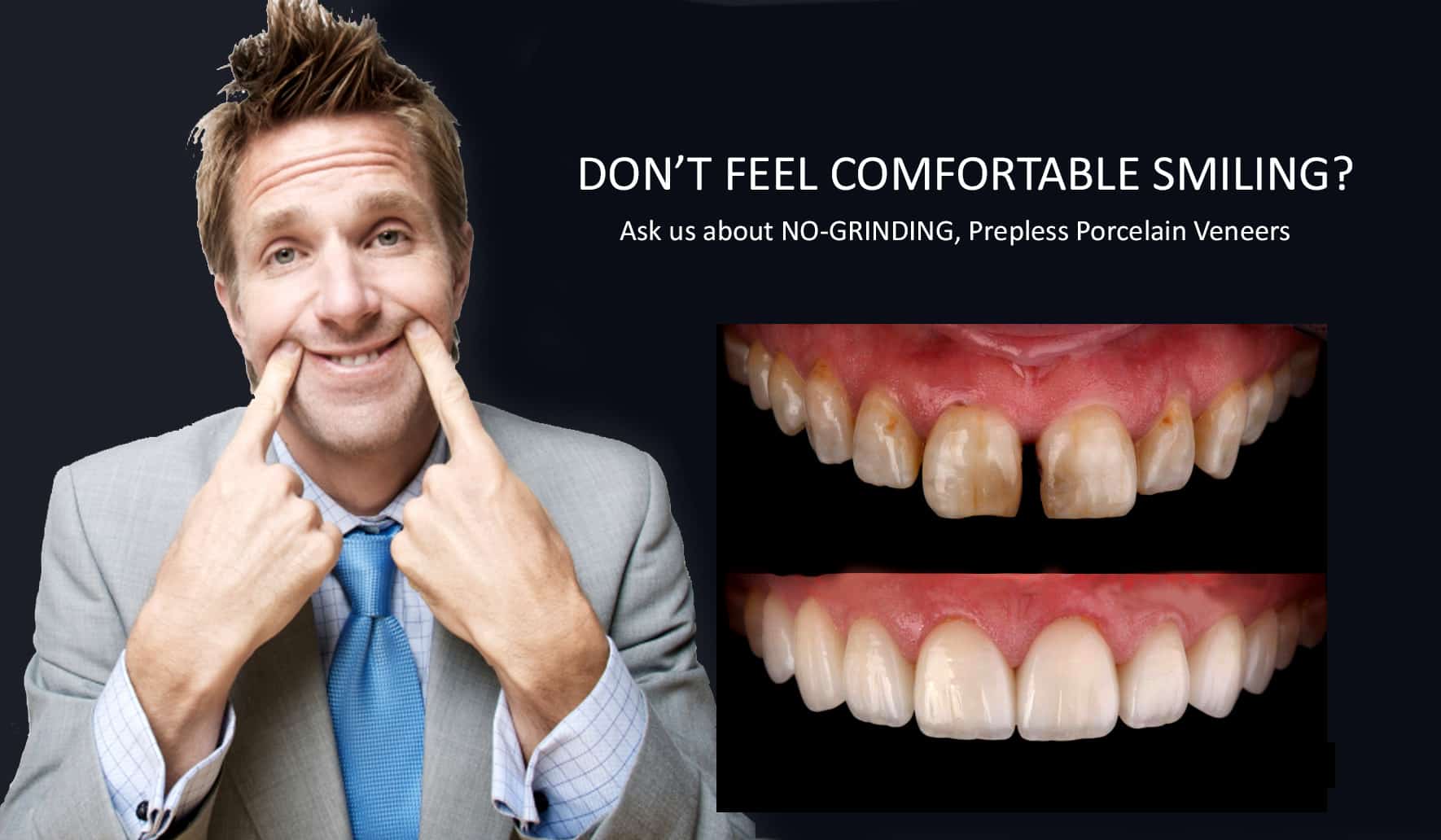 For many patients of our practice, instant orthodontics has provided an outstanding alternative to braces. Not all orthodontic issues, however, can be resolved with porcelain veneers. The best candidates for instant orthodontics with porcelain veneers include those who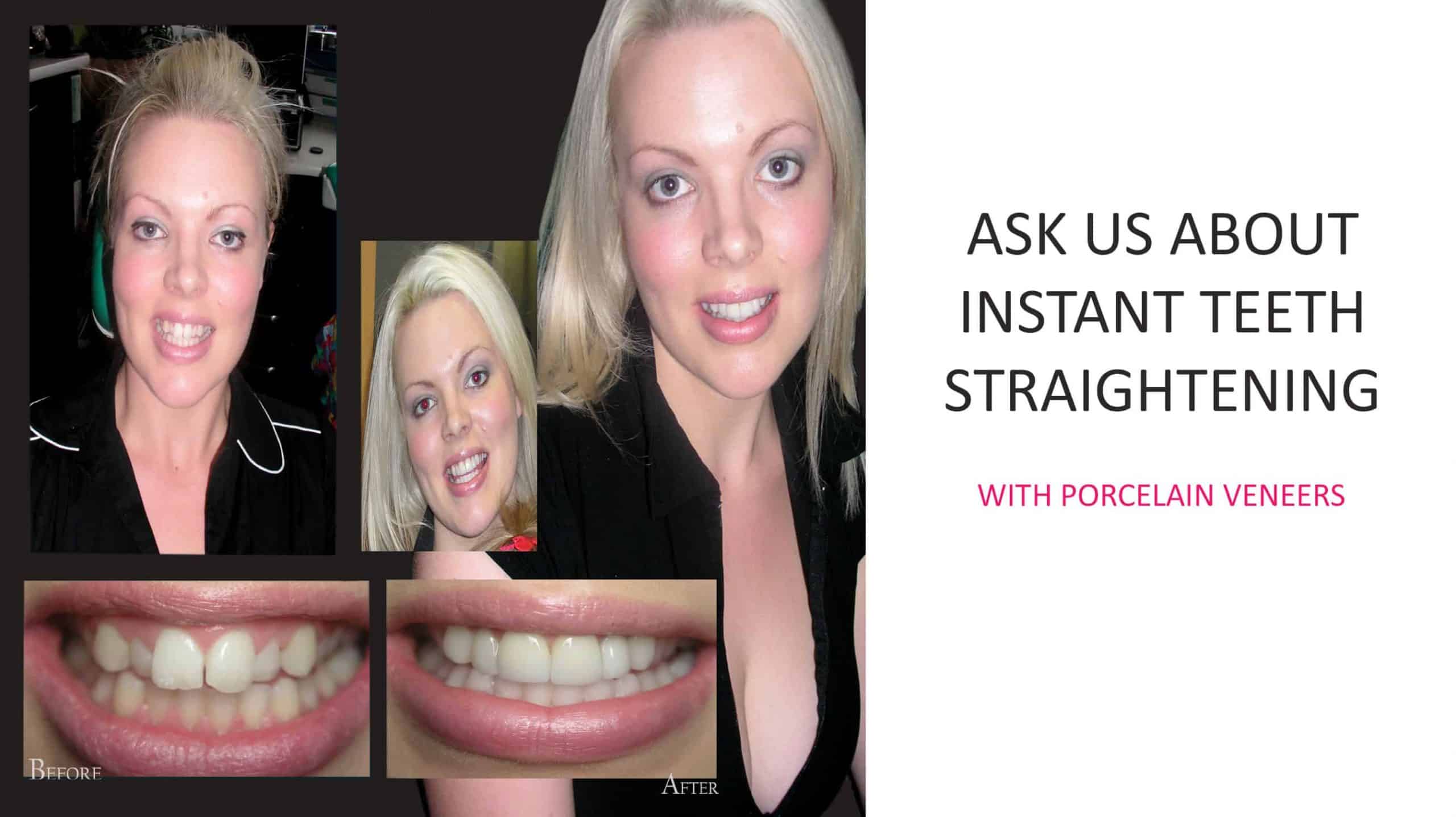 Instant orthodontics use a dental veneers, which can be made of either Porcelain or a Composite Veneer.  These materials are thin shells of specially crafted dental materials.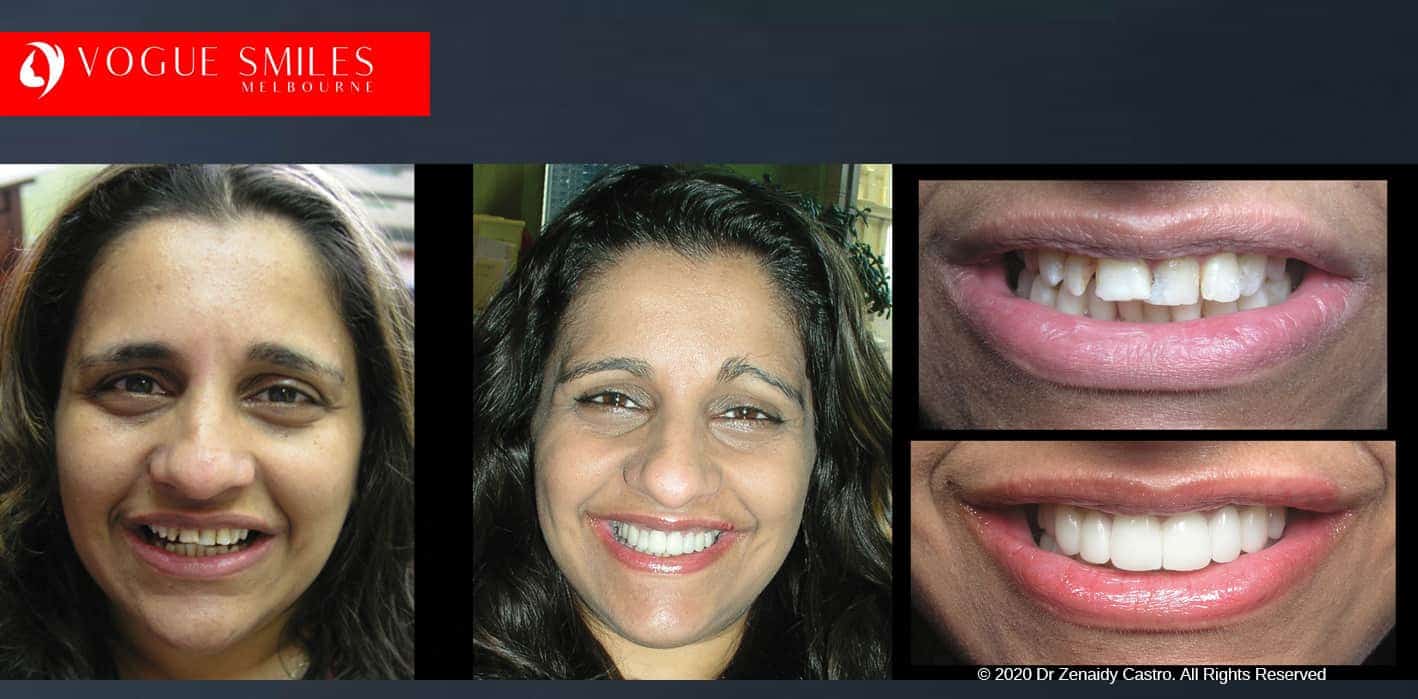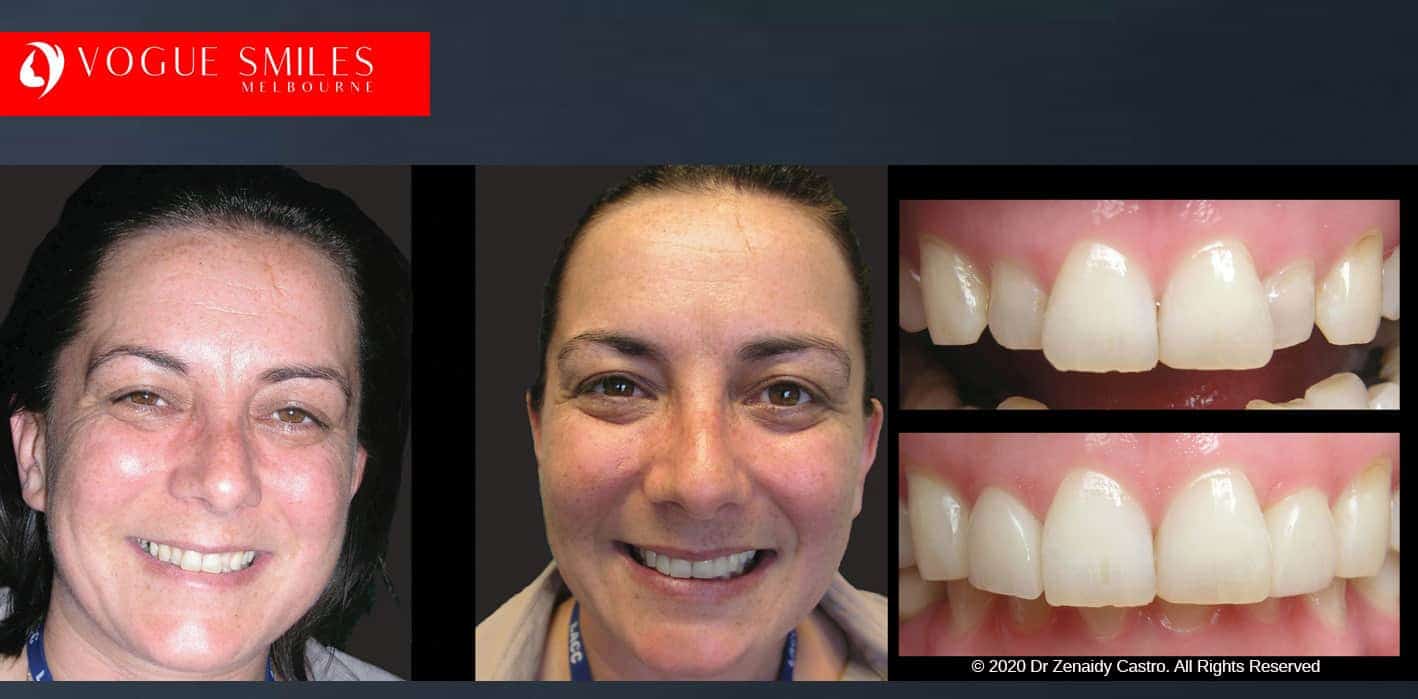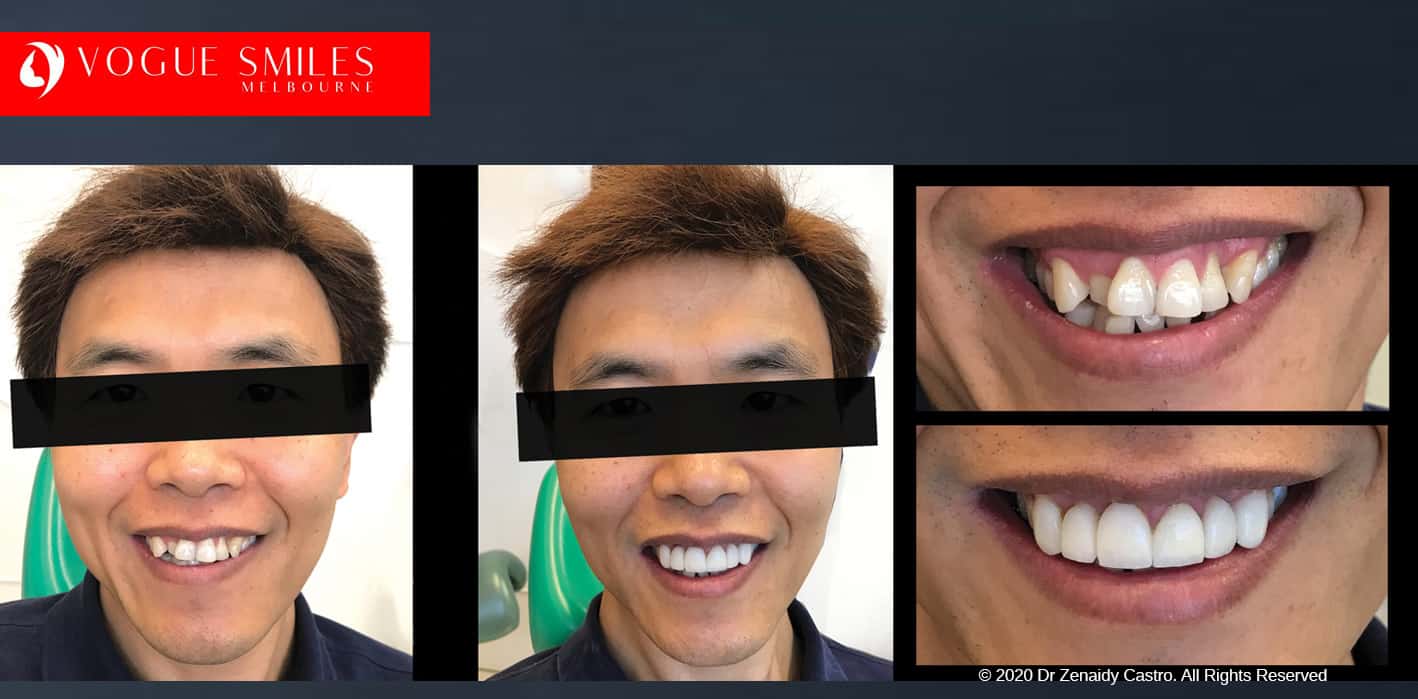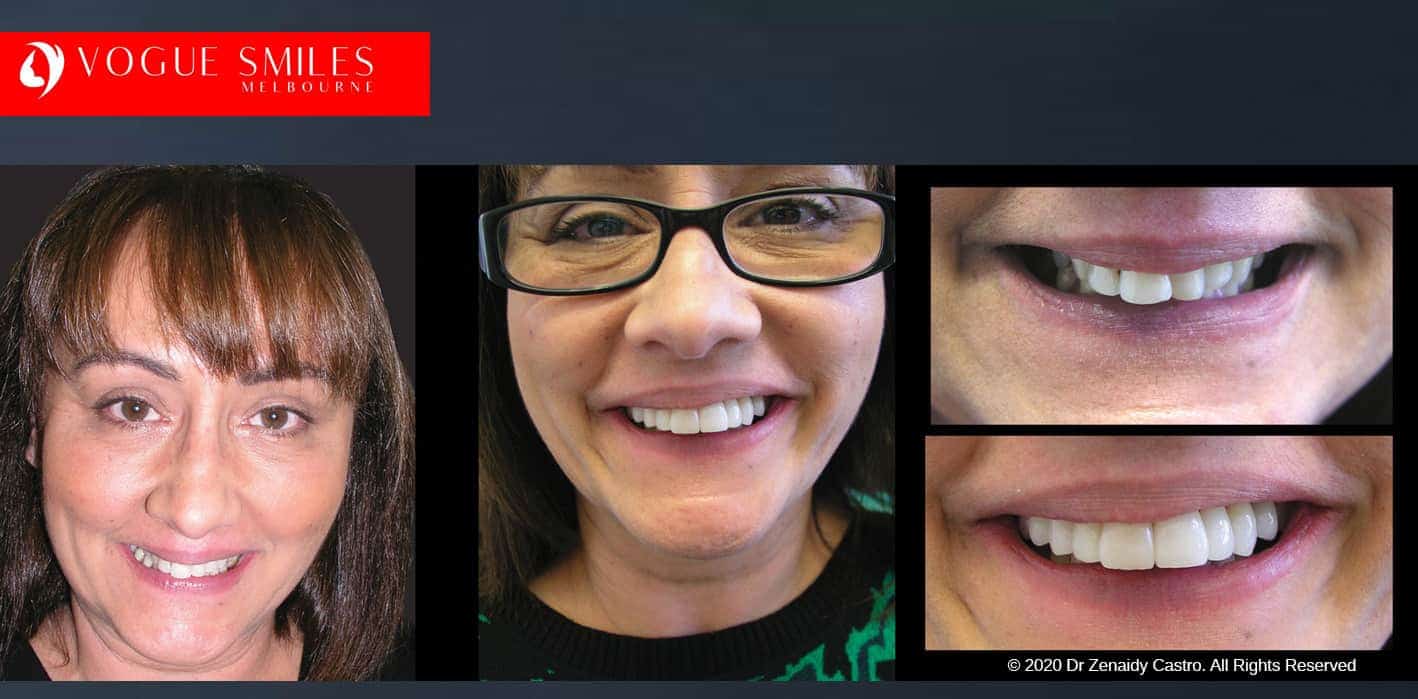 TESYFHGJJ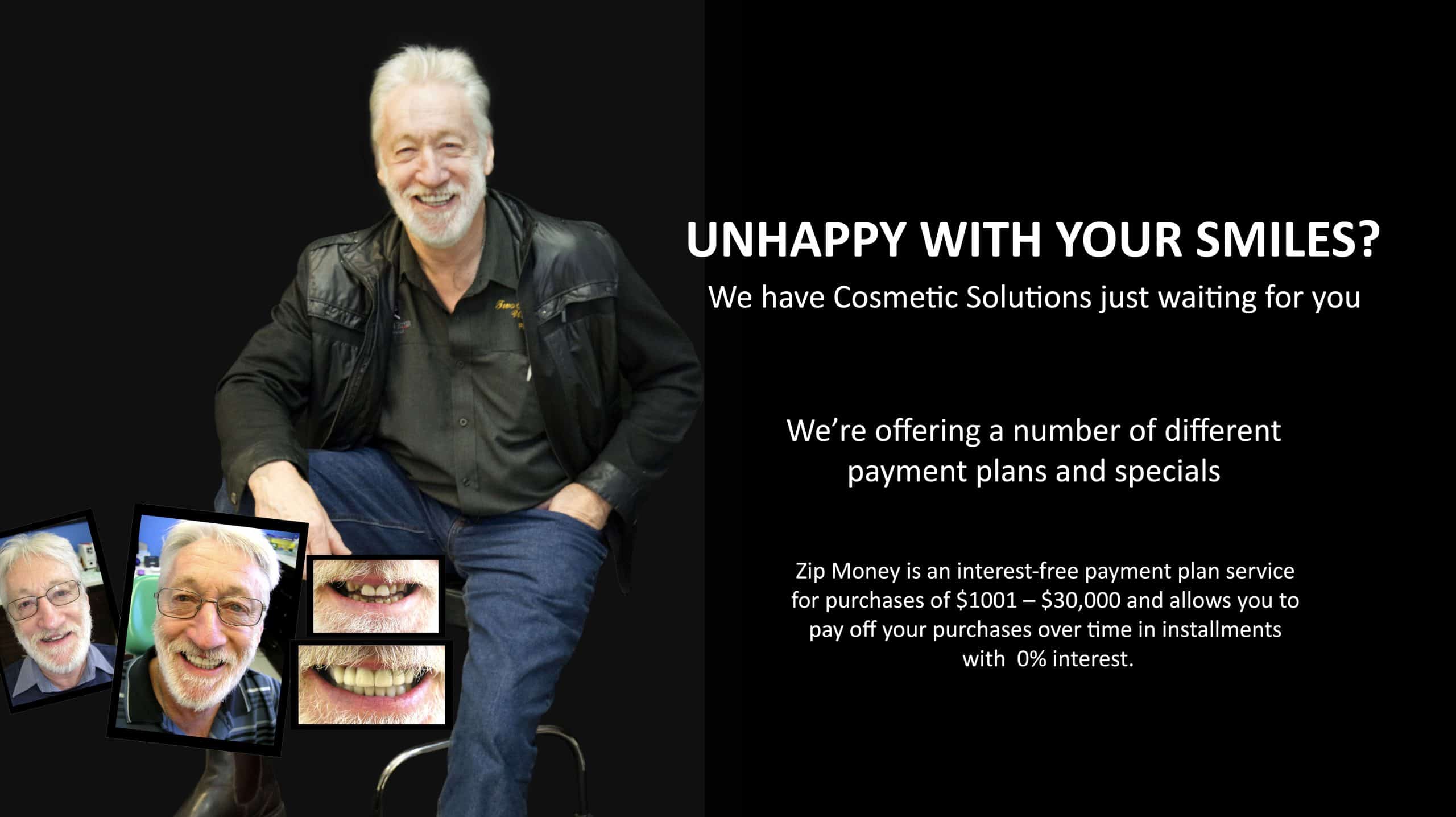 Most tooth bonding will last anywhere from 3-10 years, depending on which teeth are bonded and how well you care for them. There is ongoing research about the products used in the dental bonding process, with hopes of further improving the materials most commonly used.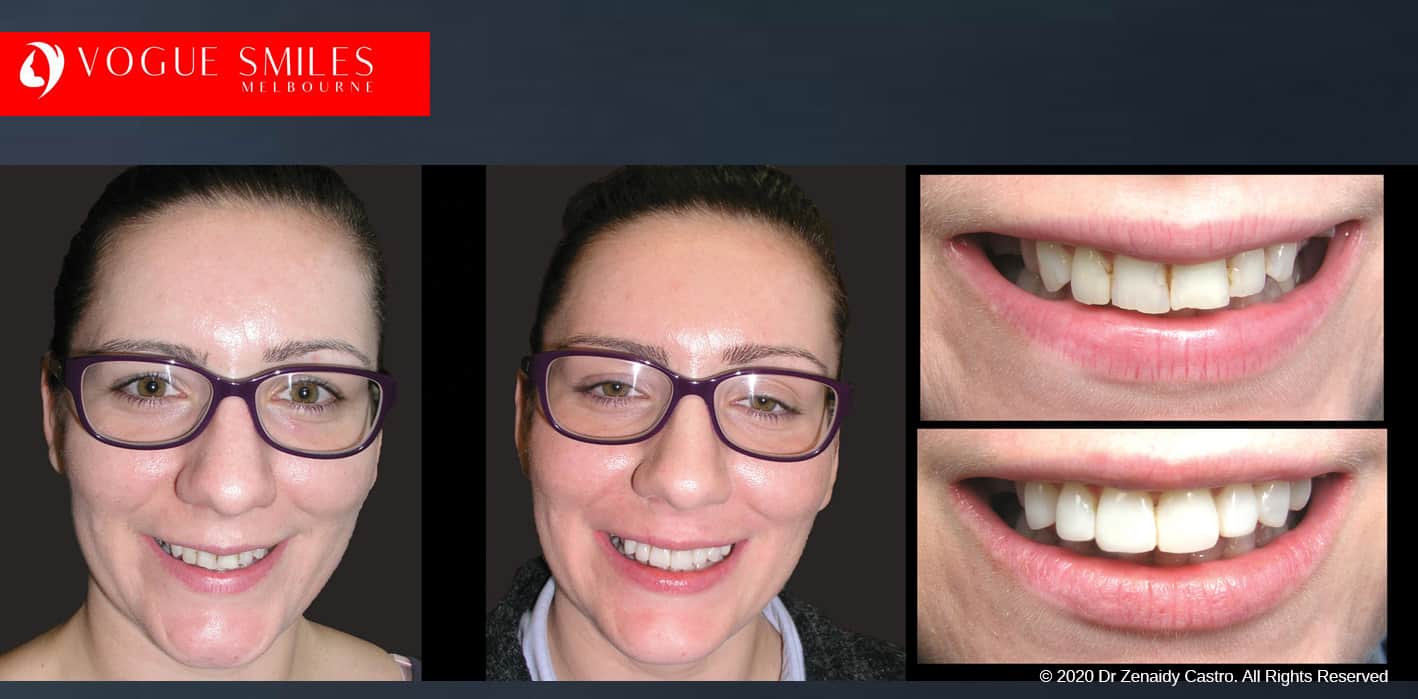 The cost of teeth straightening can vary depending on the complexity of the treatment and the type of veneering materials and the the type of treatment you choose.

It depends on how much work there but roughly you are looking at 2-4 appointments versus about more or less 2 years of traditional braces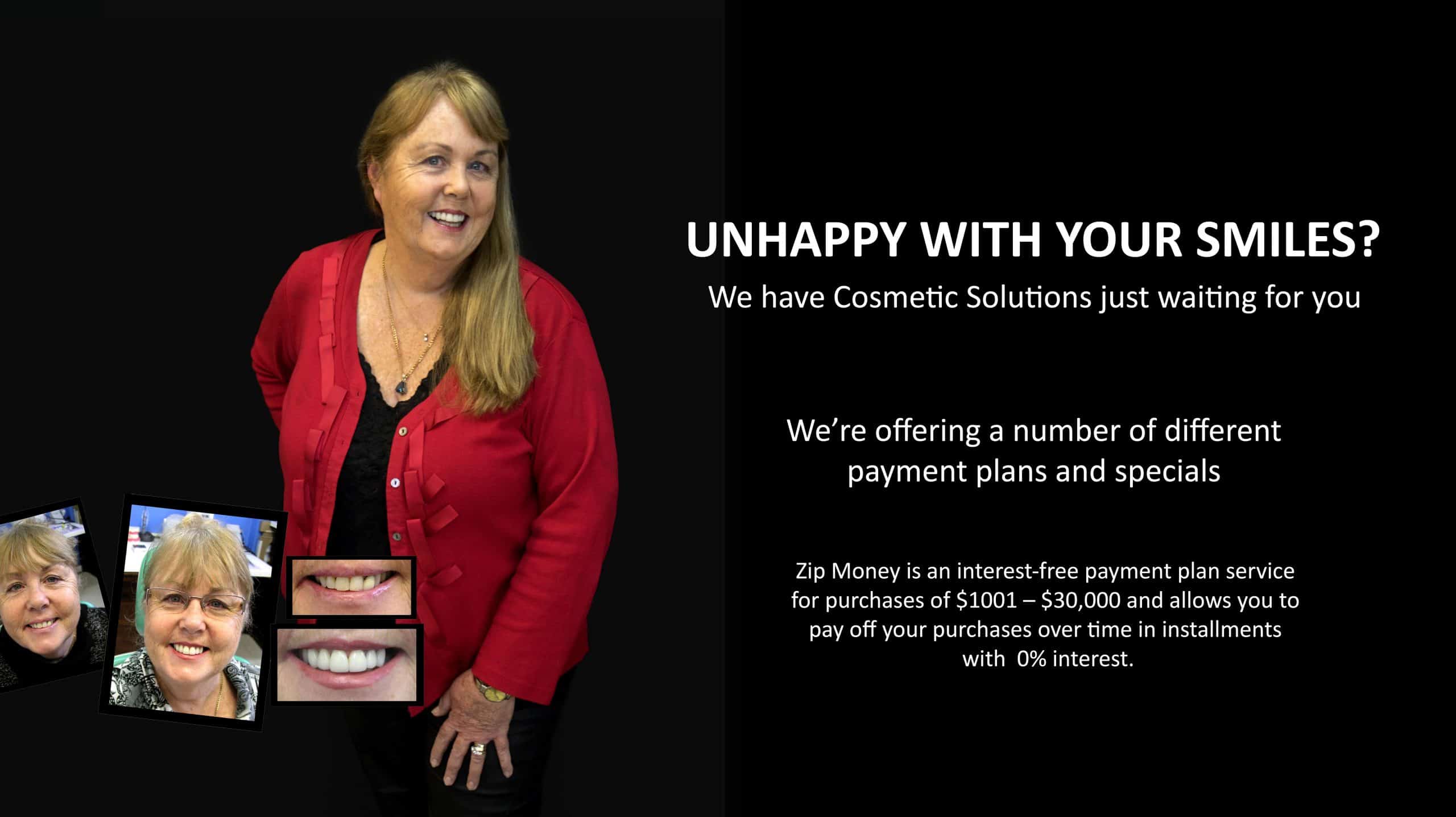 BEFORE AND AFTER PHOTOS WITH COMPOSITE RESIN  VENEERS / DENTAL BONDING