How to Get Straight Teeth Without Braces
Thank you for visiting the Dental Blog of VOGUE SMILES MELBOURNE about How to Get Straight Teeth Without Braces -The Fast Way.
How can we assist you today? Whether you're in need of a simple cleaning or a dazzling smile makeover, the team of Vogue Smiles Melbourne are here to help. Our General and Cosmetic Dentistry practice is home to a wide range of treatment options, each of them designed to create noticeable, long-term improvements for both your oral health and your self-confidence.
Our practice is dedicated to providing high-quality care in a cozy, one-on-one environment, focusing on your comfort, your personal smile goals, your financial budget and your oral health needs. We look forward to not only helping you improve your beautiful teeth but getting to know you and forming a relationship that hopefully lasts for many years to come.
Please feel free to look around at our website. If you have any questions about the topic of How to Get Straight Teeth Without Braces -The Fast Way or would like to make a booking, please contact our practice today on 9629-7664 .
It is our aim that through the educational articles we posted on our dental blog, that we can make profound impact on the lives of our patients by empowering them with knowledge and insight on Dental health and treatment that they are searching for.
Read our Blog content below to learn more about this topic.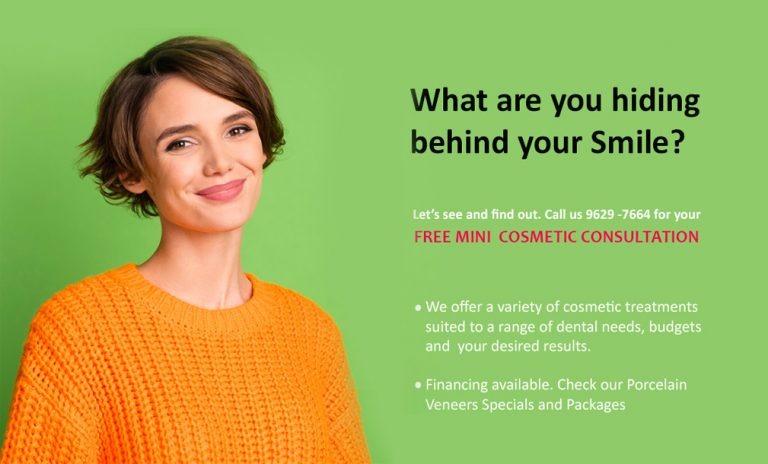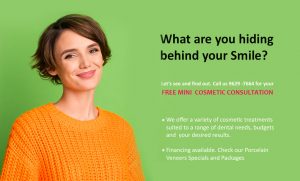 How to Get Straight Teeth Without Braces
Great Ways to Straighten the Teeth without Using Braces
While many adults eagerly want their teeth straightened, they feel somewhat awkward and intimidated about wearing metal braces.
If you are an adult with crooked, misaligned or overcrowded teeth and do not wish to have metal braces for aesthetic reasons, chances you have landed on this page looking for another instant solution so you can successfully straighten your teeth fast.
How Can we Help to Improve Your Smile Today?
When you visit our office, Dr. Castro will sit down and discuss your options based on the extent of corrections needed, your desired outcome, and what treatments are available to correct what you are unhappy with.
When your  porcelain veneers are ready, Dr. Castro's office will give you a call and schedule an appointment to have them placed. Sometimes this takes more than one session, based on your sensitivity, the amount of work needed, and other factors. However, this is worth the effort, because in no more than 2 to 3 sessions you could have the smile that would have otherwise taken months or years to achieve!
While instant gratification is not always possible, this is about as close as it gets in orthodontic and cosmetic dentistry. You will be surprised how quickly your outlook on life will change as you will be constantly showing off your new smile. In fact, studies have shown that smiles release endorphins and other positive chemicals in to the brain that increase happiness, ease depression, and contribute to a sense of confidence. When you do instant orthodontics, you are not only making an investment in your appearance, but also in your well-being.
When properly taken care of, your instant orthodontics will last you upwards of twenty years and these procedures can greatly cut down on the time you need for a great smile.
Now, If you're wondering which method of teeth straightening without braces is right for you and what is this Instant Orthodontics we are talking earlier, have a look below and we'll discuss the details on How to Get Straight Teeth Without Braces.

How to Get Straight Teeth Without Braces
Don't want those unappealing train tracks for straightening your smile? Don't worry as there are numerous other teeth straightening options ranging from cosmetic treatments to clear aligners. If you are here to know how to straighten teeth quickly then this blog post is ideal for you. Read on to know the rapid teeth straightening solution available for you.
The reason the procedure is called "instant orthodontics" is because, unlike traditional orthodontics, instant orthodontics only takes 1-2 dentist visits. Along with general alignment, instant orthodontics also has the ability to seal massive spaces and improve the overcapacity of teeth in one or two short days. Another perk to this procedure is it is generally painless, only needing local anesthetics. If you would like your teeth to look even but you can't commit to a lengthy process, instant orthodontics is a highly appealing procedure.
Instant orthodontics is a group of procedures that use porcelain veneers, dental crowns  or Composite Resin Veneers or Dental Bonding to eliminate gaps, correct overlaps, and improve the cosmetic appearance of your smile. It serves to replace traditional orthodontics when the patient desires a faster option with the ability to enhance the color and shape of teeth.
Instant orthodontics are a much more convenient way to straighten your teeth. Instead of taking the time to move your tooth roots, instant orthodontics straightens the visible portions of the teeth by reshaping them with veneers and crowns.
This only requires two visits to complete: one where your teeth are prepared to receive the restorations and one where the restorations are fitted to your teeth. Your total time in our office is not much more than the initial time spent getting brackets placed for braces.
Instead of spending a year or more straightening your teeth, you can have them straight in a month or less.
With instant orthodontics, there are no additional oral hygiene challenges. Just brush and floss normally–no need to work around wires and brackets. Plus, you'll never come to the office with a "brace face."
Treatment Procedures used in "instant" Orthodontics
Porcelain veneers are another visual method of teeth straightening without braces. Made of ultra-thin porcelain, they work like false fingernails for the teeth, changing the shape and also the colour of teeth if required.
Composite Veneers or Dental bonding has the power to straighten teeth without braces in just a single visit. Used only for minor corrections, the process involves sculpting a new shape for your tooth using a special moldable material that matches the original colour.

How to Get Straight Teeth Without Braces
Porcelain  Veneers are thin layers of porcelain that are crafted to match the color, size, and shape of your teeth, but with slight improvements. They are permanently cemented over teeth, covering imperfections beneath while creating a new visage over the front. Because of porcelain's near-identical appearance to natural enamel, veneers effectively create a brand new, beautiful smile without sacrificing the underlying teeth. Whether you use veneers to cover one tooth or multiple teeth, they are created to complement and improve your specific smile.
Porcelain veneers are often used in "instant orthodontics" because they can help you achieve a straight, beautiful smile in just 2-3 office visits. However, it's important to understand that you're not actually straightening your teeth. Your new veneers will cover the front surface of your teeth, masking any alignment and spacing issues that exist.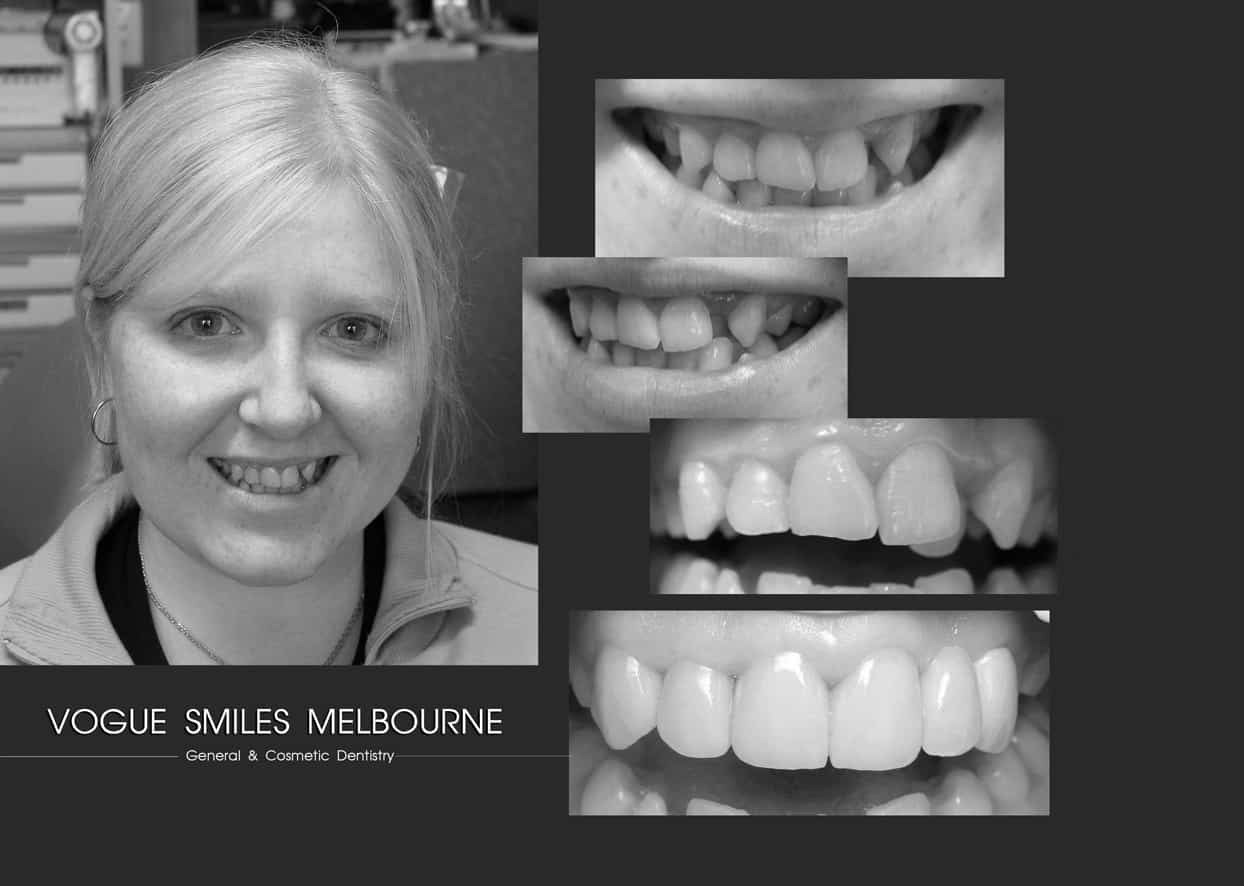 The Benefits of "Instant" Orthodontics in Instantly Straightening Crooked teeth
When you use porcelain veneers to achieve a straighter smile, you gain several advantages over traditional orthodontic methods, including:
Quick results: Braces and similar procedures can take months, if not years, for the final result. Rather than gradually shifting teeth into place, veneers immediately produce a new smile altogether. In just two dental visits, we can take impressions of your teeth, prepare them for veneers, and ultimately place your veneers once they are ready. Both visits can typically be scheduled within a couple of weeks.
No metal braces: Orthodontic hardware can be a hassle throughout the treatment process.
Additional cosmetic benefits: Braces will only improve straightness, whereas porcelain veneers improve virtually every aesthetic quality. Stains, cracks, and undersized teeth can be conveniently hidden while teeth are also straightened, and the quality of porcelain ensures that future imperfections can be more easily avoided.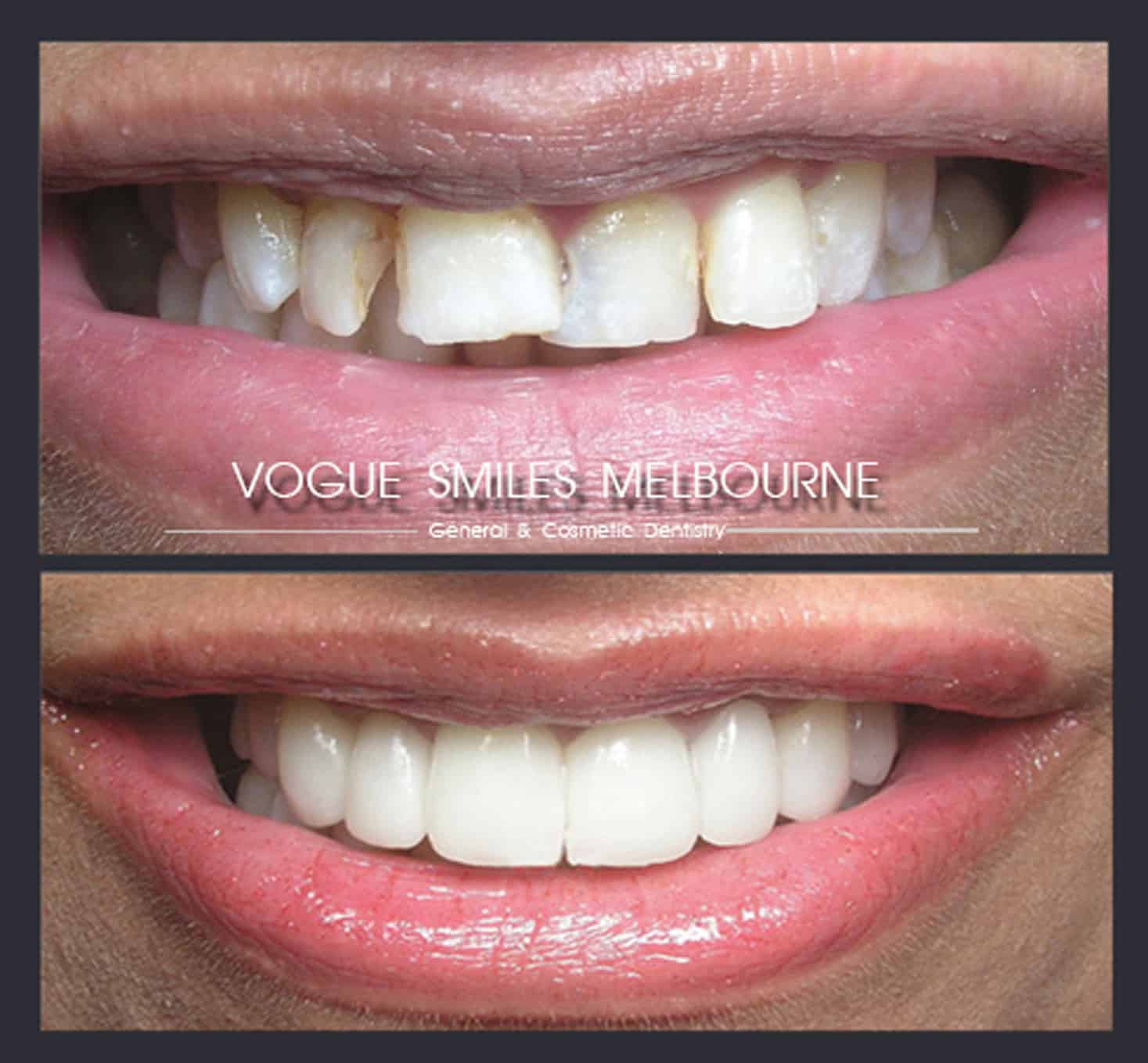 How to Get Straight Teeth Without Braces
Candidates for Instant Orthodontics
If you suffer from one or more of the following, you are a good candidate for Instant Orthodontics:
• Gaps between teeth
• Crooked or rotated teeth
• Damage to the enamel, such as pitting and chipping
• Unevenly sized or shaped teeth
• Heavily discolored or damaged teeth
While porcelain veneers are often an appealing option, patients must first be sure that they are well suited for the procedure. First and foremost, teeth and gums must be in relatively good condition – any instance of decay or disease must first be dealt with via restorative dentistry. To ensure the longevity of veneers, patients with bruxism (habitual teeth grinding) may also want to speak with their dentist about protecting their veneers from chips or cracks.
In regard to orthodontics, it should be noted that porcelain veneers are a purely cosmetic procedure. They will not fix severe alignment issues that create bite problems or threaten one's oral health. In such cases, and in cases where teeth are impacted, traditional orthodontics are in fact needed to create proper space within the mouth. Nevertheless, for those who simply want to achieve straighter looking teeth for aesthetic purposes, instant orthodontics may very well be an excellent alternative.
Severe cases where the teeth are cracked or badly misaligned can also be treated with instant orthodontics; however, they will likely be more extensive and require more time, requiring more than one visit. Instant orthodontics are becoming an increasingly common and popular treatment and Dr. Castro has performed dozens of these procedures.

How to Get Straight Teeth Without Braces
Instant Orthodontics actually refers to a specific kind of cosmetic dentistry which uses porcelain veneers and/or crowns to correct minor issues with gaps, crooked, misaligned, and other imperfections with your teeth that do not otherwise require traditional orthodontics.
This option is particularly good for middle aged and older adults who may have had previous orthodontic work that has shifted over time, or never had work to begin with and only suffer from minor to moderate misalignment of their teeth. Many of these adults have careers that do not allow them the luxury or two to three years of straightening treatments, especially if they are in high-profile positions of business, media, or law. The ability to have a radically transformed smile in only a few visits, whether on its own or as part of a smile makeover, make instant orthodontics a great and viable option for many professional adults.
Although they are known primarily as a cosmetic treatment, porcelain veneers can also serve a restorative purpose. By lengthening teeth that are disproportionately short and filling in small gaps that separate teeth, porcelain veneers not only improve the appearance of the smile, but also help to improve the orientation of the teeth and the strength of the bite. The teeth in the upper jaw will meet the teeth in the lower jaw properly after treatment, while the teeth that had been separated by gaps will no longer be inclined to shift out of their optimal positions toward the empty space. The teeth to which the veneers are attached will also be stronger, as the veneers will act as reinforcements.
Not all patients will be good candidates for instant orthodontics with porcelain veneers. More severe orthodontic issues will require more conventional treatment methods. However, some patients may be able to begin treatment with these more conventional methods and then complete their treatment with porcelain veneers, achieving the full cosmetic benefits that porcelain veneers have to offer.
Many patients choose to combine instant orthodontics with other cosmetic treatments such as teeth whitening or dental crowns as part of a comprehensive smile makeover plan.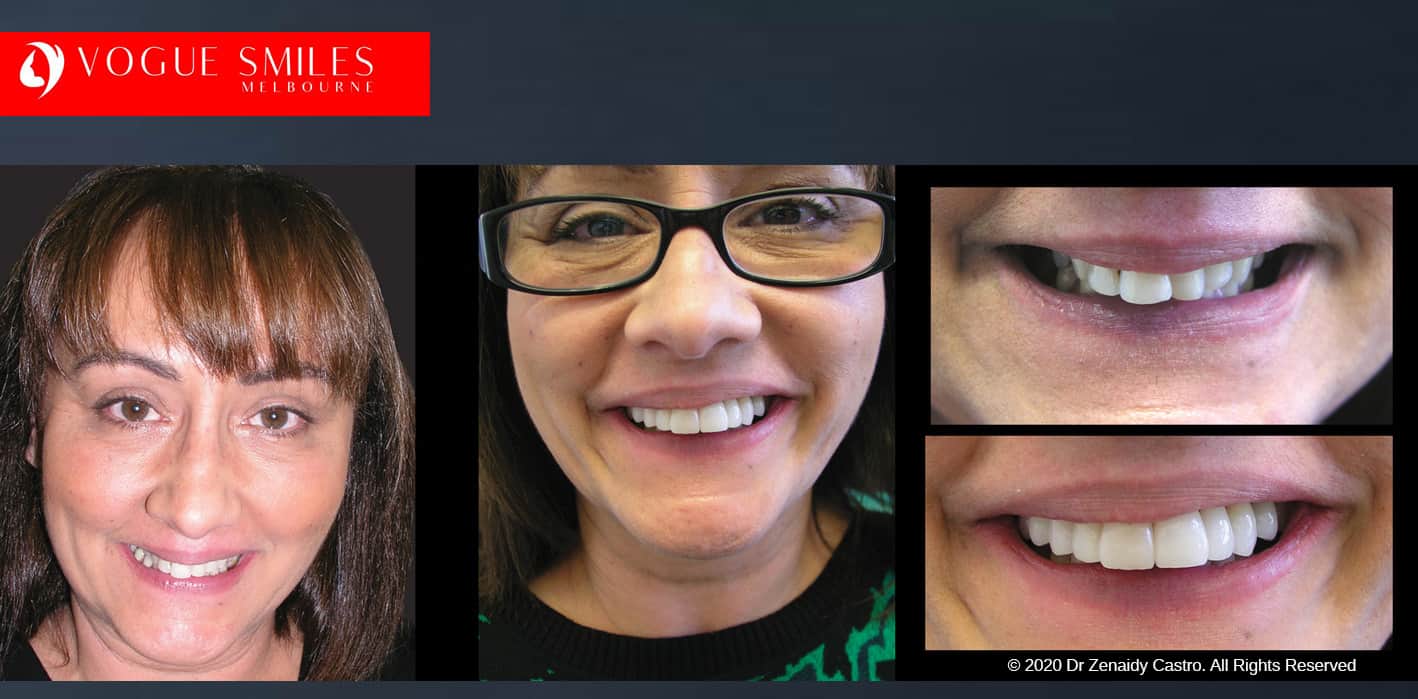 How to Get Straight Teeth Without Braces
Are Porcelain veneers permanent?
Yes, they are. During the veneers process, we remove a layer of enamel to ensure that the veneers sit flush with your other teeth. Because of this step, the veneers process is irreversible. If you're looking for permanent, transformative results, dental veneers are the way to go.
You also have an option of a No-grinding or prepless Porcelain Veneer, as the name suggest, there are no grinding or drilling involved, other that smoothening sharp corners.
Can I get an idea of how my improved smile will look?

We make it our personal goal to carefully listen and take notes while our patients are telling us what they are looking for in their new and improved smile. We then take that data and create your new teeth on plaster models of your current teeth. Using this wax replica of your future smile, we can transfer a mockup to your mouth so that you can see the final result before we even begin treatment. This allows us to see three-dimensional changes of your smile, and it allows you to hold a tangible object.
How do I know if cosmetic dentistry will help?

When you look in the mirror, do you see a smile you love? Or do you see the flaws, the stains, the chips, and the unevenness? Do any of your teeth seem too small compared to your other teeth? Do you see dark outlines around your crowns? Do you avoid smiling, keeping your lips tightly closed in pictures? Are you nervous to meet new people because you're afraid they'll judge you for the appearance of your teeth? If you identify with any or all of the above questions, then cosmetic dentistry might be worth pursuing.
Can I preview what a smile makeover would look like?

Absolutely. In fact, it's a very wise idea. If you pursue a smile makeover without any foresight of the final product, the venture will be exasperating.
We make it our personal goal to carefully listen and take notes while our patients are telling us what they are looking for in their new and improved smile. This allows us to develop a digital photograph of the kind of smile you're seeking. We then use graphic artist software to formulate a computerized image displaying different smile improvements, such as whitening, shaping, and length changes. A similar method we use to ensure your satisfaction is to craft a wax replica of your future smile. This allows us to see three-dimensional changes in your smile, and it allows you to hold a tangible object. It's our ultimate blueprint. Then, based on our knowledge of facial forms and tooth size proportions, we determine what smile works best for you and we begin the procedure. We guarantee your satisfaction.
How many teeth need to be veneered for smile design?

This greatly varies on the width of the curve when the mouth is smiling and/or how expansive we'd like the arch to be in order to deliver a significant outcome. We first position veneers in the mouth to solve a problem on only two or three teeth; meanwhile, the remaining teeth in the arch are 100% perfect. Our only job, then, is to match the new veneers to the existing smile. Although it sounds simple, it's actually one of the most tedious procedures, requiring an intense level of skill and precision.
What is the difference between bonding and a veneer?

Bonding is a procedure that can mightily improve the appearance of chipped, broken, cracked, or stained teeth – or fill in gaps between spacious teeth. Dentists apply tooth-colored materials to the tooth's surface and the results are both highly convincing and effective. Veneers, on the other hand, are thin, custom-made, tooth-colored shells that are used to conceal the front side of teeth, fill spaces between teeth, and fill in teeth that are chipped or worn down, permanently stained, slightly crooked, or misshapen.
What can be done to fix rotated, misshapen, or chipped teeth?

Teeth can be de-rotated with Invisalign® within a few months, as long as the shape and size of the individual teeth are not crooked or misshapen in any way. But if the teeth are crooked or distorted, separating them will only cause them to be placed in the correct position in your arch and will still need the aid of porcelain veneers. If the crowding and rotation is drastic, we recommend you pursue both Invisalign and veneers. However, if the crowding is a small issue, we may encourage one or the other (Invisalign or veneers).
Cost of Porcelain Veneers
The cost of porcelain veneers will vary from patient to patient and depends on such factors as how many veneers you need and how complex your individual case is. Costs will also rise if you need additional treatments along with your veneers.
When you visit us for a smile consultation, we'll give you an accurate cost breakdown based on how many veneers you're getting and more.
We understand that porcelain veneers can be a large upfront cost, so we offer dental financing plans for patients who would prefer to spread out the cost. Ask us about which plans we take during your consultation, and our patient coordinator will be happy to assist you in finding the right financing plan for your needs.
Is Instant Orthodontics Right for You?
For many busy professionals, instant orthodontics is the perfect solution to crooked teeth. But it's not right for everyone. It can't be used in every case–some people just aren't candidates.
If you're not a candidate for instant orthodontics, though, you may be able to take advantage of Invisalign, which can be faster and more convenient than traditional braces.
General and Cosmetic Dentistry Financing in Melbourne CBD
Dental Payment Plan Options That will Fit Your Budget
We don't believe that dental care should be out of anyone's price range. We want you to feel confident in a smile that looks attractive and functions naturally—and fits within your budget! If you don't believe you can afford the dental treatment you need (or want), rest assured that we will try our best to help you afford the treatment you need. We have helped countless patients receive affordable dentistry, providing them with beautiful new smiles that have changed their quality of life.
Our team helps make our dental services affordable by assisting you in maximizing your insurance benefits and accepting a variety of payment methods. We also offer third-party dental financing through ZIPMONEY. Don't let fear or embarrassment about your budget keep you from getting the dental treatments your smile deserves. Contact our team today!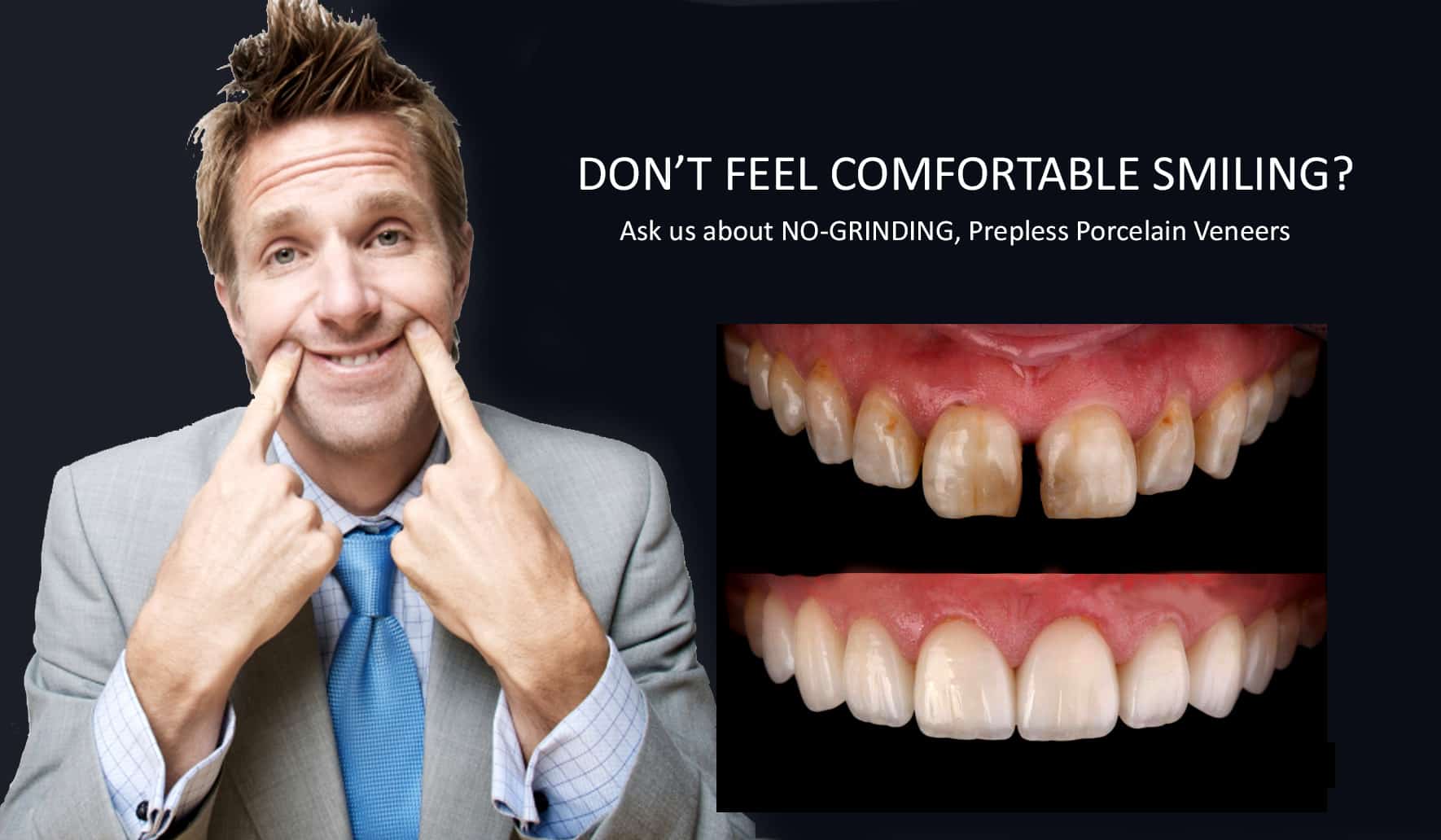 Before and After Dental Smile Makeover Treatment Gallery
Have a look at our smile gallery of photos that shows some of the beautiful smiles that we have worked on. We are committed to excellence & changing lives of our patients through smiles. Whether you're in need of more advanced procedures such as "extreme Smile make-over," Porcelain veneers, and bonding or you simply wish to correct a chipped tooth or create a whiter smiles, our practice provide personalized and cosmetic dentistry for every stage of your life. We have over 30 years of experience of providing gentle and quality General and Cosmetic Dentistry in Melbourne CBD, that you can count on.
We can Turn your dream of beautiful smile into reality.
Call us now for your FREE MINI COSMETIC CONSULT on 9629-7664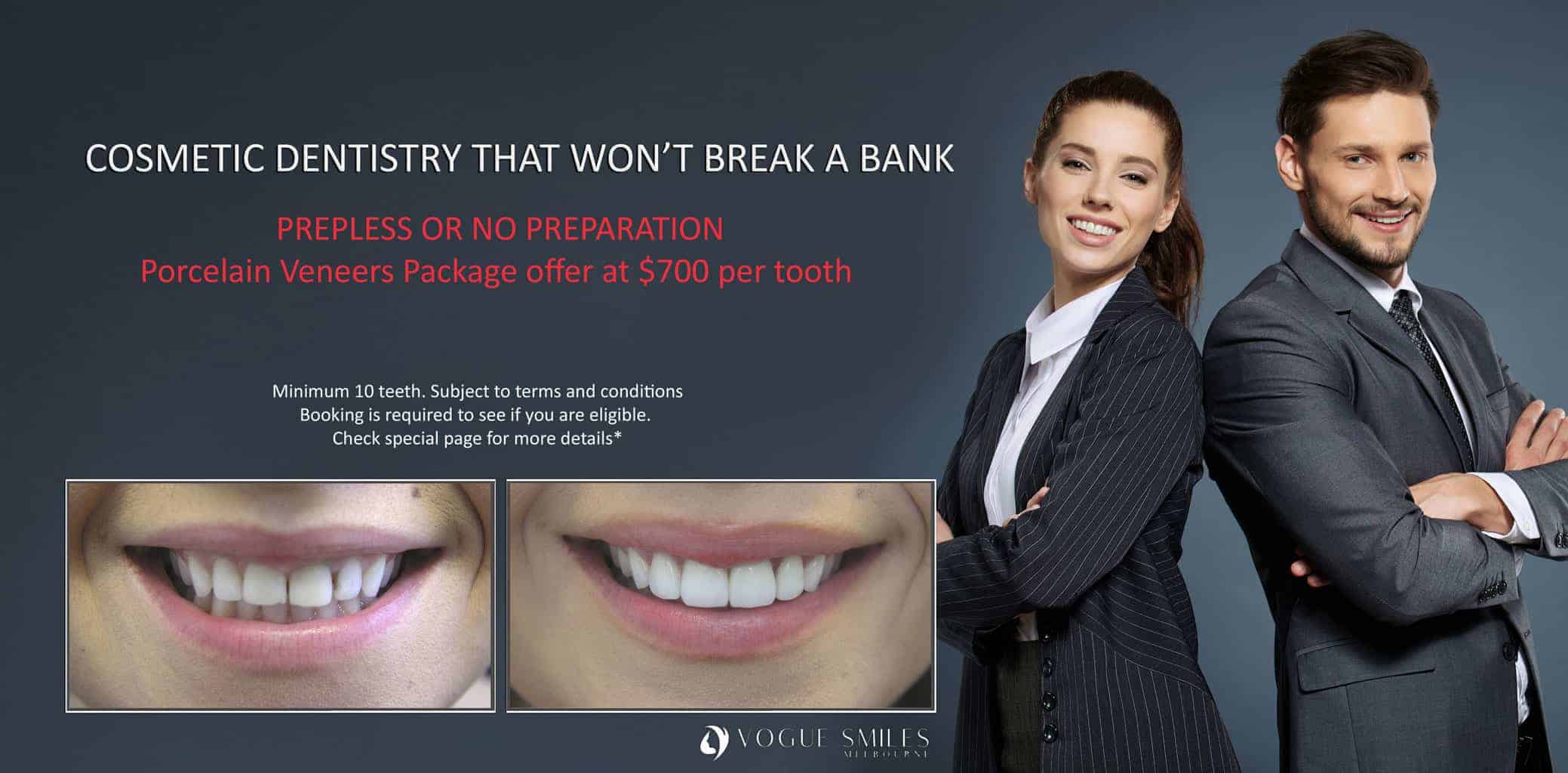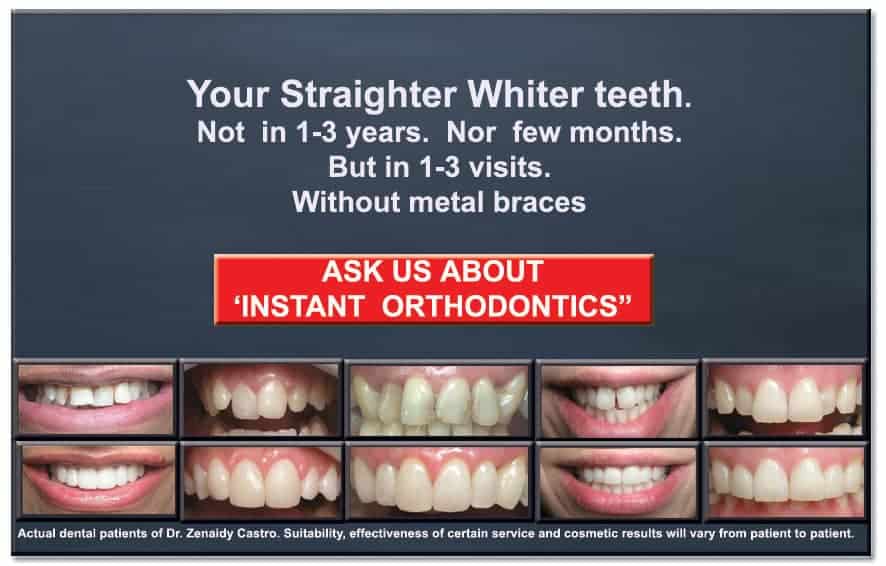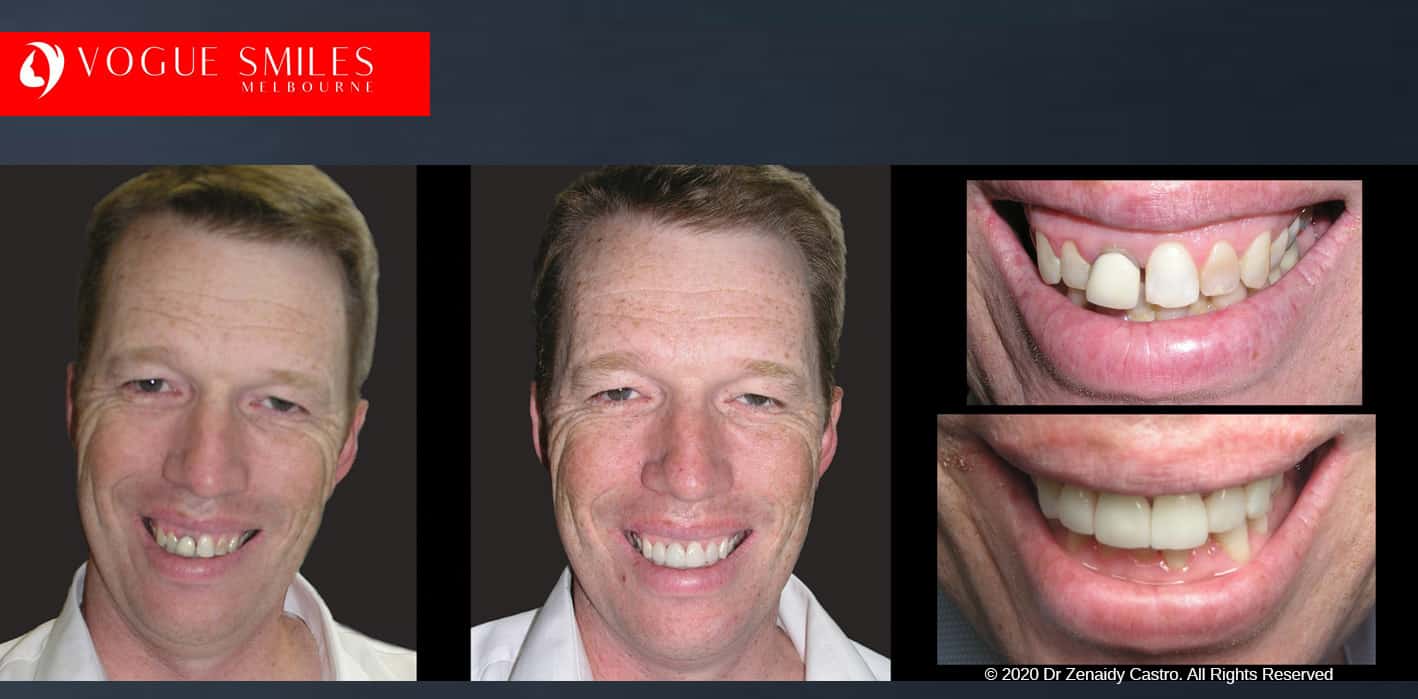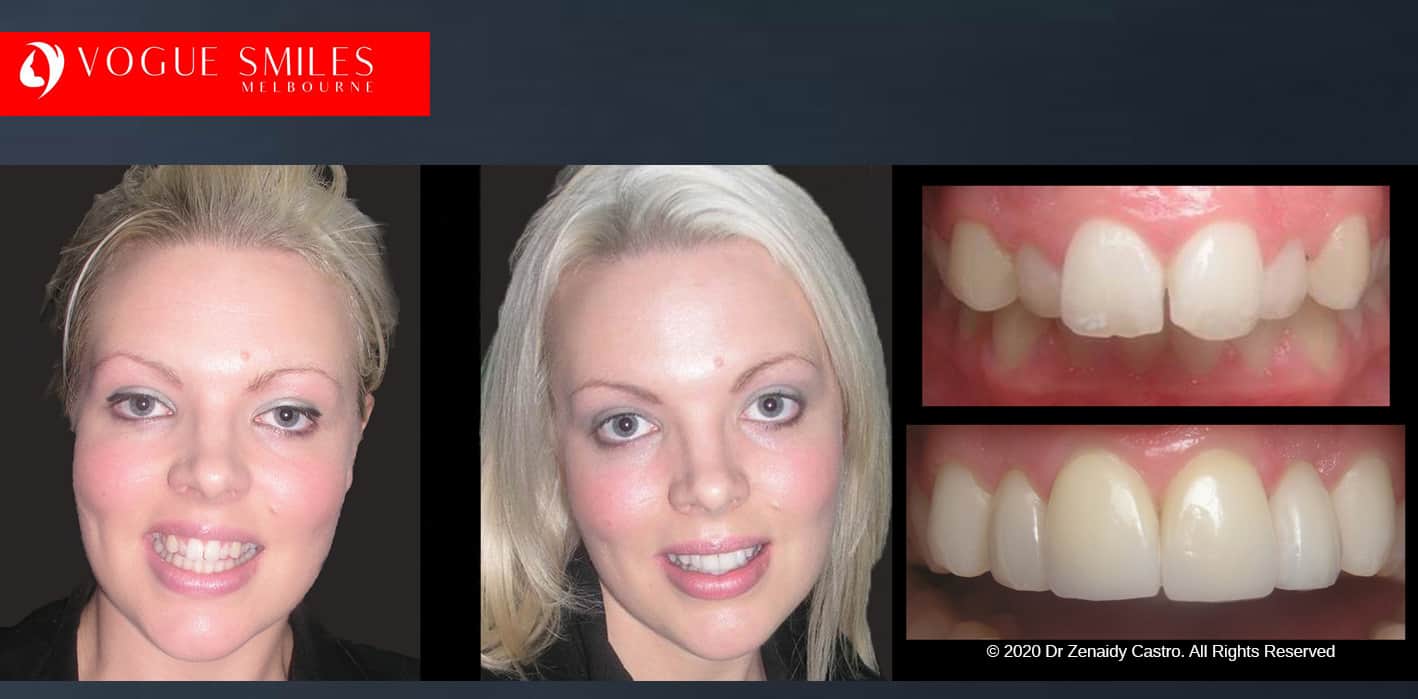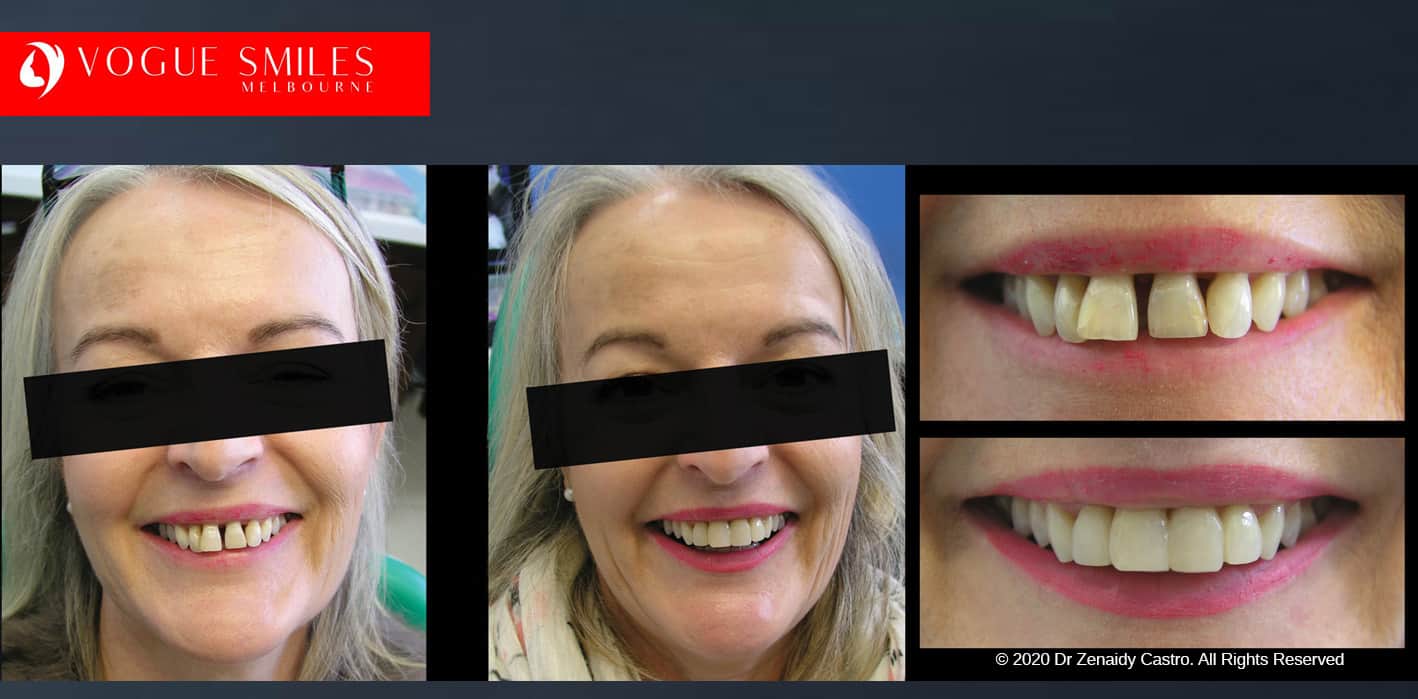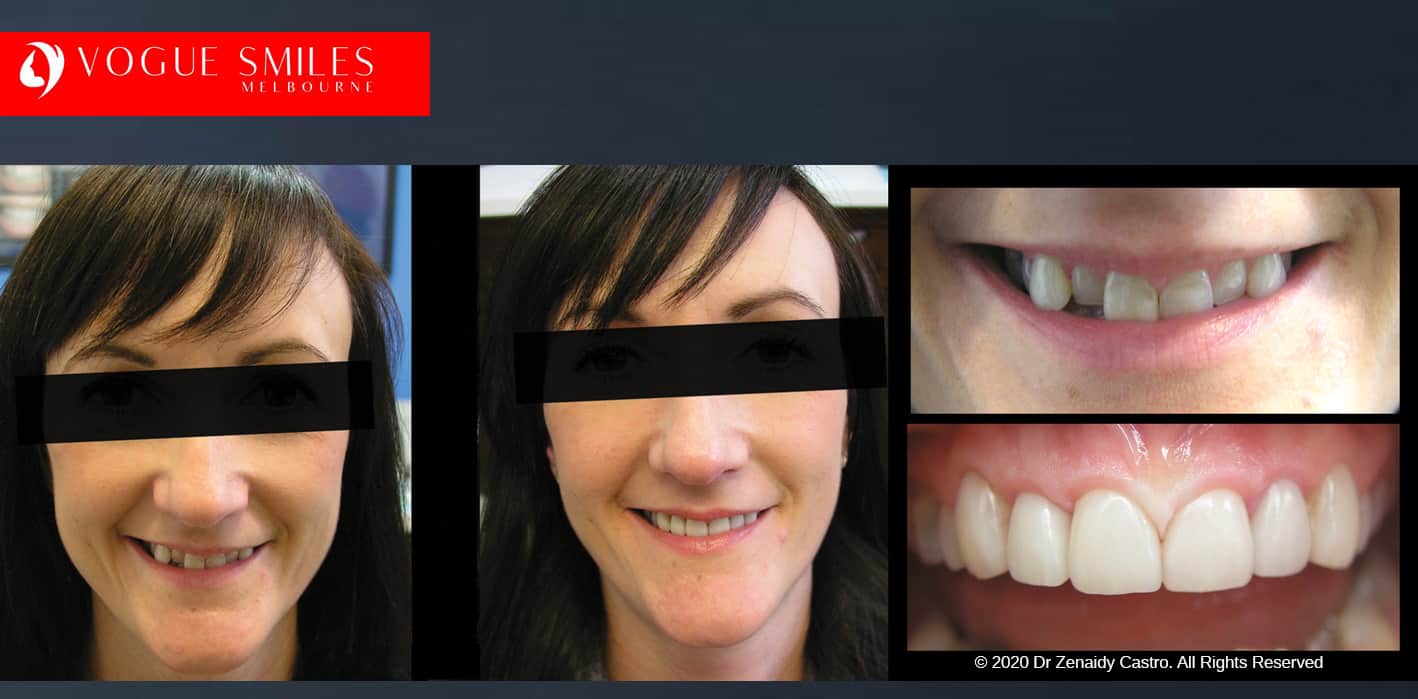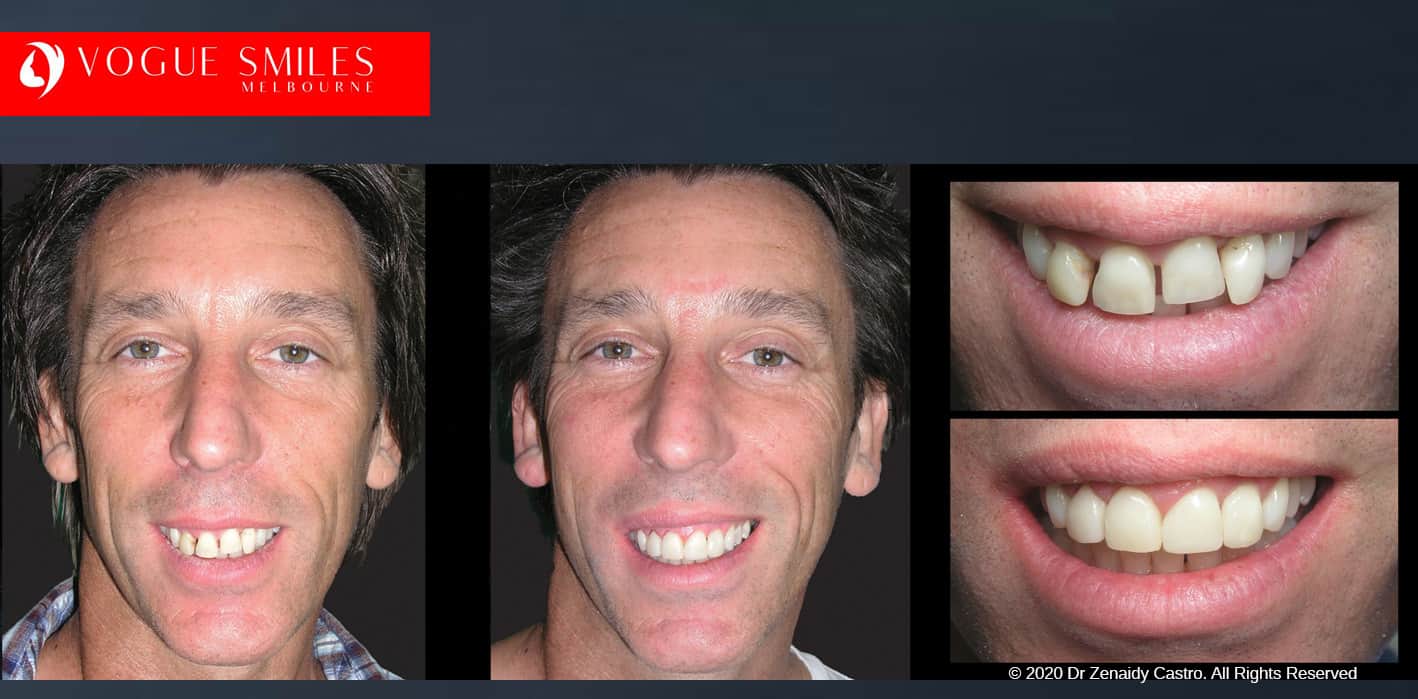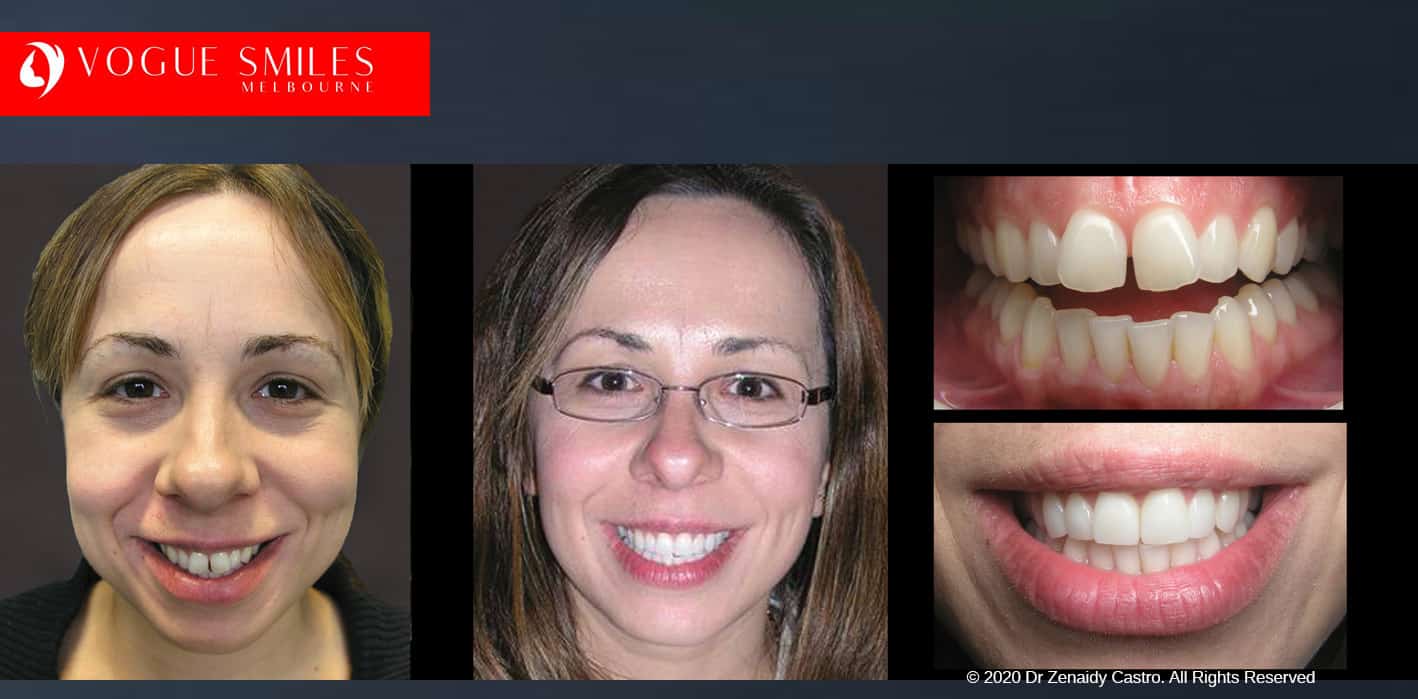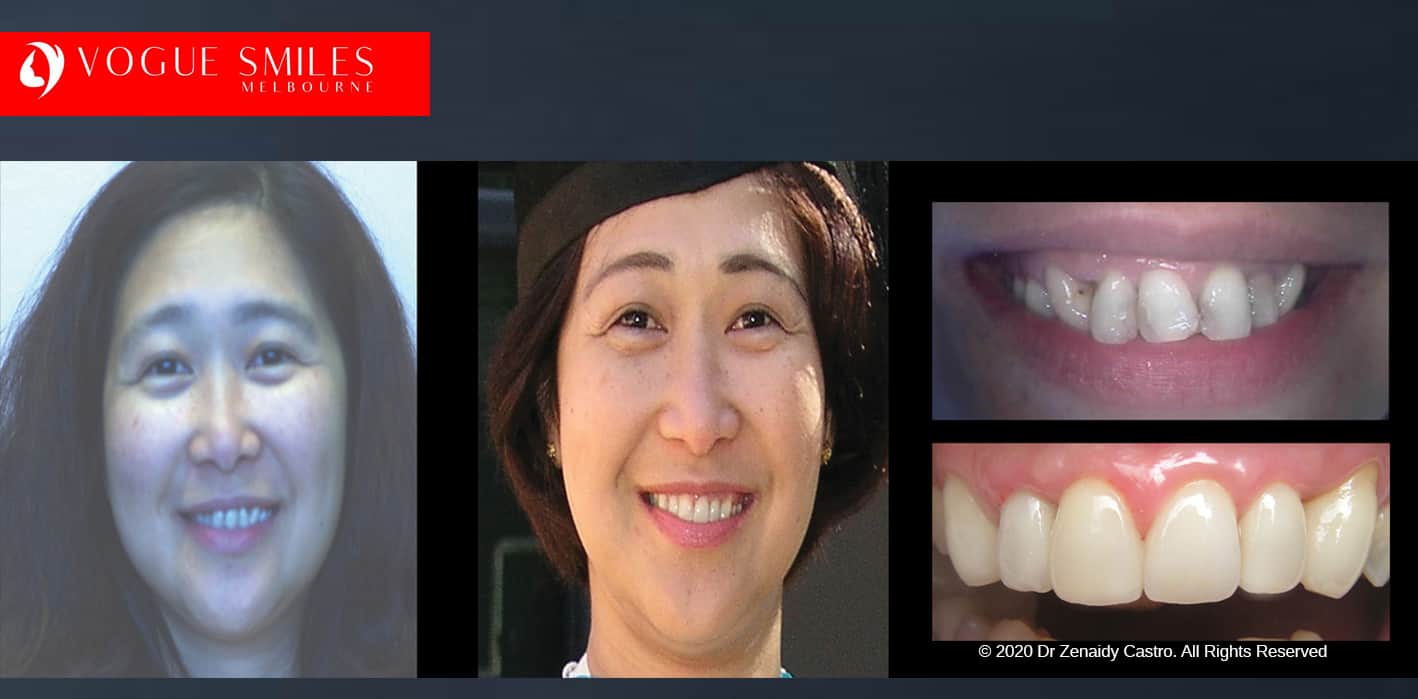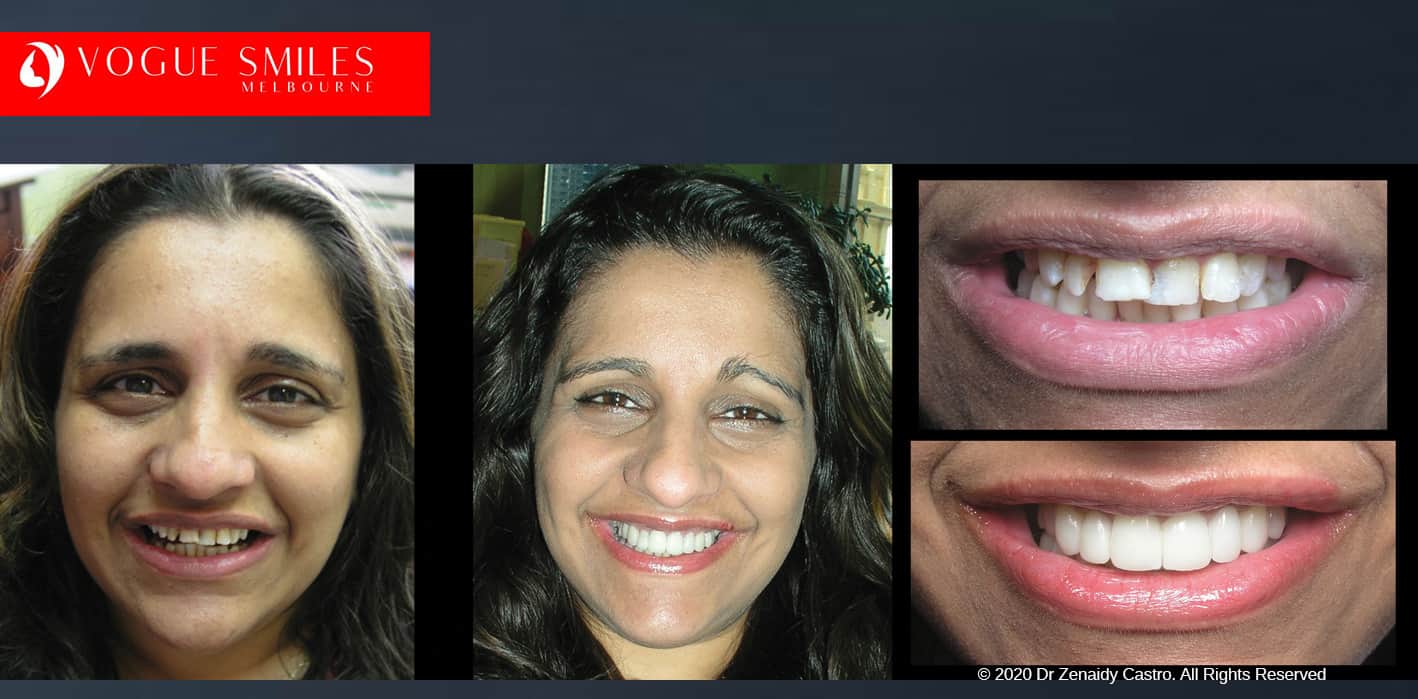 Disclaimer: The information on this website is for information purposes only. Is not a substitute for a proper professional care. Cosmetic Dentistry results will vary from patient to patient. Call our office and book for an actual in-person consultation for us to assess if you are a good candidate for a particular cosmetic Smile Makeover treatment. All of our Specials and packages posted on this site are subject to terms, conditions and availability