What Is Dental Bonding?
Dental bonding is a cosmetic dentistry procedure in which tooth-coloured composite material is applied to a tooth, sculpted into shape, hardened, and polished. It's called bonding because of the material bonds to the tooth. Dental bonding is ideal for small cosmetic dentistry work, such as fixing a broken or chipped tooth or closing small gaps between teeth. Dental bonding is also used as a tooth-coloured filling for small cavities because it's more cosmetically appealing than silver fillings.
Bonding is a technique similar to veneers. Instead of using a porcelain facing, a tooth-coloured filling material (composite resin) is chemically and mechanically bonded to the tooth giving the appearance of straight teeth.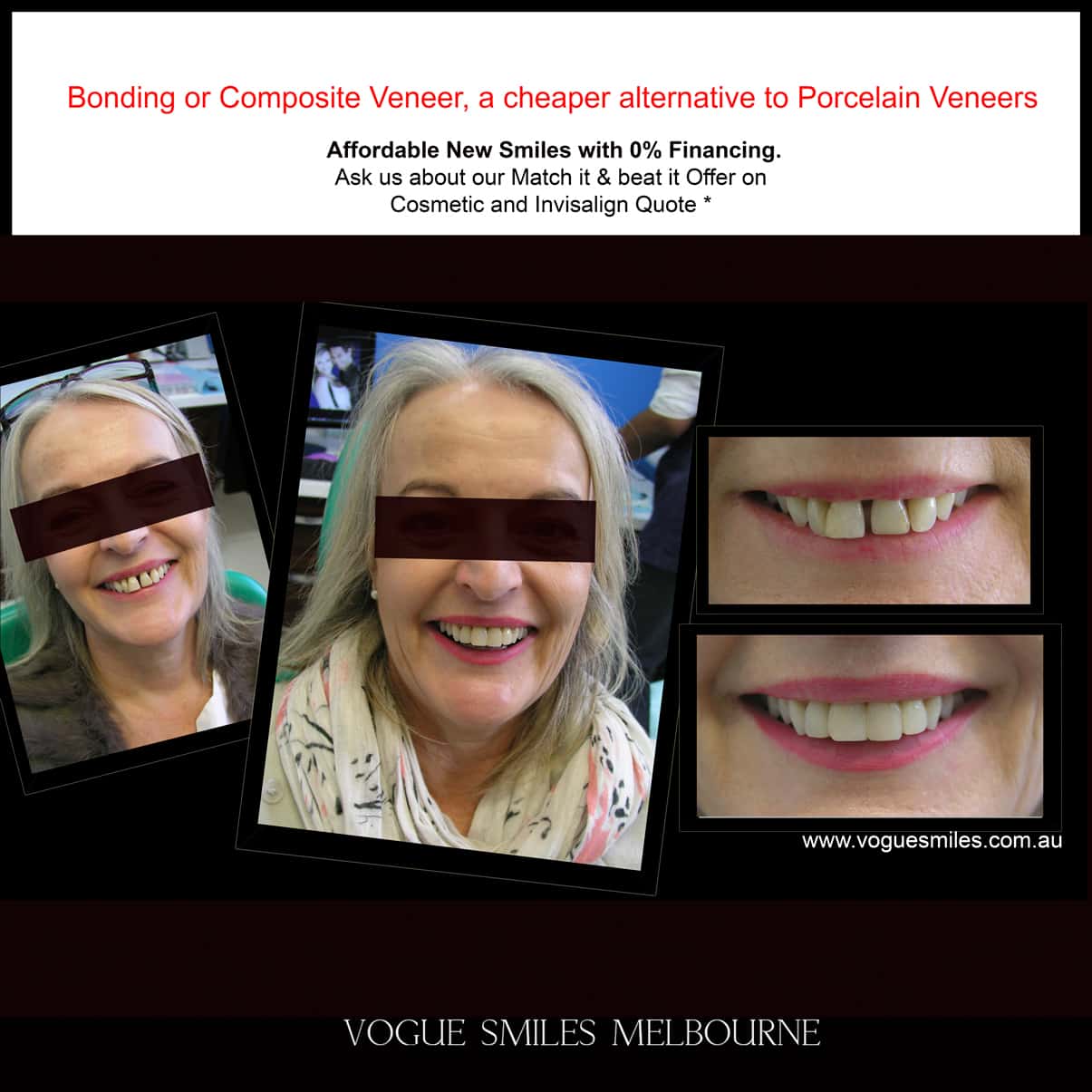 Bonding enables us to:
– Close spaces between your teeth
– Lengthen small or misshapen teeth
– Whiten stained or darkened teeth
– A single tooth can be shaped and coloured, or your entire smile can be changed!
When teeth are chipped or beginning to wear, bonding can protect them from damage and restore their original look. Bonding your teeth with resin is a one-appointment procedure:
Teeth Bonding Procedure 
Preparation. Little advance preparation is needed for dental bonding. Anaesthesia is often not necessary unless the bonding is being used to fill a decayed tooth, the tooth needs to be drilled to change its shape, or the chip is near the nerve. We will use a shade guide to select a composite resin colour that will closely match the colour of your tooth.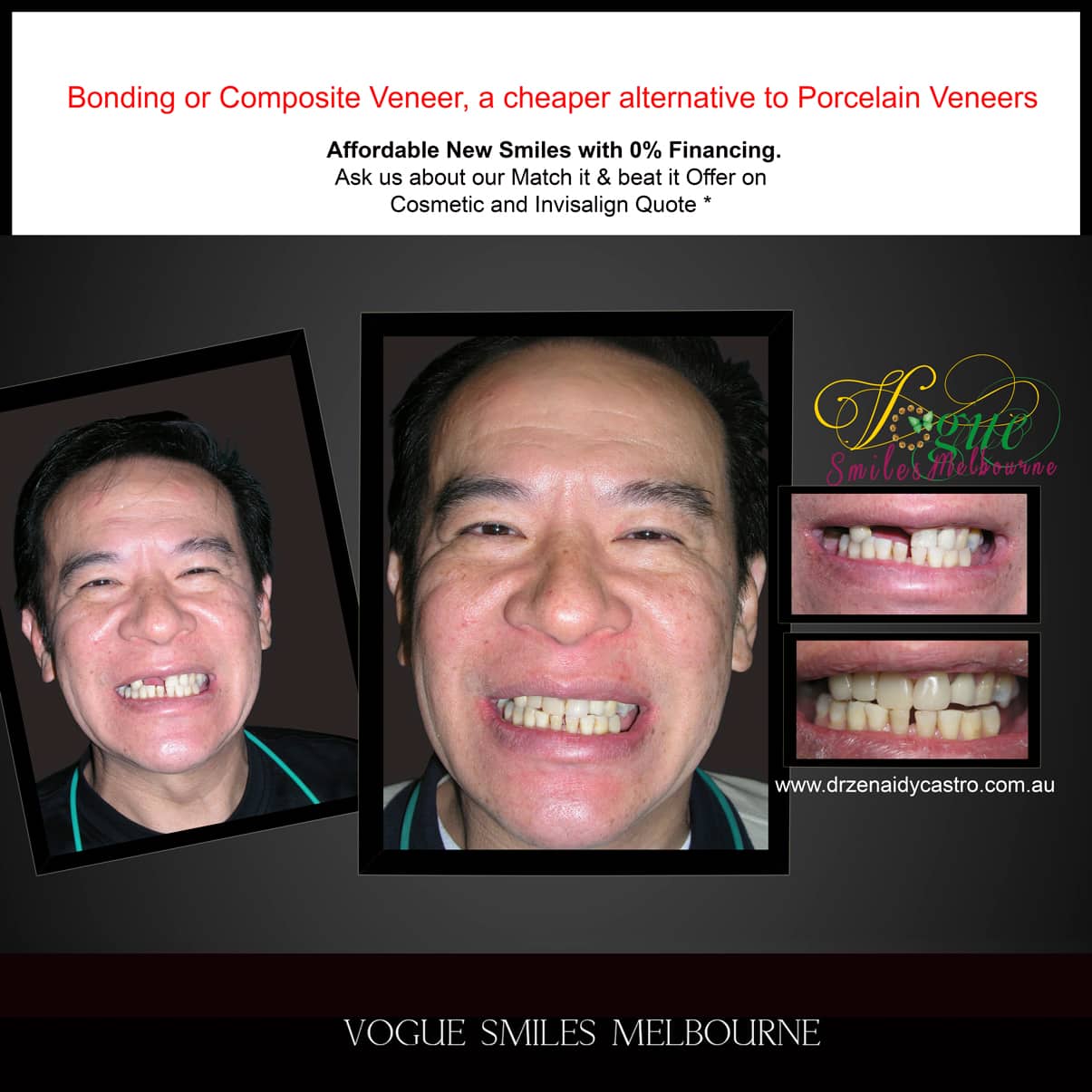 The bonding process. We will roughen the surface of the tooth and apply a conditioning liquid. These procedures help the bonding material adhere to the tooth. The tooth-coloured, putty-like resin is applied, moulded, and smoothed to the desired shape. The material is hardened with a bright (usually blue) light or laser. After the material hardens, your dentist will further trim and shape it, then polish it to match the sheen of the rest of the tooth surface.
Time to completion. Teeth bonding takes about 30 to 60 minutes per tooth to complete.
Once in place, bonded restorations are very strong. Bonding can greatly improve the appearance of your teeth, resulting in a more beautiful, natural-looking smile!
However, because of some of the limitations of dental bonding, some dentists view it as best suited for small cosmetic changes, for short-term correction of cosmetic problems, and for correcting teeth in areas of very low bite pressure (front teeth, for example). Talk to us about the best cosmetic approach for you.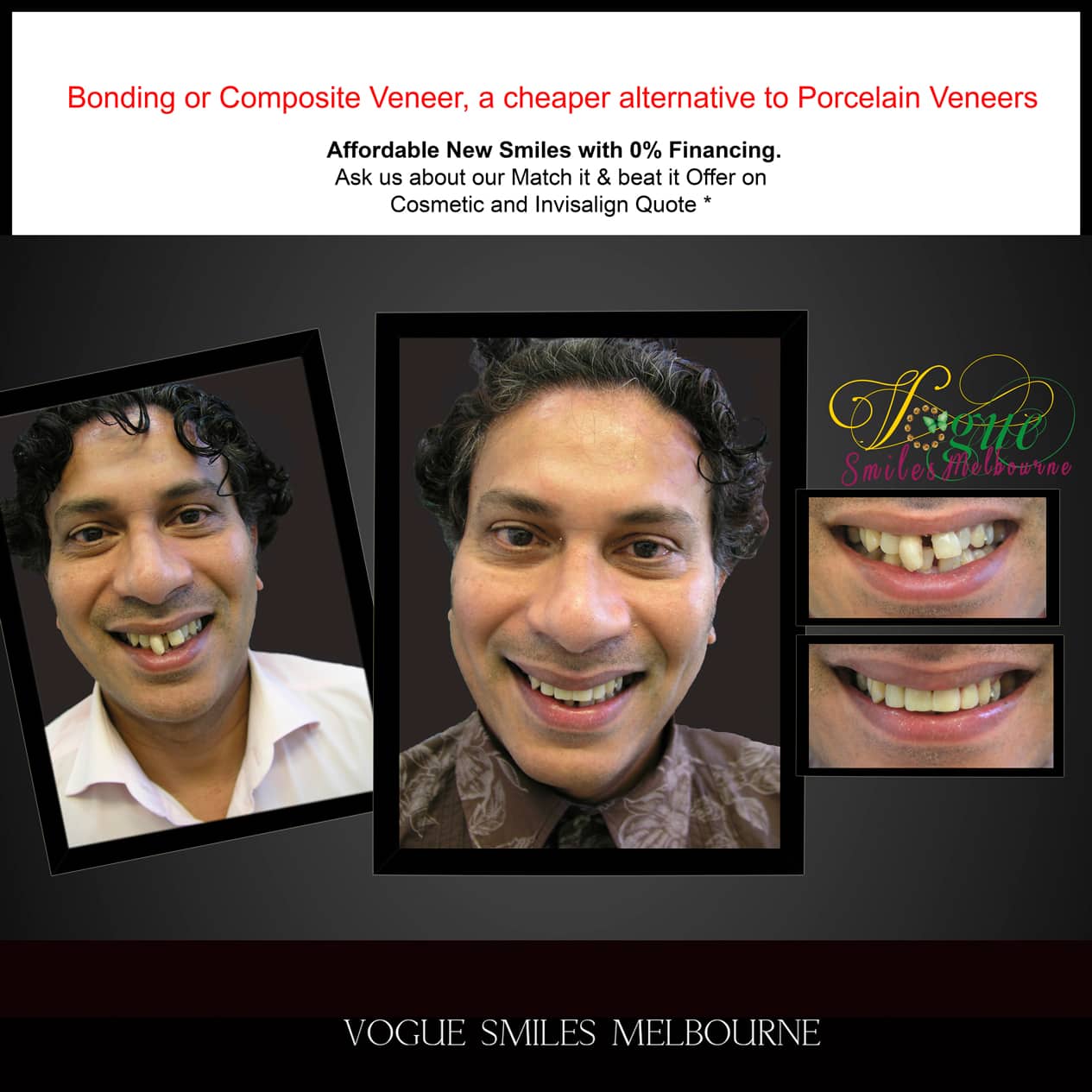 Pros and Cons of Dental Bonding
Dental bonding is less expensive than veneers, but it also has drawbacks.
Advantages of dental bonding include:
Cost. The average cost of dental bonding ranges from $300 to $600 per tooth. But many dental insurance plans cover most of the cost of bonding, particularly when it is done for structural reasons or to fill a cavity.
Speed. Dental bonding typically requires only one office visit. The entire process can be accomplished in 30 to 60 minutes per tooth.
Ease. Anaesthesia is usually not necessary unless bonding is being used to fill a decayed tooth. Compared to veneers and crowns, dental bonding also requires the least amount of enamel removal.
Disadvantages of dental bonding include:
Bonding material can become stained. Unlike crowns and porcelain veneers, dental bonding has a tendency to become discoloured over time. Coffee, tea, red wine, and cigarette smoke can stain the material used in dental bonding, making it stand out from the rest of your teeth. To minimize staining, you'll need to avoid these substances for 24 to 48 hours after bonding is first performed. If you're a smoker, you'll want to choose a different cosmetic dentistry treatment. Because bonding material is porous, it will yellow from exposure to cigarette smoke.
Less durable. Additionally, the material used in dental bonding isn't as strong and long-lasting as porcelain veneers and crowns. It can easily chip. With proper care though, dental bonding can last three to seven years.
When Dental Bonding is a Good Choice
If you have a minor cosmetic dentistry issue — such as a cracked or discolored tooth, a gap between your teeth, or silver fillings that show when you smile — dental bonding may help.
Dental bonding is also used in cosmetic dentistry to reshape or recontour teeth. In contrast to veneers and bleaching, however, dental bonding can't be used to whiten your entire smile. Dental bonding can also be appropriate as "white fillings" for small cavities in teeth that are not exposed to excessive force when chewing, but the material used in dental bonding may not be durable enough for large cavities.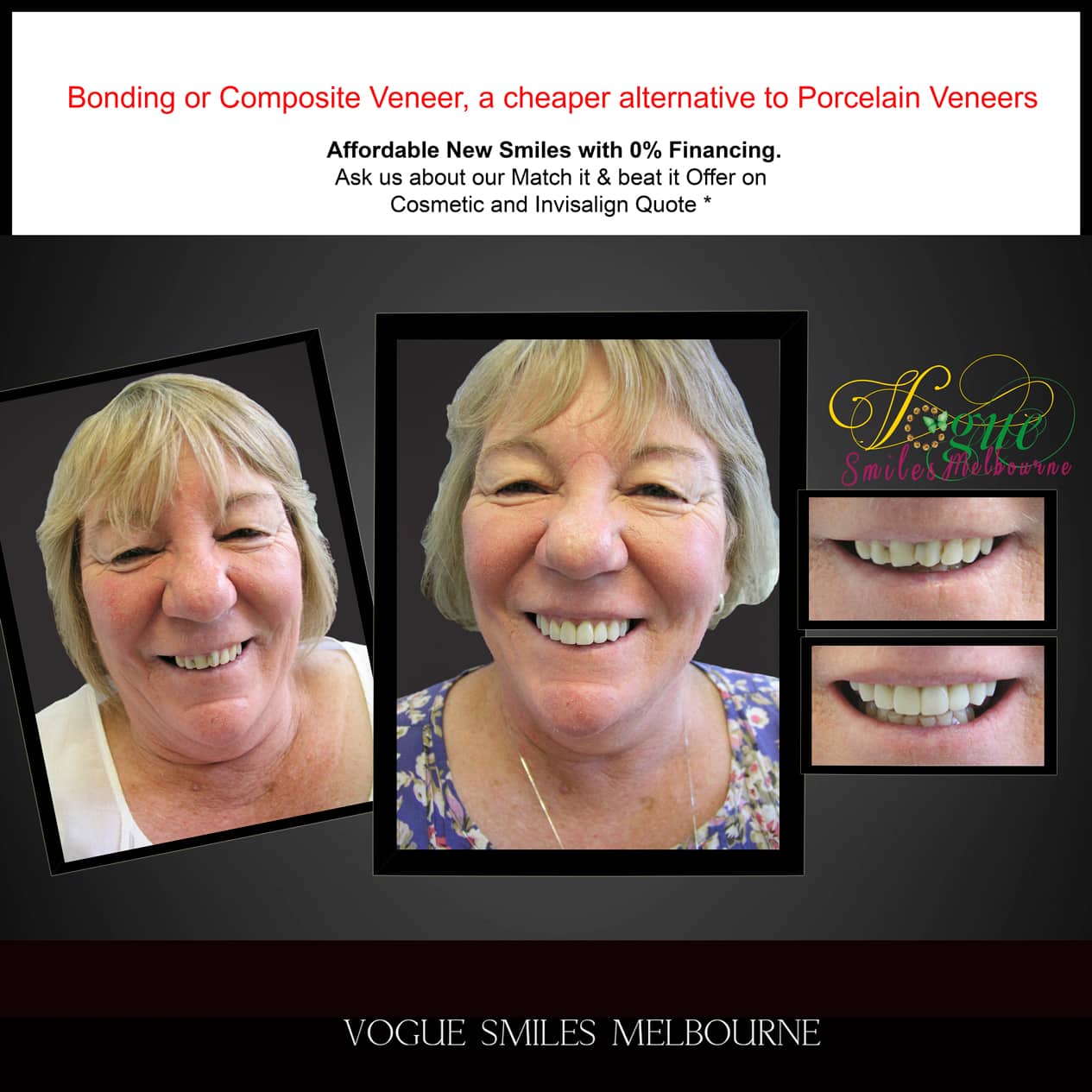 Maintenance of Dental Bonding
Because dental bonding is more susceptible to staining and chipping than other forms of cosmetic dentistry, special care is required to keep your bonded teeth looking natural. Here are some tips to keep your dental bonding in tip-top shape:
Cut down on coffee, tea, and red wine.
If you're a smoker, this is a good reason to quit — not to mention that smoking also increases your risk of gum disease and oral cancer.
Since dental bonding can chip easily, avoid biting your nails or chewing on hard objects, such as ice, pencils, and raw carrots.
Call us if you notice sharp edges or if your teeth feel strange when you bite down. If necessary, dental bonding can be repaired or touched up.
Because dental bonding does take some artistic skill for optimal cosmetic results, it's important to choose a dentist experienced with the procedure. Don't hesitate to ask to see before and after photos of your dentist's previous dental bonding patients.
Dental bonding isn't appropriate in every situation, but it can be a quick and relatively inexpensive way to improve your smile. And feeling good about the appearance of your teeth can help you maintain good dental health.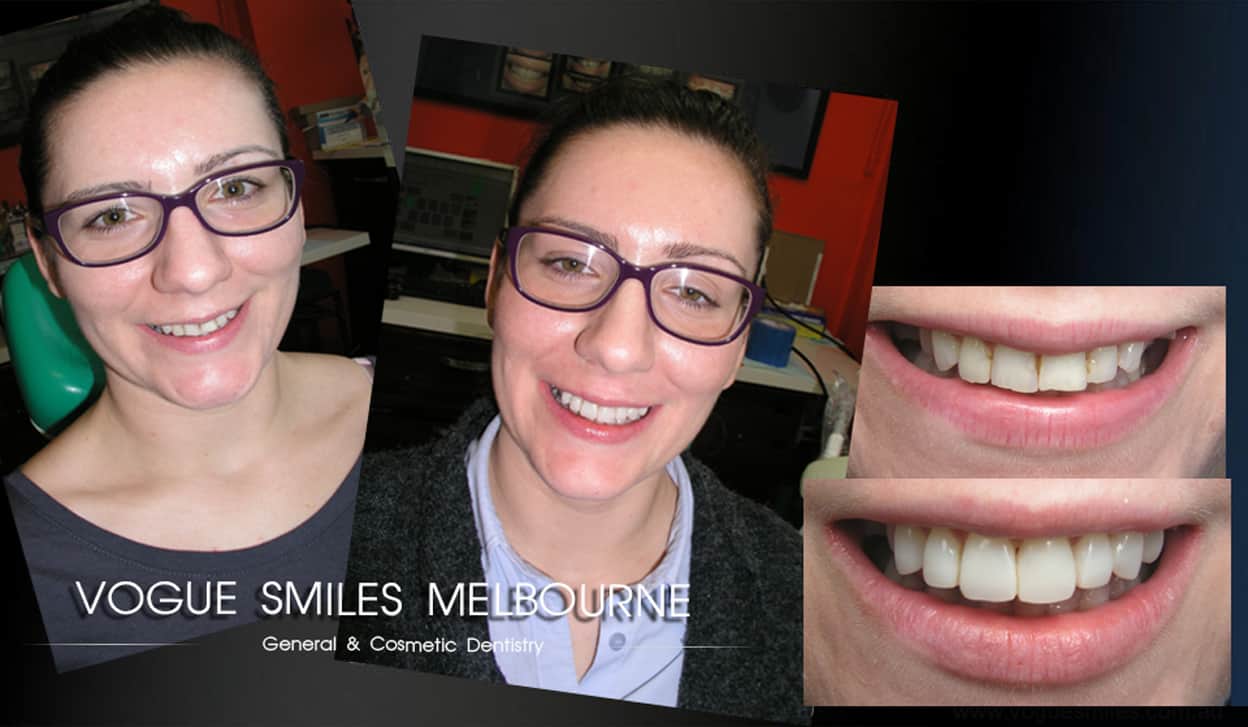 If you need Dental Bonding and Composite Veneers, Call Vogue Smiles Melbourne on 9629-7664 for all your General and Cosmetic Dentistry  Treatment services