Causes of Dental Phobia
Bad Experience
Dental phobia is often caused by a bad experience in the past. It is thought that this accounts for up to 85% of dental phobias. Bad experiences – it's not just about a bad physical experience but also about psychologically damaging experiences, like feeling humiliated.
Technology has advanced at such a rapid rate in the dental arena. Modern dentistry in caring hands, is pain free nowadays.
And as for a dentist humiliating a patient… there is never any excuse for that.
Uncaring Dentist
What people commonly fear is pain. But there is the added dimension of it being inflicted upon them by an uncaring and cold individual.
Abuse
 A history of bullying or having been physically or emotionally abused may contribute to developing a dental phobia. Especially if this is combined with a bad dental experience or a breach of trust by an authority figure.
We can't hope to unpick any historical damage, but we can reassure you of a safe and caring experience with us.
Humiliation
Sadly, we have many patients who have suffered insensitive and humiliating comments by a dentist in the past and often in their childhoods.
There is no place for humiliation and we understand just how damaging it can be. If you asked us, you'll also find some stories of insensitivity at the hands of some of our childhood dentists.
Learned Behaviour
Learned behaviour: Children can often learn to be afraid of the dentist if their parents are scared of the dentist. It is also easy to let other people's negative stories colour your views.
It is hard to be positive when your instincts are to be negative. You could talk to your dentist about ways of thinking about the experience as a good one rather than one fraught with fear.
Our advice with children would be to try to focus on the fun side of a trip to the dentist. E.g. letting them play with the dental chair, rewarding them for good behaviour, giving them a new toothbrush.
Post Traumatic Stress
Research suggests that people who've had horrific dental experiences can suffer from symptoms similar to people with post-traumatic stress disorder (PTSD). This is characterized by intrusive thoughts of the bad experience and nightmares about dentists or dental situations.
In these cases, finding a dentist who is thoughtful and compassionate will make such a difference.
Please don't be. Although dental phobia is unique to each person, we do have many patients who are dental phobics. Please tell  our practice manager, that you are nervous. She will make sure that you are treated sensitively from the moment you join us.
The gag reflex is located on the back third of the throat and helps keep objects from going down your windpipe.
Some people have a very sensitive gag reflex which makes them feel as if they are going to gag or be sick. This can make going to the dentist very difficult but we can help.
Talk to us about your concerns and we will be able to avoid those sensitive areas of your mouth.
There are things that you can do to make the problem easier. Some patients draw their tongue back to give the dentist room to work, but they end up gagging on their tongue. We can work together to find ways to avoid gagging movements.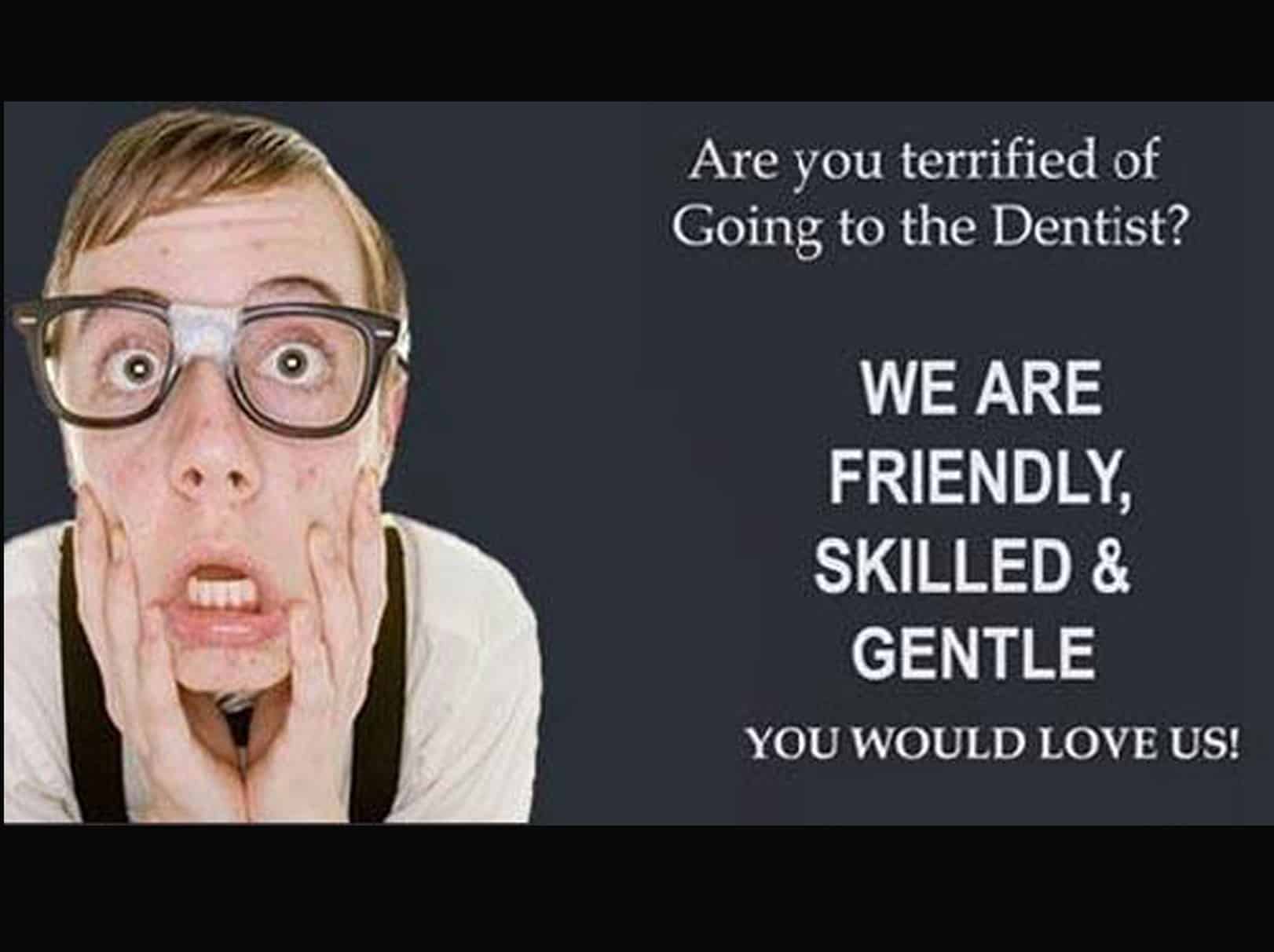 Modern dentistry shouldn't be painful. Here are some of the things that we do to minimise pain:
We listen to you: If you're feeling nervous, please tell us. We can then agree how to work together to make you feel at ease. We can select from a wide range of anxiety and pain-relieving methods to minimise any physical and emotional discomfort. And we like to you ask questions, so please feel free.
Being in control: We want you to feel as in control as possible. If, during any stage of your treatment, you'd like us to stop, then simply raise your hand. We'll stop immediately and will break for as long as you like.
Local anaesthetic: We rub a local anaesthetic gel onto your gums to start the numbing process. This is especially helpful for hygiene treatments.
Feeling completely numbed: We will always test the numbed area to make sure that you feel nothing. If you feel any discomfort whatsoever during this test, tell us and we'll give you more anaesthetic.
Dexterity: We're committed to gentle dentistry. And that means we don't scrimp on the dexterity. It also means that we'll be as careful as possible during the procedure so as to minimise any discomfort once the anaesthetic has worn off afterwards.
Treating infections first: An infection can prevent an anaesthetic from working as it should. If this is the case, we'll give you anti-biotics to treat the infection beforehand.
Sedation If you'd rather be completely unaware of the treatment, we can offer you sedation. You'll feel drowsy and sleepy but you are still able to talk and co-operate with us. And you will have no recollection of the treatment. Please click here to read about sedation with us.
Distraction: You can now immerse yourself in your favourite DVD with our new goggles. Or you can bring in your favourite music and listen to it on our iPod docking system.
Bring a friend: If a friend can help distract you and put you at ease, please invite them along.
We understand how terrifying a visit to the dentist can be for some people. You may fear the unknown or feel uncomfortable with being in close proximity to someone else or you may have had a bad dental experience in the past.
You are not alone. We are happy to listen to your particular phobia and work out a program to work through it. We take our responsibilities to our patients very seriously. Dr Zenaidy Castro and his team's approach is based on years of handling sensitive patients and is based on building your trust before he even looks in your mouth. We will let you lead the way.
Some people are happiest just sitting and talking about their concerns and fears. Some people might prefer to have a peek into some of our rooms and slowly build up to letting us have a look in their mouths. And our nurses are particularly warm and gentle. You'll come out feeling as if you've made friends for life.
These are some of the things that are important to us:
– That you feel listened to and respected.
– That you feel in control.
– That you trust us.
– That we won't pressurise you.
– That we will make your treatment pain free.
– That we make you feel welcome and at home.
– That you won't be blamed.
– That you think we're the nice guys.
And we hope that you might even enjoy your time with us.
If you are suffering from Dental Phobia, or have extreme fear and anxiety, Call Vogue Smiles Melbourne 9629-7664 and we can help. We are gentle and have experienced treating Dental Phobics