You're crunching ice or a piece of hard candy when you notice something hard in your mouth that doesn't melt or dissolve. You get a sick feeling as you realize what it is — a piece of broken tooth.
Although the enamel that covers your teeth is the hardest, most mineralized tissue in the body, its strength has limits. Falling, receiving a blow to the face, or biting down on something hard — particularly if a tooth already has some decay — can cause a tooth to chip or break. If you discover you have broken or chipped a tooth, don't panic. There are many things your dentist can do to fix it.
Damaged Teeth Treatment
A cracked, chipped, fractured tooth can also occur when teeth have been damaged by tooth decay and become more brittle. This type of damage to teeth can result in a broken tooth which can cause sensitivity and pain.
A broken or damaged tooth can happen due to a variety of reasons ranging from sports injuries to tooth decay. No matter what the cause if you have damage  tooth, it is important to get it checked and treated properly.
One of the best to repair badly damage broken Tooth is with Dental Crown.
What is a Dental Crown?
A crown is basically a cap for a damaged tooth. It can be made from a variety of materials, including metal or porcelain.
Dental Crown or Tooth capping, in general, add a good deal of strength to weakened or worn teeth. It can improve both the appearance and function of injured or damaged teeth. They cover and protect the entire surface area of the tooth, eliminating pain and restoring strength.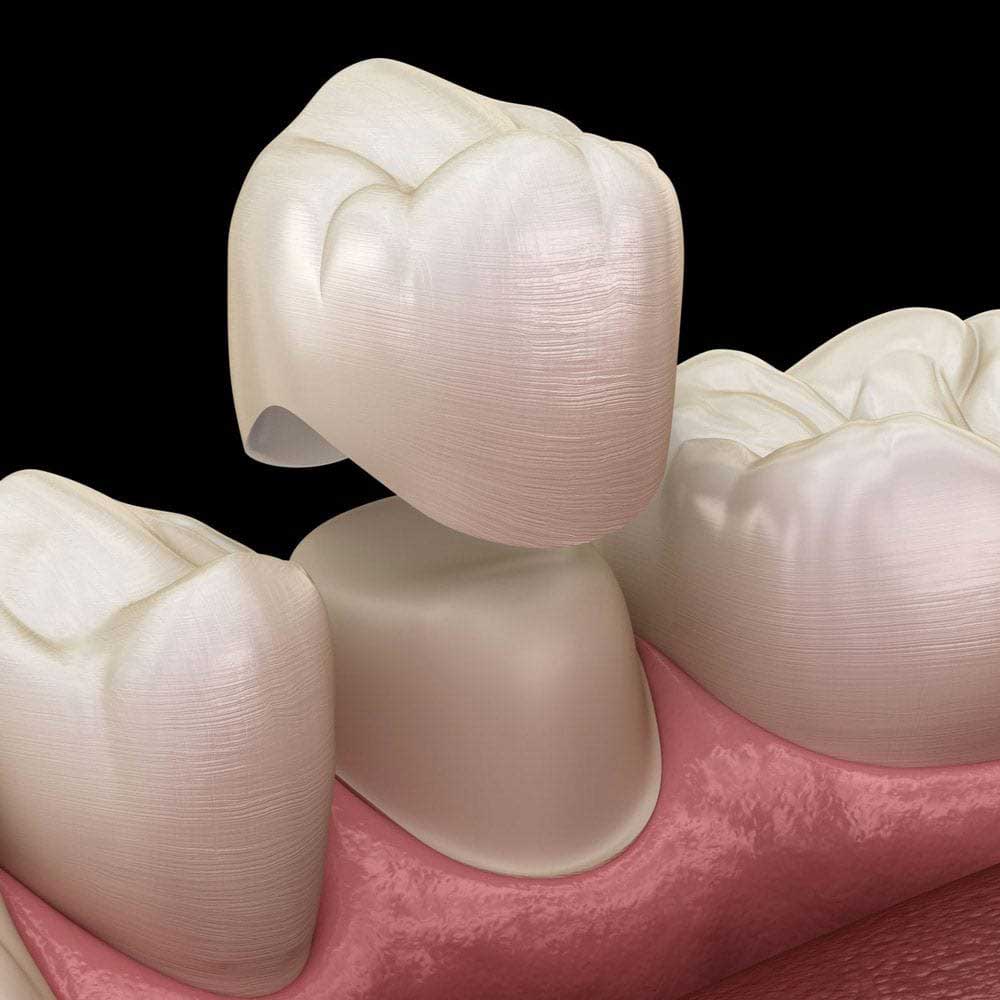 Why would I need a dental crown?
You may need a dental crown for several reasons, including:
Protecting a weak tooth (possibly from decay) from breaking or to keep the weak tooth together if parts of it are cracked.
Restoring a broken tooth or a severely worn down tooth.
Covering and supporting a tooth with a large filling and not much tooth remaining.
Holding a dental bridge in place.
Covering misshapen or severely discolored teeth.
Covering a dental implant.
Covering a tooth that's been treated with a root canal.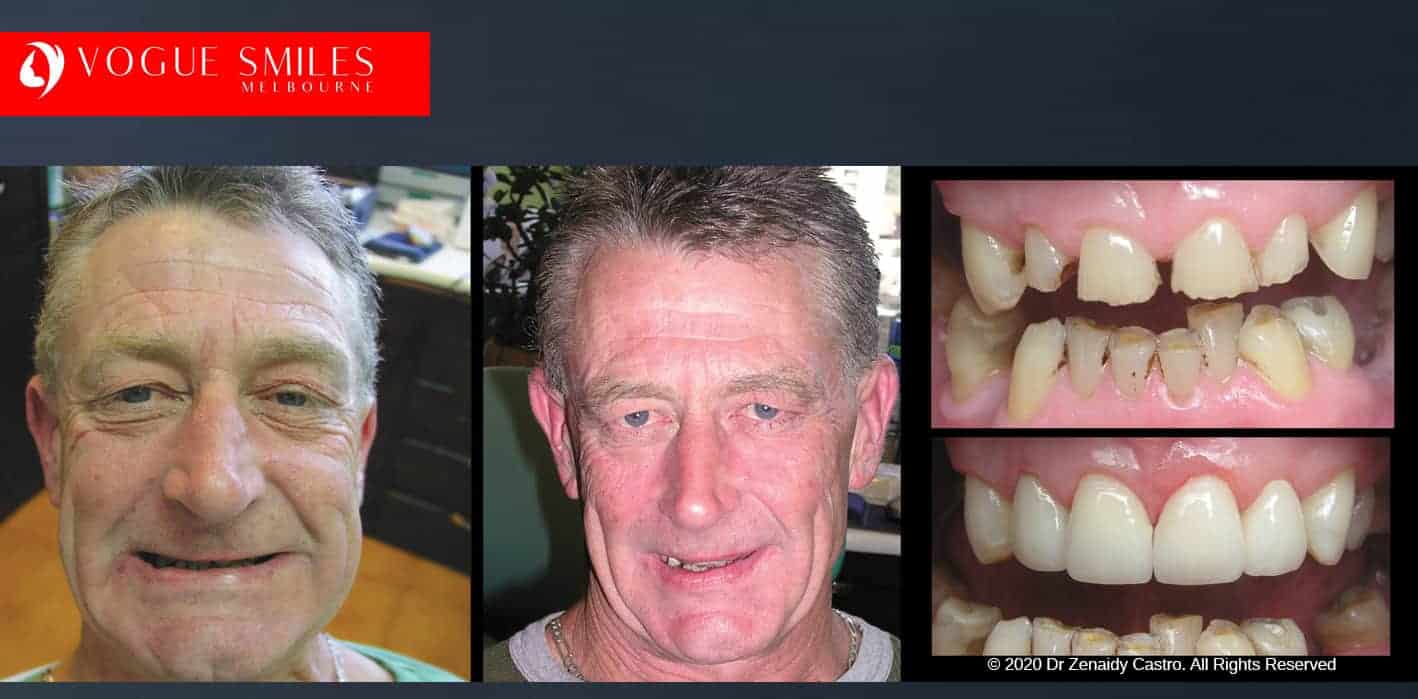 What are dental crowns made of?
Permanent crowns can be made out of many different materials. These materials can include:
Gold Crowns
Advantage:
The preparation of a tooth for a gold crown is the simplest and least complicated preparation as there is minimal tooth structure removal with as much as possible of the healthy tooth structure remaining untouched. While porcelain is hard by comparison, it may cause wear on opposing teeth over the years where gold is not as likely to do so.
Gold is also easier to fit the area where the tooth and crown meet for a better fit. Gold is also a healthier environment for the gum tissue.
Disadvantages:
The biggest disadvantage to gold crowns is the cosmetic aspect unless it is being used in the back of your mouth
All Porcelain Crowns
Advantage:
Porcelain crowns or new reinforced resin are considered to be the most aesthetically pleasing, as it is so easily matched in colour to the surrounding teeth.
Disadvantage:
The thickness of the porcelain required for pleasing aesthetics also requires that more tooth structure needs to be removed. It is more difficult for your cosmetic dentist to get an ideal fit where your gum meets the crown. Gingival inflammation appears to be more common with porcelain crowns than gold crowns. All-porcelain crowns require a higher skill level from your dentist and lab.
Today, there are dental crowns available that do not require a metal substructure and are made of only porcelain. Depending on the specific type, they get their strength either from the bond to the remaining tooth structure or from a dense tooth coloured substructure. Since there is no metal, these types of dental crowns allow more light to pass through, which enables them to have more depth and vitality, much like natural teeth.
So why isn't this type of crown used all the time? The main reason is that they are not as strong as crowns with a metal substructure. So, if a person grinds their teeth, these crowns have a greater risk of fracture. Another reason why an all-ceramic dental crown cannot be used in all situations is if the underlying tooth structure itself is dark. Very dark teeth are difficult to mask with these types of crowns because of their translucency.
In these instances, the dark colour may show through the crown. So, for situations where a lot of force will be placed on the teeth (such as grinding habits) or if a tooth is really dark, a well-made porcelain crown with a metal substructure may be a better restoration.
Porcelain Dental Crowns With a Metal Substructure
Traditionally, crowns are made of two materials:
Porcelain, which gives it the tooth-coloured appearance
Metal substructure, which gives the crown its strength
Generally, it is this type of crown that can appear opaque. The reason for this is that while porcelain is very translucent and lets light travel easily through it, no light can pass through the underlying metal. In order to prevent the metal colour from showing through the porcelain, which would make the crown seem dark or gray, the metal has to be "masked out" with an opaquing material. It is this masking or opaquing that can affect the final appearance, giving rise to the opaque or lifeless look.
Porcelain Fused-to-Metal Crowns
Advantage:
Porcelain fused-to-metal crowns have a very natural appearance.
Disadvantage:
They have a metal substructure and require an opaque below the porcelain. This can make the translucency of natural teeth difficult to replicate. Occasionally a darker line will be visible at the edge of the crown, near to your gum when it recedes with age.
The most common complaint associated with crowns is that they look "opaque," "lifeless," and "fake" compared to natural teeth. Do you need an extreme makeover to solve the problem? No!
The appearance of a crown is affected by many factors, but ultimately, the final result is determined by how the crown reacts with light. Natural teeth have a high degree of translucency, which means a certain amount of light passes through the tooth. The result of this is that the tooth appears to have depth and vitality.
Zirconia Crown
Advantage:
Strength
One of the biggest advantages of zirconia is its strength and durability. Consider how much force your back teeth exert on the food that you chew.
Your crowns need to be made of a strong material, so zirconia may be a good choice for crowns in the back of your mouth. Also, because zirconia is so strong, a dentist won't have to do as much preparation of your tooth.
Longevity
Zirconia-based crowns fared just as well over the course of 5 years as metal-based crowns, according to a 2017 randomized controlled trial published in the Journal of Dentistry. And crowns made of zirconia, called monolithic zirconia crowns, are especially durable.
Biocompatibility
Zirconia is the choice of many dentists for its biocompatibility, which means it's less likely to provoke the body into producing a reaction or immunological response like inflammation.
A 2016 in vitro studyTrusted Source confirms this, and it also found only a limited amount of cytotoxicity.
Disadvantages:
Like many other dental procedures, there can be potential disadvantages to getting a zirconia crown.
Can be hard to match
One potential disadvantage of a zirconia crown is its opaque appearance, which can make it look less than natural. This is especially true for monolithic zirconia crowns, which are made just from zirconia, although it may be less of an issue for teeth in the back of your mouth.
Potential wear on other teeth
Some dentists have been hesitant to use zirconia crowns in some circumstances for fear that the hardness of the zirconia could cause wear and tear on opposing teeth.

How is my tooth prepared for a dental crown?
You will typically have two visits to the dentist to prepare for a dental crown. In some cases, you may have a dental crown made in your dentist's office.
The first visit
During the first visit, the tooth that's going to receive the crown is examined and prepared. X-rays are taken of the tooth and the bone around it. Your dentist might have to do a root canal treatment before your dental crown procedure if there's any:
Tooth decay.
Risk of infection.
Injury to the tooth's pulp.
The tooth that's receiving the crown will be filed down across the top and sides. This will make space for the crown itself. The amount of tooth that gets filed away depends on the type of crown you have. All-metal dental crowns are thinner and don't need as much of the tooth removed as all-porcelain or porcelain-fused-to-metal crowns. If too much of your tooth is missing — due to damage or decay — a filling material can be used to "build up" enough tooth structure for the crown to cover.
After reshaping the tooth, a paste or putty is used to make a copy (also called a impression) of the tooth that's going to receive the crown. Impressions of the teeth above and below the tooth that's getting the dental crown will also be made. This is done to make sure that the crown will not affect your bite.
The impressions are sent to a dental laboratory. The laboratory makes the crowns and usually returns them to the dentist's office in two to three weeks. During this first office visit, your dentist will make a temporary crown to cover and protect the prepared tooth while you're waiting on the permanent crown.
The second visit
At the second visit, the permanent crown is placed on your tooth. First, the temporary crown is removed and the fit and colour of the permanent crown is checked. If everything is okay, a local anesthetic ("numbing" drug) is sometimes used to numb the tooth and the new crown is permanently cemented in place.
What problems can develop with a dental crown?
There are several issues that you might experience over time with your crown, including:
Discomfort or sensitivity: A newly crowned tooth may be sensitive immediately after the procedure as the anesthesia begins to wear off. If the crowned tooth still has a nerve in it, you may experience some heat and cold sensitivity. Your dentist might recommend that you brush your teeth with toothpaste designed for sensitive teeth. Pain or sensitivity that happens when you bite down usually means that the crown is too high on the tooth. If this is the case, call your dentist. This problem is easily fixed.
Chipped crown: Crowns made of all porcelain can sometimes chip. Small chips can be repaired and the crown can remain in your mouth. The dental crown may need to be replaced if the chip is large or when there are many chips.
Loose crown: Sometimes, the cement that holds the crown on can wash out from under the crown. Not only does this allow the crown to become loose, it allows bacteria to leak in and cause decay to the tooth that remains. If your crown feels loose, contact your dentist's office.
Crown falls off: A dental crown can actually fall off. When this happens, it's usually due to an improper fit or a lack of cement. If this happens to you, reach out to your dentist's office immediately. Your dentist will give you specific instructions on how to care for your tooth and crown until you can come in for an appointment. The dentist may be able to re-cement your crown in place. If the crown can't be put back in place, a new crown will need to be made.
Allergic reaction: The metals used to make dental crowns are often a mixture of several metals. You can have an allergic reaction to the metal or porcelain that's used in the dental crown. However, this is extremely rare.
Dark line on crowned tooth next to the gum line: You might see a dark line next to the gum line of your crowned tooth. This is normal — particularly if you have a porcelain-fused-to-metal crown. This dark line is simply the metal of the crown showing through.
 

How long can dental crowns last?
It would be reasonable to expect that a dental crown could last between five and fifteen years. Most likely a crown which did only last five years would be somewhat of a disappointment to your dentist
It's probably their hope that any crown they make for you will last ten years or longer. Depending on the environment and forces the crown is exposed to (chewing, biting, accidental trauma, tooth grinding) and how well you keep the tooth to which it is cemented free of dental plaque, a crown can last somewhat indefinitely. Especially one positioned where its cosmetic appearance is not much of a concern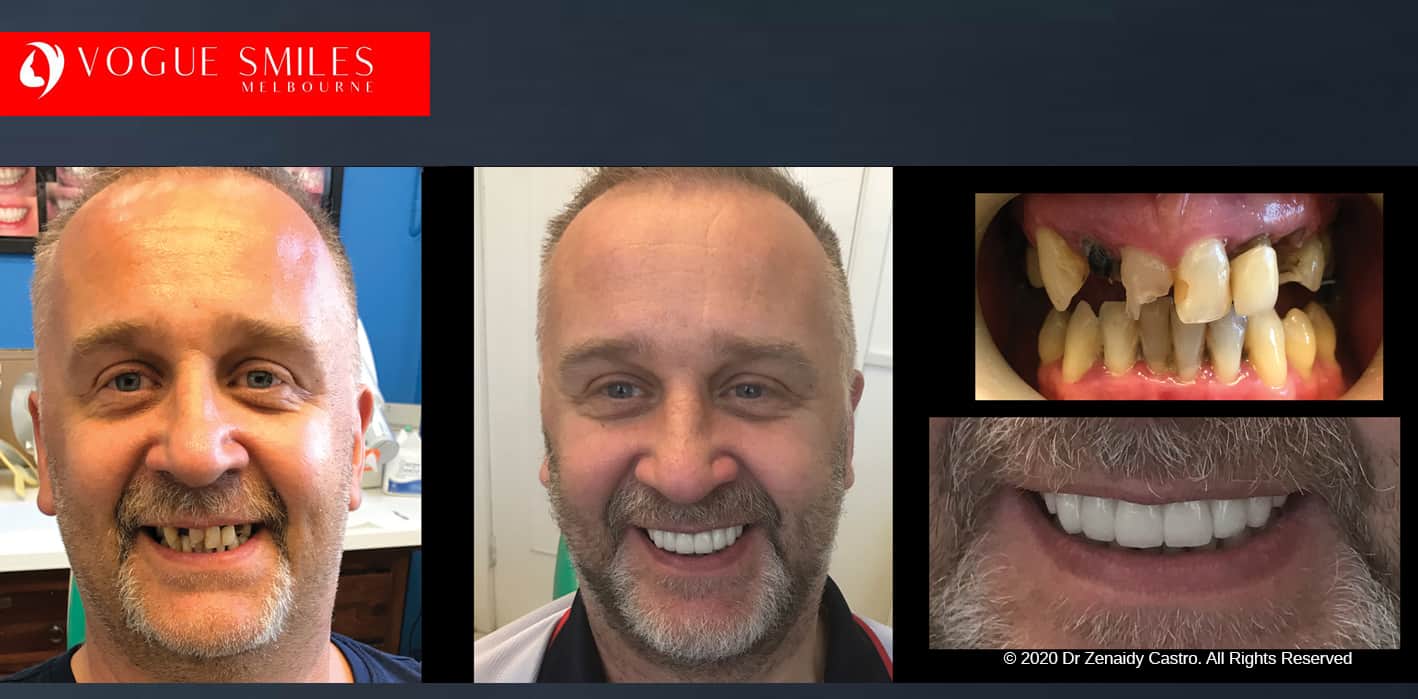 How much does a Dental Crown cost in Melbourne
Crowns can range in price from $800 to $2,500 — or even more — depending on the material used in the crown and the  complexity of the treatment.
A gold crown could set you back quite a bit more, perhaps as much as $2,500, or more
All-metal crowns, which are made of a metal alloy, are sometimes cheaper than gold or porcelain crowns.
Costs may also rise if the dentist has to perform more extensive prep work before putting in the crown. For example, you may need a root canal or a dental implant, both of which can drive the price up.
Dental insurance may cover all or part of the cost of your crown. However, your plan may only cover certain kinds of crowns. Check with your insurance company to get coverage details.
Talk with your dentist about the types of crowns that are available and appropriate for your dental needs to help determine your dental costs.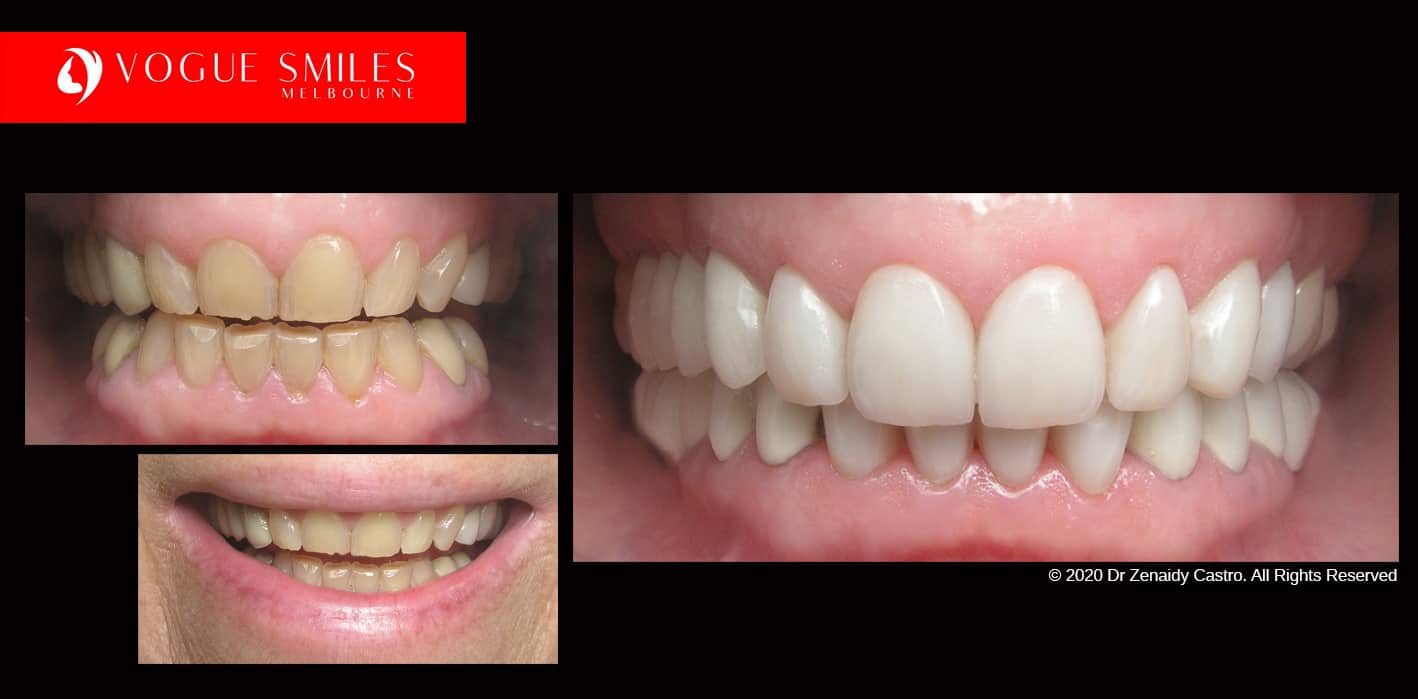 What happens if you leave a badly decayed or damaged tooth untreated in your mouth?
The damage will only get worse over time, and it allows bacteria to enter the softer layer of tissue under the enamel and the soft inner part of the tooth. From there, it spreads, and an abscess – a pocket of infected material – can form. Once you have an abscess on that tooth, it will give you an exruciating pain or toothache.
In some cases, an abscess causes pain, but in other cases, it can go unnoticed if your broken tooth isn't treated. The infection can spread to other parts of your body, which can cause serious complications.
If you left it untreated with the necessary crowning, your next best options is extraction of the badly damaged tooth.
For the Best Dental Crown Treatment in Melbourne call VOGUE SMILES MELBOURNE  Call 
9629-7664 

to book for your

 consult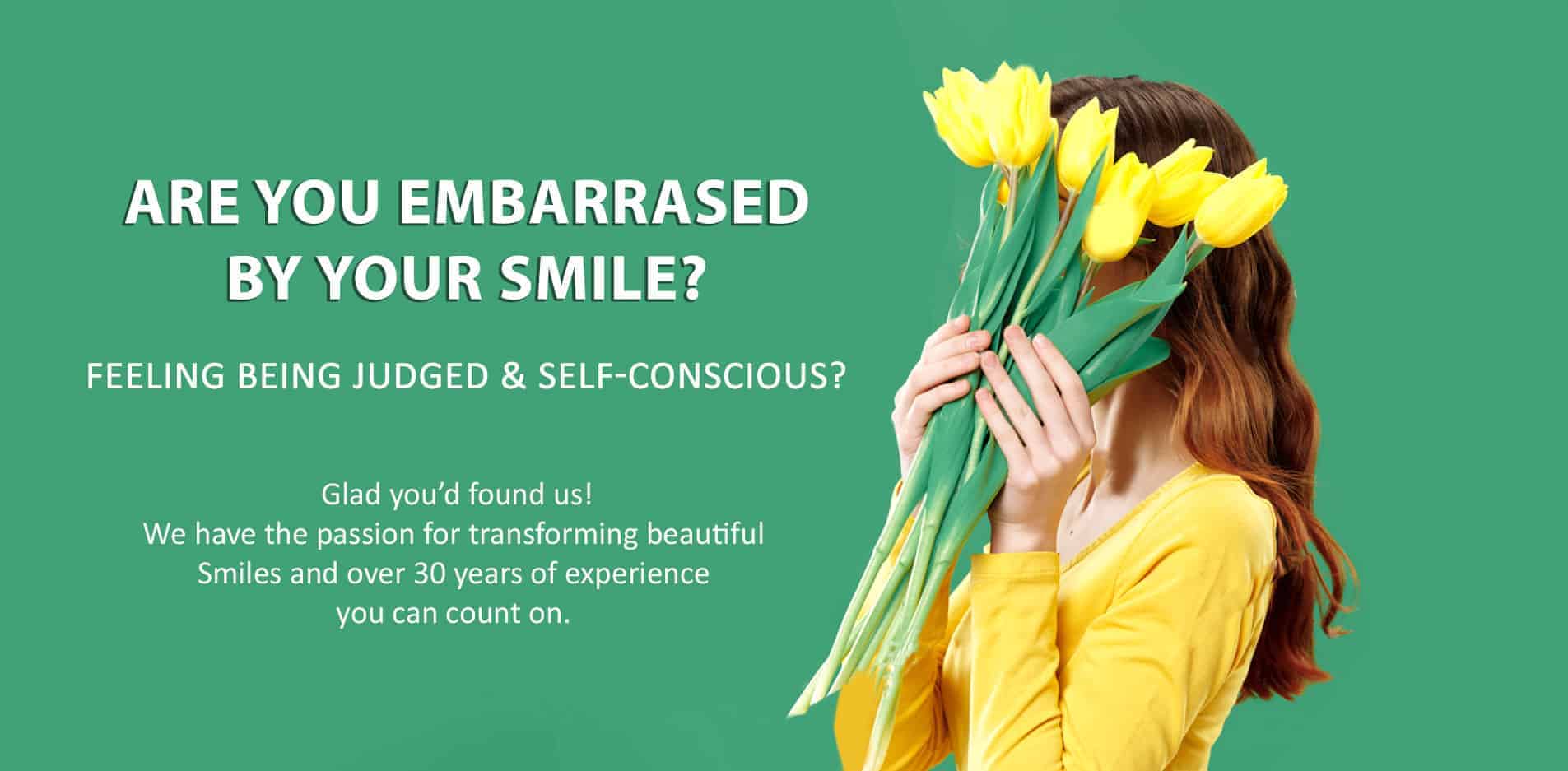 All The Things You Need to Know About Veneers (this page section is currently under maintenance)